Istanbul is a city like no other. This ancient destination sits on the divide between East and West and every inch reflects its wonderful multiculturalism. But for years it's cruise port has been lacking the facilities to cope with many cruise ships.
Turkey has plenty of wonderful cruise ports that are well worth exploring. But it's Istanbul that many tourists find so mesmerizing.
Thanks to a new port, from summer 2020 this phenomenal destination will be back on the Turkey cruise map and it promises to be an exceptional cruise experience. Cruise tourists can wander through Byzantine streets, shop in the hectic Grand Bazaar, and sample the best of Turkey's cuisine.
With the new port being part of a huge new development stretching for 1.2 km along a beautiful coastline, there'll be lots to do within just a moment of your cruise ship. Exploring the city will be easy too and you're sure to fall in love with Istanbul by the end of your trip.
Let's take an in-depth look at this amazing new port and the opportunities it'll open up for cruise tourists.
Istanbul Back on the Cruise Destination Map
Considering Istanbul is such a large and well-visited city, it's surprising that it has previously had an underdeveloped cruise port. With the new port, though, that's all set to change.
A New Cruise Port
Due for completion in spring or summer 2020, the brand new Galataport will be a modern and unique cruise terminal with a vast capacity for ships and passengers. The port will be able to hold up to three cruise ships at a time and bring an impressive tourist boost to this magnificent city.
The passenger terminal is built underground, unheard of for a cruise terminal, making Galataport a ground-breaking modern achievement. With passenger lounges, passport control, and customs all within this underground terminal, the above-ground development has considerable space to become a new Istanbul social hotspot.
The cruise port will feature shops, cafes, and restaurants along with art centers and entertainment attractions. As such a modern and pioneering port, Galataport is sure to become a high-profile destination for cruise passengers wanting to explore the farthest reaches of the Mediterranean.
Discover Istanbul
Now you can see how easy an Istanbul cruise vacation will be soon. What should you be doing on your shore excursions?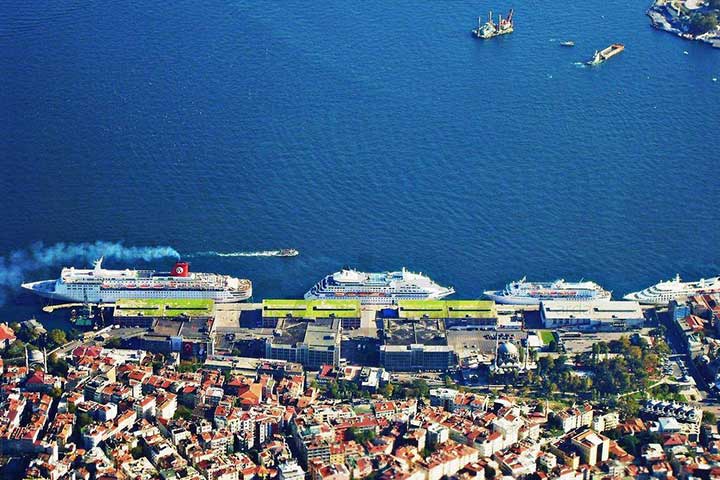 Things to Do Onshore
Istanbul is a city that has so much culture and phenomenal architecture that you'd experience a lot simply by walking around. A great way to see the best sights is to take a private tour of the city. You can choose a pre-planned itinerary or choose an operator that creates a bespoke package just for you.
World-class art galleries can be found throughout the city. The Yapi Kredi Kazim Tashkent Art Gallery should be on your list. Not only is it filled with a wide variety of art in different mediums, but the building itself is well worth exploring from an architectural point of view.
A boat trip along the Bosphorus shows you Istanbul from the water, and you can opt for a private boat or choose a larger vessel. Go for dinner and a sunset experience if romance is what you're looking for.
No visit to Istanbul is complete without going to the Hagia Sophia, a vast domed cathedral. Now a museum, this beautiful building is filled with extraordinary religious mosaics.
Experience Turkish Cuisine
Rich and flavorful, Turkish cuisine is an unmissable part of any trip to Istanbul. The city is home to every type of cafe and restaurant imaginable as well as many highly-regarded destinations.
Not far from the new Galataport destination is Rana Meyhane, a restaurant with food just as good as it's amazing Bosphorous River views. For outstanding quality Turkish food served in luxury surroundings, you'll struggle to find better than this.
Mikla is another excellent restaurant and includes a rooftop bar that's perfect for a sunset glass of wine. Every item on the menu is exquisite so the only discomfort you could have at this stunning eatery is deciding what to choose. Chef Mehmet Gurs also runs the world-famous Kronotrop coffee bar and roastery in Istanbul.
Istanbul's Shopping
Istanbul's Grand Bazaar is an experience in itself, even if you don't plan on buying anything. Taking up 61 covered streets, this elaborate Turkish market is one of the largest in the world. Stroll around its 4,000 shops and don't forget your camera.
If you're looking for designers, head to the Nisantasi neighborhood where you'll be in heaven. When you've finished shopping in the international designer stores, relax with a coffee at one of the neighborhood's beautiful cafes.
Just northwest of the new Galataport is the Galata neighborhood. Here you'll find boutiques, local designers, and antiques. This is the ideal shopping spot to buy local wares and get to know Istanbul's real cultural offerings.
Experience Phenomenal Culture on a Turkey Cruise
Turkey is a large and varied country with a wholly unique mix of cultures. Its cruise ports are scattered along its coastlines. But with the new Galataport, it's Istanbul that's sure to increase the demand as a thoroughly modern Turkey cruise destination.
As the new port will feature restaurants, shopping, and entertainment, it will be a perfect place to spend your evenings without having to go too far. During the day you can take excursions and tours around this ancient city to see sights like the Hagia Sophia and the Grand Bazaar.
If you want to make the most of your cruise visit, check out our Istanbul tours which are perfectly designed to give guests the best possible experience.