All too often we travel to see the biggest tourist attractions but wind up missing the bigger picture.
Sometimes, it's better to just relax and take things slow. Especially in those small in-between towns, like Alacati, Turkey.
When people think of Turkey they usually think of Istanbul, Ankara, and Izmir —you've probably never even heard of Alacati. Alacati is truly a place to linger.
If you're not familiar with it, you're about to be—because we've rounded up all the reasons why Alacati should be on your bucket list.
Visiting Alacati, Turkey
Alacati (pronounced "Al-Cha-ti) is a hidden gem on the Aegean coast of Turkey—which is the west coast. This little town is one of Turkey's best-kept secrets. This seaside town has a very rich history—A Greek history, in fact. Its cobblestone streets are lined with bougainvilleas armoring traditional Greek stone houses and their colorful doors and shutters.
Aside from its traditional houses, Alacati is also known for its beaches, traditional winemaking, architecture, and its windmills.
This charming little town is packed with one of a kind eateries, boutiques, old charming hotels, and plenty of things to do. For the locals, this place seems to be a weekend getaway spot during the summer season, and we can totally see why.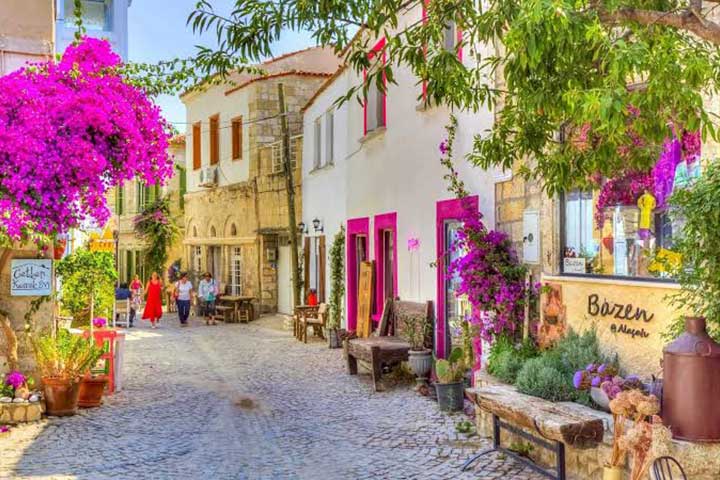 Here all the reasons you must visit Alacati, Turkey:
It's an Amazing Town to Explore on Foot
Sure, you can rent a car to get around. But what's the fun in that? (Actually, you'll need a car to get over to the beach but that's beside the point).
Besides, on foot, you can leisurely explore the cobblestone streets and marvel at all of the beautiful architecture. There are plenty of bars and cafes that you can stop in to experience incredible Turkish cuisine and drinks, as well as antique shops on Kemalpasa street where you can find some of the most unique gifts in the entire world.
The ancient stone windmills of the 19th century sit on the top of the hill, overlooking the town. You can take a stroll in their direction to admire them up close and personal.
Have We Mentioned the Food?
Here you can get your hands on both traditional and modern turkey food, and from some of the most talented chefs. It's safe to say that Alacati is a food mecca. It's also a coffee mecca.
You'll find that the locals here really enjoy their coffee as much as they enjoy their lounging. And the homemade desserts. Mmm!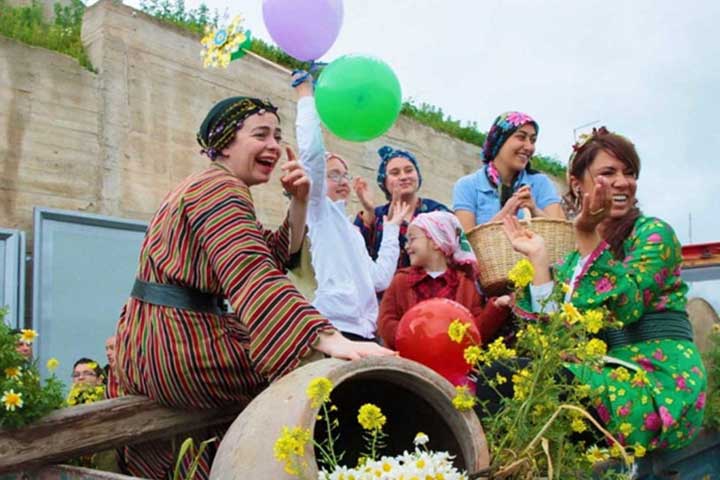 The Alacati Herb Festival
If you happen to visit Alacati in April, you're in for quite a treat.
The Alacati Herb Festival is held at the beginning of April for about four days. The festival began in 2010 as a means to revive some of the town's cultural values.
Each year specific herbs and vegetables are featured, and special seminars and workshops are held to learn about these herbs and their health benefits. You'll also learn how to cultivate and cook them. There are parades, cooking competitions, herb collecting contests, and many great dishes and edibles greens for you to try!
The Local Market Everybody's Talking About
By "everybody" we mean the locals, of course. Every Saturday and Sunday a bazaar takes place in the town center. Local vendors come around to sell their spices, apparel, jewelry, food, textiles, kitchenware, fresh fruits and vegetables, and more.
This market attracts visitors near and far as the entire town is buzzing around on those days.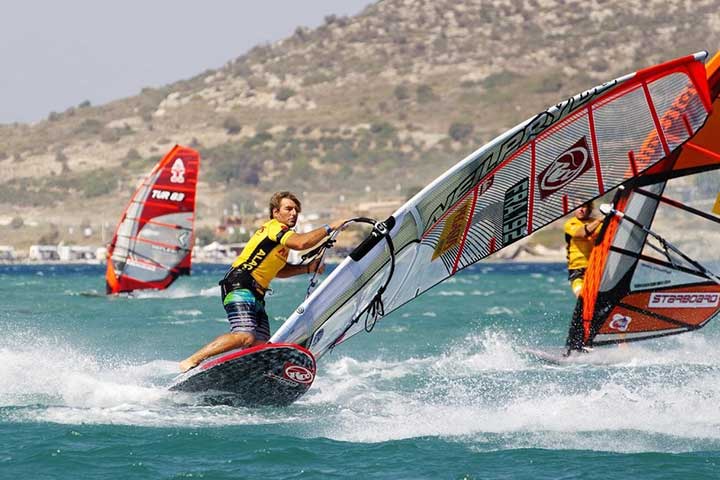 Learn How to Windsurf (or Just Watch!)
Alacati is a prime windsurfing destination since it gets 330 days of wind out of the year. Despite the winds, the water is still calm and crystal clear. Not to mention warm and shallow. There are plenty of surfing schools here. It's also free to watch.
If you're not into water sports, but you're into relaxing at the beach, you'll find your beach here. Ilica Beach in the north. It's a nice long white stretch of sand complementing those crystal clear waters.
To the south, you'll find Cark Beach, which is just as beautiful with more shallow waters making for incredible views. For the luxury beachgoer, there are quite a few beach clubs with lounging areas as well as a night and day party scene.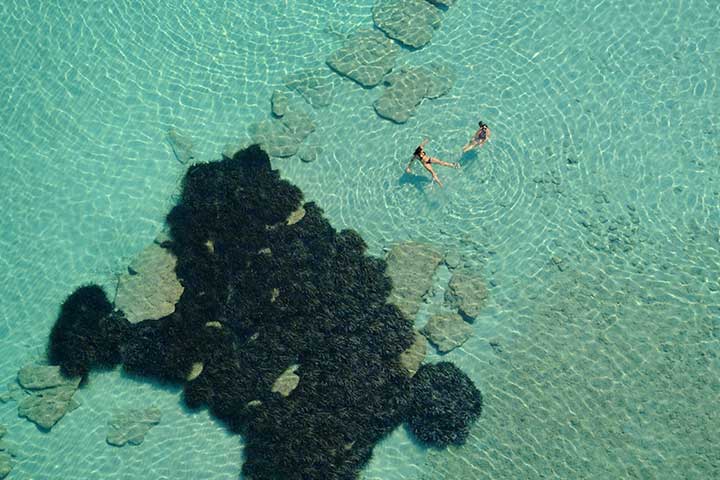 Speaking of the Party Scene
The nightlife is alive and well in Alacati. The daytime may be a bit more relaxed with the streets empty, but when the sun goes down you'll find more people walking (and lounging) around the cafes and bars.
Morah and the Goz Lounge make for great pitstops if you plan on barhopping all night. Be sure to get your hands on some fresh sangria while you're here.
Don't Forget the Wine
Cesme Bagcilik is about a 15-minute drive from Alacati and it's one of the best vineyards you'll find there. This place offers picturesque views and an observatory tower for you to get the entire parametric experience.
You won't just find wine here—you'll also find brandy and cognac.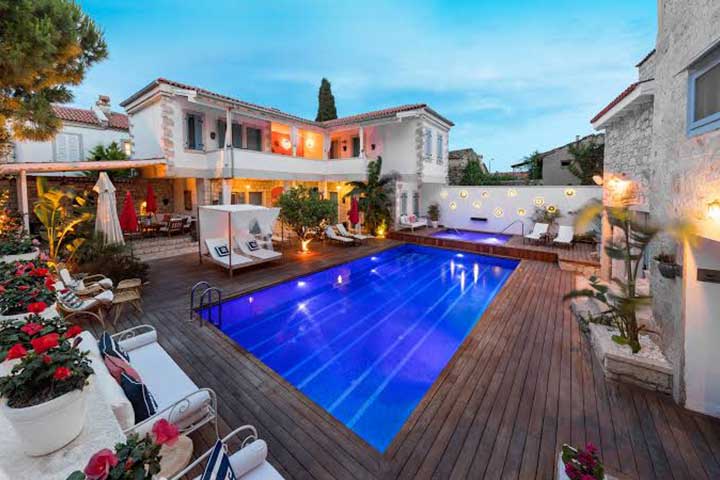 You'll Sleep Very Well Here
You'll have your pick of luxury and boutique hotels here. Places like the GAIA Hotel are incredibly charming with their mixture of simplistic modern and traditional decor. Not to mention, you'll encounter an equally charming and pleasant staff.
What Are You Waiting For?
Alacati, Turkey remains seemingly untouched, despite all the travel bloggers and Instagrammers out there. Summer is the best time to visit and trust us, you won't be disappointed—and you won't want to leave.
Remember to take things slow and to explore the unexplored.
Planning your next leisurely or romantic getaway? Whether it's a luxury trip or a backpacking bonanza, we can help.