VISA INFORMATION FOR TURKEY
Do you need a visa for Turkey?
A min. 6 months valid passport with a valid visa is one of the requirements for Turkey entry that can be obtained on arrival at international airports when you pass through the customs formalities. However, to beat the queue and any other hassle; we recommend that you get your visa online before arrival which costs lower and less time!
How to Obtain Your Turkish Evisa Online
Looking to obtain your Turkish Evisa online? The electronic visa procedure makes it easy to apply from the original sticker visa protocol.
Turkey is one of the most visited countries in the world, with a record of approximately 40 million tourists visiting the country in the first ten months of 2018. The government of Turkey decided to make visa acquisition a hundred times simpler by introducing e-visas!
Electronic visas (E-visa) mean no more queues, you get to fill the application online and you receive your visa via an email download.
Are you looking to obtain your Turkish e-visa online? The electronic visa procedure makes it easy to apply from the original sticker visa protocol. Here are steps to acquiring the e-visa.
Beware of the Scam: The Unofficial E-Visa Online Websites!
We were noticed about these websites by one of our travelers who got confused that why the E-Visa website was based in Spain. She continued the steps anyway and realized the charging fee was 69 $ instead of 30 $ and she stopped for a moment.
After we were told the story, we realized that what these websites simply do is to follow the same steps as the official website do, charge a service of 69 $ per Visa and then fill in the official E-Visa form online on behalf of these travelers who could easily get their Visa on the official website following the same steps already!
Clever, is not it?
Here, you can see they have been displaying Google Ads for some of the keywords people search on Google and then get clicks through the Ads and BINGO!
Moreover, the first domain www.turkey-e-visas.org seems pretty legit with its .org extension since some countries use .org domains officially as well.
Finally, the safety of the credit card information shared on these websites is also a big question mark!
BEWARE! and spread the word to warn anyone traveling to Turkey!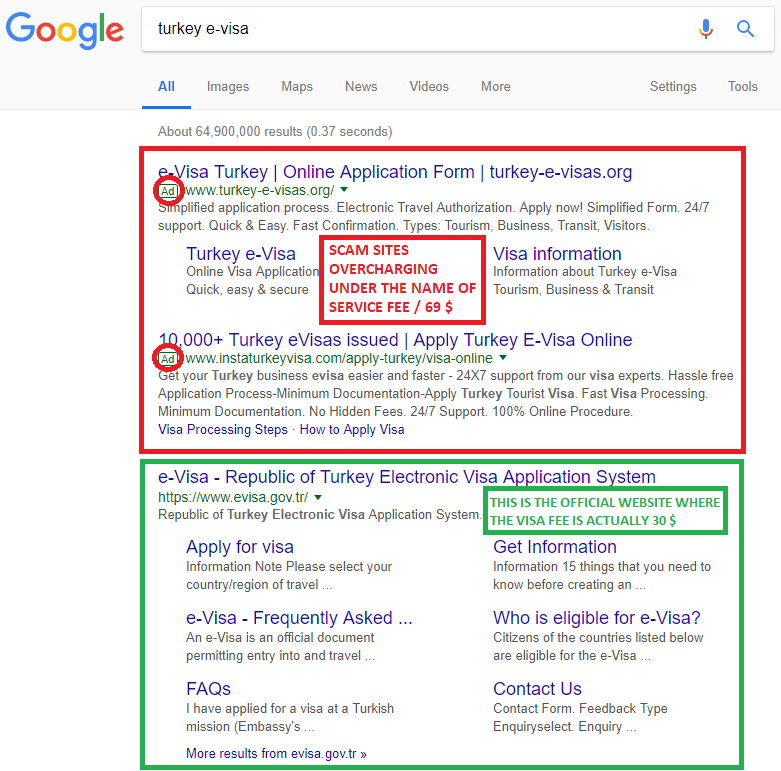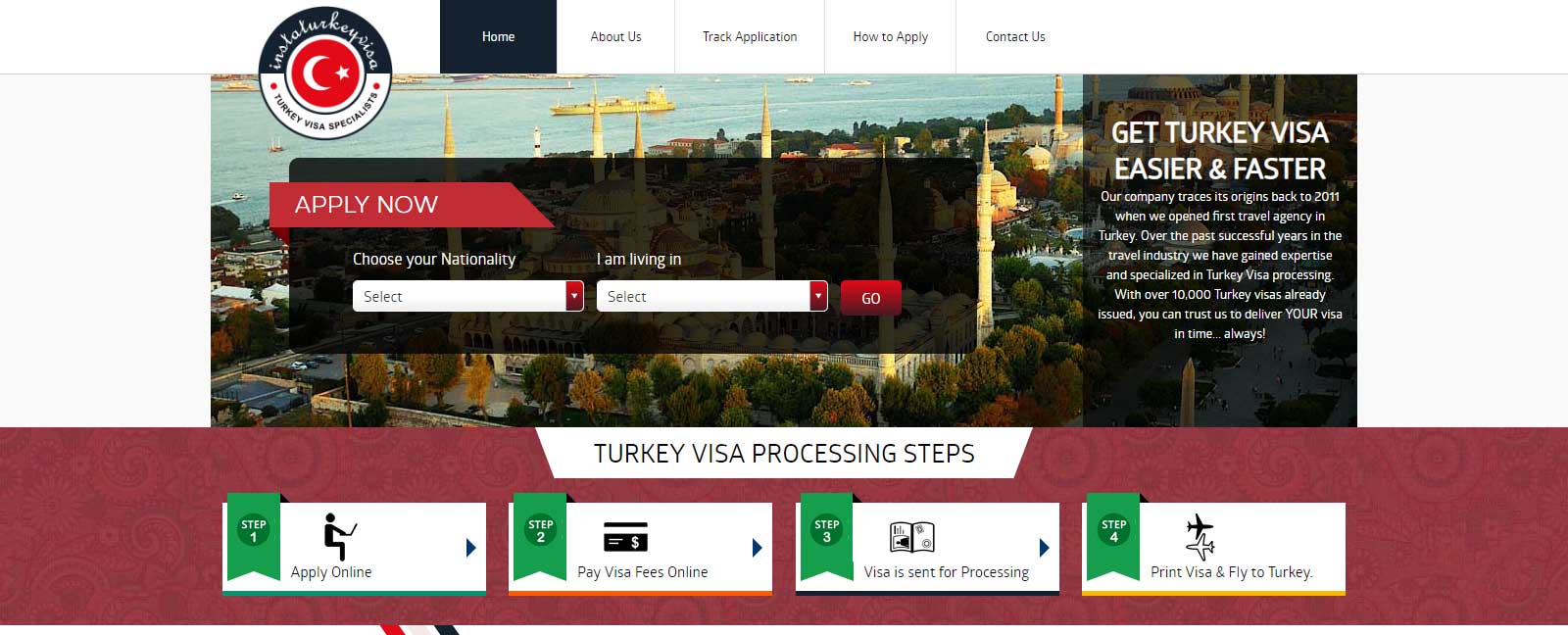 Sticker Visa vs. Electronic Visa (E-Visa) Online
As of April 17, 2013, electronic visa replaces "sticker visa" which is issued at the border crossings on arrival. Applicants just need to log in for e-visa online at by providing the requirements and requested information, (after the application is approved) make the online payment and download their e-visa which literally saves time on arrival.
Important Note: Please carry printed copies of your electronic visas to avoid any risk of being turned away at the departure gate.
TURKEY VISA FEES (AS OF MAY 2014)
CITIZENS OF
E-VISA
AIRPORTS ON ARRIVAL
Australia
60 $
70 $/ 50 € / 45 £
Canada
60 $
70 $/ 50 € / 45 £
Greece
-
-
Indonesia
25 $
35 $ / 27 € / 22 £
Japan
-
-
Mexico
-
30 $ / 25 € / 20 £
Qatar
28 $
30 $ / 25 € / 20 £
Saudi Arabi
60 $
60 $ / 45 € / 35 £
USA
20 $
30 $ / 25 € / 20 £
**Fees can only be paid in cash!
*Turkey will lift visa restrictions for tourists from Austria, Belgium, the Netherlands, Poland, Spain and the U.K. as of 2nd March 2020. The new visa-free regime will allow entry for up to 90 days per 180-day period.
Hong Kong, India, and countries not listed above; please have a read at Republic of Turkey Ministry of Foreign Affairs for the required information.
Travel Atelier provides assistance for receiving CIP service at Istanbul, Ankara and Izmir Airports for both international & domestic arrivals and departures. This exclusive service is developed for passengers who favor comfort, stress-free travel and saving time. By booking CIP Service travelers eliminate pre- and post-flight delays by facilitating all procedures, in addition to offering many luxurious conveniences.
Offered as a choice of either Prime Pack or Prime Select packages, the privileged world of "prime class" simplifies the lives of passengers every step of the way; before and after flights at Istanbul Airport, Ankara Esenboga and Izmir Adnan Menderes Airports in Turkey regardless of which airline they are flying by. Contact us for booking CIP service at the airports to avoid the stress of waiting in the long queues and let us assist you with all these passport control & visa procedures on behalf of you...