HOT AIR BALLOON IN CAPPADOCIA
A lifetime experience...
Cappadocia, without any doubt, is the best place on earth for hot air balloons with its fascinating landscape and climate. Hot air balloon ride costs vary on service quality and are operated all year round and every season has another charm. Experiencing such an amazing aerial nature walk is absolutely a lifetime experience. Hot air balloon adventure starts with the first lights of the day when only you and Mother Nature is awake! Witnessing the sunrise while watching the preparations is also another spectacular.
Low contour flying in the valleys give you another opportunity to see the whole landscape. Ballooning is a very nice way of spending time with family & kids, celebrate a birthday, propose to your loved one, repeating your vow, a special present to be remembered, a highlight for a successful incentive gathering or even to get married in the basket. You can enjoy this unique landscape with birds eye from the air without an engine!
Ballooning is safe and our partner operators carry full passenger insurance. Ballooning in Cappadocia is suitable for the age groups of 6 to 90. It has been proven by many passengers that low contour flights on the basket do not cause fear of highs. Travel Atelier recommends only the best companies for your convenience and satisfaction. We highly recommend this experience to our guests who make their ways to Cappadocia.
For more information about the flight programs, summer & winter operations and please contact us for reservation requests.
How Safe is the Ride?
Cappadocia is one of the most preferred destinations for hot air ballooning activity recording mostly over 260 flights per year safe and sound.
Licensing of Pilots
45 hours of training for PPL followed by 40 hours and a minimum of 6 months to achieve a CPL to fly balloons smaller than 250.000 cu.ft. (12 passengers). Another 6 months and 100 more flying hours are required to obtain the license to fly larger balloons...
Hot Air Balloon Operators
Balloon companies have to employ a flight operations manager (minimum 3 years of pilot license required) mostly filled in by chief pilot, ground operations, and a maintenance manager (minimum of 2 years maintenance experience) and a quality control manager (minimum of 2 years' experience) independent of all departments.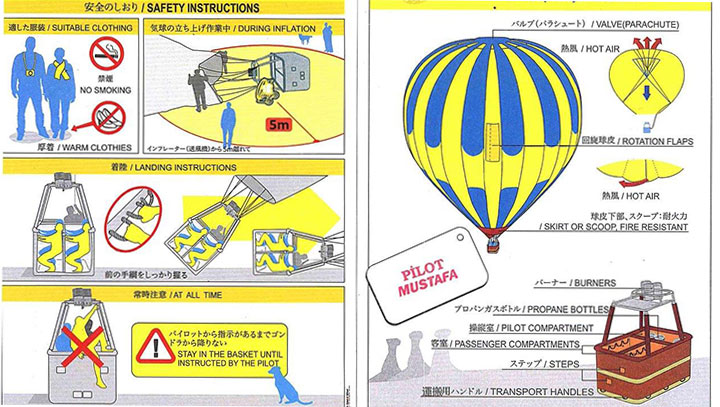 Hot air balloon pilots with CPL have to renew their license every 2 years by passing a written test (to refresh knowledge) regarding emergency procedures and a check-out flight. The Class2 medical checks take place in CAA accredited hospitals. The medical checks are once every 5 years up to the age of 40 and every 2 years after that. At the age of 65, the licenses are not renewed.
Please note that in the US, pilots don't have to have medical and in France, you get a license after a maximum of 15 hours of flight time. (and no difference of PPL or CPL)
A minimum of 5 balloons over 120.000 cu.ft. and a minimum of 500.000 USD is required as paid capital, to apply to CAA for a new operator license.
Quality of the Balloons
For Turkey, main suppliers are English (Lindstrand and Cameron), Spanish (Ultramagic) and Czech (Kubicek). Some balloons in Cappadocia are also from Ultramagic and Kubicek…
Every balloon comes with a manual where all the minimums maximums are mentioned.
Also, SBS (service bulletins) and ADs (airworthiness directives) may be issued by the manufacturer during a balloon's operational life.
They are tested regularly for tear and other qualities by the company's maintenance manager and signed in their logbook together with relevant check sheets.
All balloons receive thorough checks by the pilot before and after the flight and all the info is also logged and signed by the pilot.
The airworthiness of the balloons is renewed by the CAA every 12 months following thorough checks…
Problems with balloons are likely to occur from fuel systems mainly leaks from the hoses, which are inspected by the pilots on a daily basis.
Replacement hoses and connections and all the related spare parts are ONLY supplied by the manufacturer. It is strictly forbidden to perform any unauthorized repairs…
For the past 12 years, all balloons carry an aircraft radio (VHF) with the frequency set to 130.00 to communicate with each other when they have to…
In Addition to Official Requirements
An information card with pilot's name is distributed upon check-in and the safety briefing for windy landings is standard before take-offs.
Experienced pilots and balloon companies know more about the weather than most other balloon companies (Kapadokya Balloons, Royal Balloons, Butterfly Balloons and Voyager Balloons are one of the few, named personally to present opinion about weather conditions on CAA's website)
Each has at least one crew and one pilot meeting every month. The meetings are logged and open for inspections of CAA… All crew has to read, understand and sign a – crew handbook – regarding duties, dangers and emergencies concerning the safety. Pilots and crew receive a fire training/rescue from the fire department once a year.
Between January 1st, 2010 and March 31st. 2017, most of the same reputable balloon companies have flown more than 900.000 passengers in more than 50.000 flights with a perfect safety record...
Unofficially around more than 20.000 balloon flights were executed by various balloon operators in Cappadocia only in 2012 and nearly 900 since the accident of May 20, 2013…
This is a major balloon volume in a small area and both the Turkish CAA and balloon operators are working together to avoid the smallest of mistakes. Some new measures will be in place quite soon…
Hope the above information shows that hot air ballooning safety, despite its recreational nature, is taken very seriously in Turkey.
Despite all, professional companies try their best to minimize/eliminate human error factor with the aim of a 100% safety record, not only for themselves but for all balloon operators in Cappadocia.
Finally, the quality of the equipment and keeping them well-maintained within their projected commercial use period is indispensable for flight safety. Operating with a well-trained ground crew and experienced pilots both with excellent commanding skill and knowledge on meteorology is the other major factor which we meticulously consider when making a booking for our guests interested in enjoying a hot air balloon flight in Cappadocia once in the area.
Options & Prices
Travel Atelier works only with the best in the region; Butterfly Balloons; Kapadokya Balloons, and Royal Balloons (in alphabetical order!) All three companies have standard (short) and deluxe (long) flights. With the most experienced pilots in the region, these companies will make sure you have the time of your life in the serene, exceptionally beautiful landscape of Kapadokya. We, as Travel Atelier Team, also have the luxury to fly our passengers with the pilot we specifically request.
Each passenger is to dress according to the temperature. Flat shoes, hat, sunglasses (in short we mean comfortable clothing!) and of course the camera is a must. The event presents many photo opportunities and lifetime memories to cherish.
The pickup and drop-off times are subject to change depending on seasonal and climatic conditions. The flights include transportation to and from the event, light refreshments before and after the flight, a personalized certificate or a silver medal, and of course, the traditional champagne toast upon landing. All three companies have full passenger insurance coverage.
240,00.-EURO / 250,00.-EURO
300,00.-EURO / 320,00.-EURO
All prices include tax. Pre-booking recommended.
Cancellations prior to 24 hours are free of charge; cancellations less than 24 hours is subject to full no-show.
All flights take place at dawn. Your pilot will check the weather conditions to select the most appropriate launch site where you will be transported by your driver along with your group in luxury minibusses. At the launch site, you will be guided through a full passenger safety briefing and get to experience the inflation of your balloon. Once you are all in the basket, you will start your exceptional journey gliding through the incredible landscape of Cappadocia while your pilot explains some of the local stories and histories behind the different rock formations. All pilots are extremely knowledgeable and all speak fluent English. Different take-off sites are chosen daily according to the wind direction to have the maximum flight time and the most interesting flight path. After the landing, champagne cocktail toast is held respecting the traditions of ballooning the world over. Please rest assured that this experience will surpass your highest expectations!
Additionally combining this activity with direct flights from Antalya, Ephesus or Istanbul with an overnight at one of the cave hotels and daily private tours on arrival and the adventure the next morning before your flight back to your next or previous destination.
Please ask for Private Balloon Ride for your special events.