ISTANBUL
A City of Two Continents...
Istanbul, the hippest city in recent years, has everything you are looking for in Turkey and more... It is where Asia & Europe meets...
It is exciting, hectic, intensive, complicated, chaotic, fascinating, mystical, and romantic and a timeless must travel destination of Turkey. It is hard to observe it in just a single trip which will make you come back and back again on different vacations. It will make you realize that it is a world leader created by nature and history; she can be traditional, postmodern or avant-garde. It may give you the impression that she is original, creative or simply tacky. This city that never sleeps has the potential to surprise even its own citizens who have born here. It all depends on how you look at the immense 20 million Istanbulites and the visitors, which angle of the day and hour you prefer and choose to see what.
You encounter traces, memories, and colors from all tribes and periods of history on the continent. All walks of civilizations have left a mark here passing through this massive gate that connects east to west and north to south. What they left behind are intermingled, interacted and synthesized to produce a multi-layered deep and exceptionally rich heritage. This world metropolis where cultures, languages, and religions fuse is an everlasting book and a most beautiful painting you can not have enough of...
Besides traditional historic places of the country, the first foundation of Istanbul dates back to 7th century BC; the latest discoveries show uninterrupted inhabitation for 8.500 years. It cannot be estimated whether this date will go further back but the fact that this Imperial Capital blessed in heart with a sea route is an unparalleled open-air museum adorned with the best artifacts of the most talented architects and artists of more than 120 Roman and Byzantine rulers and Ottoman Sultans that it served in nearly 2000 years.
Not only it takes you to the past with its fascinating history of thousands of years on two continents, but it also inspires present and future where harmonious blends of old and older and the contemporary complement each other in extraordinary arrays.
Istanbul is a city steeped in the history of ages, with myriad stories to tell. Travelers to the city in Ottoman times were captivated by its silhouette of domes and slender minarets against the reddening sky as the sun sank into the Marmara Sea. Poets, unrequited lovers, those at odds with their own country, and those in search of adventure were drawn here. They smoked water pipes with firemen in coffee houses on the Golden Horn, wandered through the Hippodrome, took rowing boats along the Bosphorus, breathed in the seaweed scented sea air from Camlica Hill, drank ice-cold water from a fountain in Mahmut Pasha, and explored the colorful labyrinthine streets of the Covered Bazaar.
This golden city, the gateway to east and west, where thousands of years of history could be glimpsed through the mists of time, attracted people from far and wide into its irresistible web of mystery. Among them were many who sought to depict and describe this city they came to love so that they and their companions would never forget it, and to show others what they had seen. Armed with pens, pencils, notepads, and sketchbooks they explored every corner of Istanbul, alias Constantinople. They drew, painted, and described whatever they saw, leaving behind a record of the city of unsurpassed detail in art and literature.
Perhaps the diversity of the tribes that had set foot here throughout the long past and today's 15 million population with different backgrounds, nationalities, religions, and languages can explain the hard to get dynamism, creativity, and vitality that has inspired novels, movies, and all the others about Istanbul... It will go on to do so for many generations to come for as long as this legendary city keeps fascinating the world people.
All you need to do is to tell us what you expect and what aspects you wish to discover in this one of the most ultimate destinations of Turkey and let us assure you to live the city in ways that are not found in the touristic books, making unforgettable memories.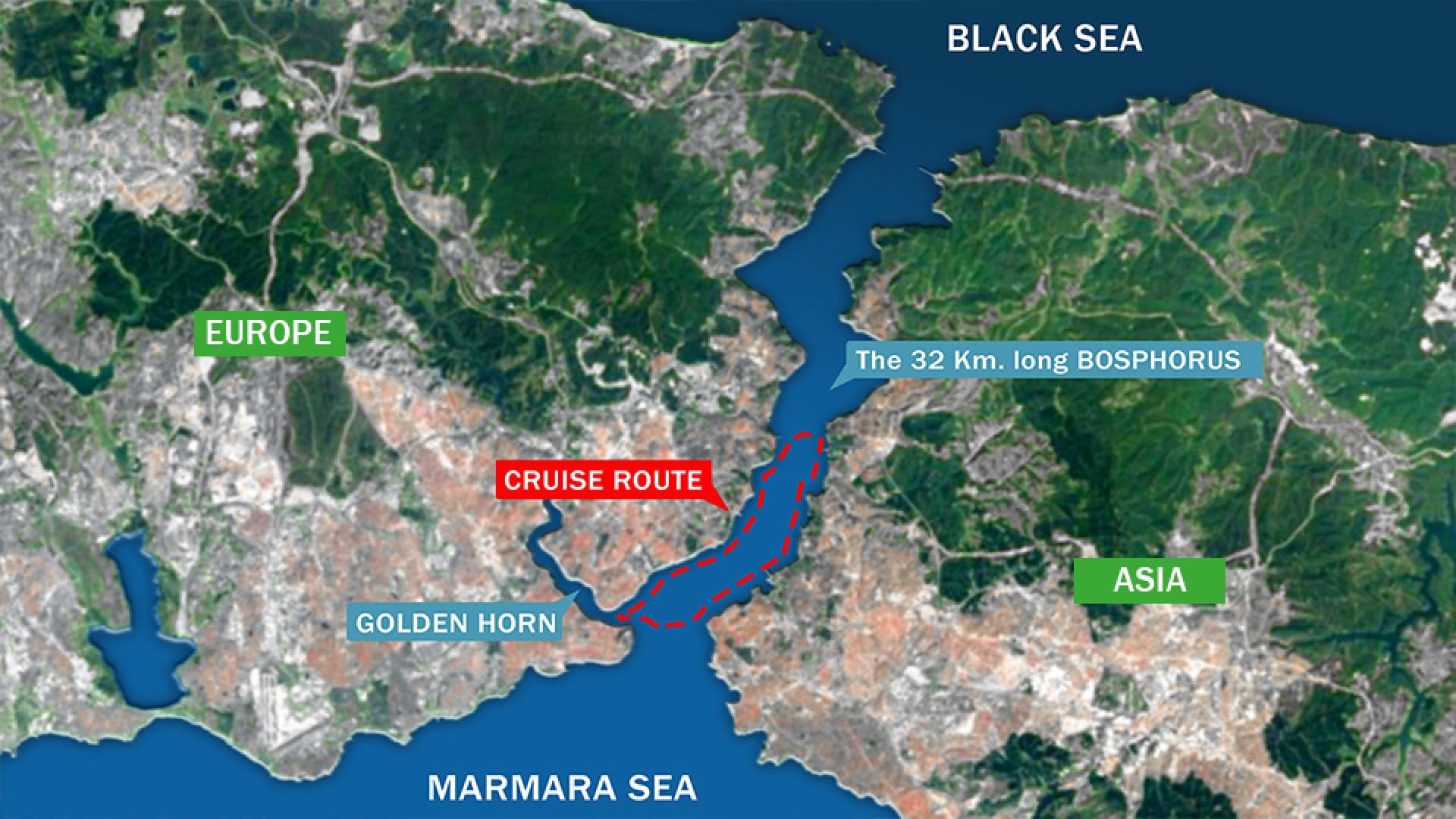 Geography of Istanbul | Where It is Located and Present
The location of Istanbul could be placed in a circle lying roughly at the intersection of the 41st parallel and the 29th meridian. A number of the world's important cities also lie on or near the same parallel-cities such as Peking, Salonika (Thessaloniki), Naples, Madrid, and New York. It is the place where the continents of Europe and Asia meet too, for it was founded at the point where the Black Sea is linked to the Mediterranean and the islands of the Sea of Marmara. Istanbul is located where roads link East and West, where the sea brings the North and South together. This geographical feature of the city is further stressed by the presence of the Golden Horn, which throughout history has served as a natural harbor for ships of all kinds.
Location and geography-wise, Istanbul was able to develop as three separate cities. The first of these is the historic part of the old city walls which is triangular; this part of the city has a very ancient history, has seen many different stages of development, and could rightly be described as its nucleus. Galata, which lies on the north bank of the Golden Horn, developed as a city in its own right and is the nucleus of the many districts that have grown up around it during the past hundred years or so.