PRIVATE & CREWED YACHT CHARTER IN TURKEY, GREECE AND CROATIA
Life is an ocean, sail it...
Either in Turkey, Greek Islands or Croatia, chartering a private yacht can take you to new horizons that few get on such a vacation. Being on these crewed vessels is more about feeling free, having new choices each day and sharing extraordinary times with the people you care about and dine in the most exquisite way served by professional, friendly crew members.
Gulet is a particular type of Turkish vessel which is traditionally wood built and very suitable for chartering especially in the Aegean or Mediterranean in Turkey, as they have spacious deck space for outdoor living and sunbathing. Sizes change between 15 and 50 meters in length, and they can host up to 24 persons in separate double cabins with en-suite WC/showers. The crew consists of 2 – 5, captain, cook-seaman, and deckhands. The team on board also does the serving, cooking, and cleaning.
On private yachts; either we decide on a boat and organize your holiday according to the available dates or ports of embarkation and disembarkation of that specific boat or take a decision on the embarkation port and route first, then start searching for the best available yachts. In both cases, there is not necessarily a fixed itinerary. Together with you, and the captain, we put together the best possible route and offer the most ideal and available blue cruise route.
Gulet holidays are also perfect for children. If you have not experienced chartering your vessel before; you may be hesitant about it, but we did.
Let us give you a real introduction to it. Being the founders of Travel Atelier, we (Pinar & Murat) have been spending our summer vacations on board for nine years with our kids. Within those years sometimes we chartered the boat with our extended families and sometimes with close friends with children. Ages of children ranged from five months to twenty years, and it always ended up entirely perfect because it is stress-free.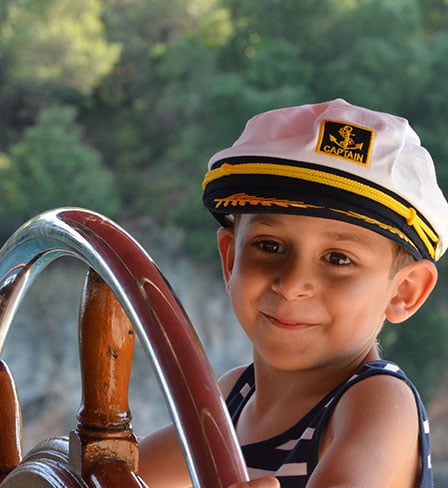 Here we have listed only a few How's and Why's
When you charter the yacht on your own;
There are no strangers around you, so nobody complains about the noise.
There is no strict time for breakfast, lunch, and dinner so you cannot be late and let anyone wait for you.
You do not need to pack and unpack the swimming stuff all the time – they are always at hand on the deck.
You do not need to dress- up or make-up and even wear shoes and swimsuits for the day and barefoot is just fine.
You are never stuck in the room when your kids are sleeping since you can keep enjoying your holiday under the stars, chatting with the other loved ones, drinking your wine, reading your book, playing cards game while they rest in the cabin just a few meters away from you.
And yes, it is perfectly safe. It is safe as being in the pool with them since you are always on the calm waters. There is also the fishing and canoeing opportunity; the cream on the cake!
Hotspots for Luxury Yacht Charter in Turkey
Turkey is home to 436 blue flag beaches and iconic bright blue waters that attract holidaymakers in the millions. So how do you choose the best spots to visit on your sailing holiday?
We've narrowed it down to 6 hotspots that you need to experience on this once in a lifetime sailing trip.
Istanbul
This unique city has been the capital of 3 different empires and no trip to Turkey would be complete without experiencing this dynamic metropolis. This melting pot of East meets West leads to a truly unforgettable city of vibrant nightlife and historic wonder.
Stop off for a traditional hammam before departing on your relaxing private yacht charter. There is nothing like the busy streets of this incredible city to get you ready for a slower pace on the open sea.
Bodrum
Bodrum is set in a peninsula and is a charming spot brimming with character and culture. A 15th-century castle instills old world charm alongside stylish boutiques and fine dining restaurants.
Yachts are commonplace in Bodrum as holidaymakers come to experience the rich cultural history and renowned nightlife. From Idyllic beach resort to a thriving party mecca, Bodrum will certainly leave an impression.
Marmaris
Once a small fishing village, Marmaris has grown to become a leading destination for people seeking bustling bazaars and a relaxed ambiance. Enjoy authentic local cuisine in the quay before an afternoon of shopping in the old quarter or visiting ancient ruins.
Top it off with cocktails in one of the many bars or restaurants is this haven for yacht charter holidays.
Gocek
Just like many of the spots highlighted in this guide, Gocek will take you on a journey through Turkey's wonderfully colorful history. You'll feel like you've stepped into another time in this unmissable coastal town of just 4000 inhabitants.
What sets Gocek apart from the other locations in the local government's determination to keep the cultural heritage protected. New developments are kept strictly in line with existing architecture to create a beautiful whitewashed city.
Fethiye
Known in ancient times as Telmessos, Fethiye is known for its almost perfect marina that attracts luxury charter and superyachts alike. A stunning hilltop fort overlooks the old town that homes historic treasures such as the ancient theatre and numerous sarcophagi.
Fethiye is also famous for Lycian tombs carved into the natural rock. One of the more well known is the Amnytas tomb which dates back to the 4th century.
Fethiye is a breathtakingly beautiful spot that you'll have a hard time tearing yourself away from.
Cesme
Azure waters and natural springs welcome sailors and tourists alike to this "little harbor" paradise in the Eastern Meditteranean.
The beautifully chic marina and charming local restaurants and shops make this a perfect destination on your luxury yacht charter. This spot is also popular for people wanting to explore the nearby Greek islands as part of their private yacht charter.
The main square is a great starting point for all the fun and activities in Cesme but seasoned sailors will also know that it's home to the two best beaches in Turkey.
How Much Does It Cost?
Prices of private yachts vary depending on its size, quality, crew and the availability of the month you would desire. The usual practice is renting the crewed yacht for a week, so you receive the week prices. However, there might be some periods you could charter it for less than a week.
At Travel Atelier, either privately owned or within a charter company fleet; we only recommend the yachts that we have inspected ourselves and know the captain and the crew.
No two boats and no two clients are the same, so the options are limitless. The below crewed private gulet portfolio is a little introduction to give you an idea about gulets we book for our guests. We would be happy to assist you in finding the yacht that best suits your needs and budget for your luxury yacht charter once desired.
Cabins: 4 Double, 8 Twin / Max: 24 Guests
DELUXE
Cabins: 1 Master, 2 Double, 2 Twin / Max: 10 Guests
DELUXE
Cabins: 6 Double, 5 Twin / Max: 22 Guests
DELUXE
Cabins: 3 Master, 3 Twin / Max: 16 Guests
DELUXE
Cabins: 10 Double, 2 Twin, 4 Triple / Max: 36 Guests
DELUXE
Cabins: 6 Double, 2 Twin / Max: 16 Guests
DELUXE
Cabins: 2 Master, 4 Double, 2 Triple / Max: 18 Guests
DELUXE
Cabins: 1 Master, 6 Double / Max: 14 Guests
DELUXE
Cabins: 2 Master 1 Double, 1 Twin / Max: 8 Guests
LUXURY
Cabins: 1 Master, 4 Double / Max: 10 Guests
LUXURY
Cabins: 2 Master, 2 Double, 1 Twin / Max: 10 Guests
LUXURY