PRIVATE & CREWED YACHT CHARTER IN TURKEY, GREECE AND CROATIA
Life is an ocean, sail it...
Either in Turkey, Greek Islands or Croatia, chartering a private yacht can take you to new horizons that few get on such a vacation. Being on these crewed vessels is more about feeling free, having new choices each day and sharing extraordinary times with the people you care about and dine in the most exquisite way served by professional, friendly crew members.
Gulet is a particular type of Turkish vessel which is traditionally wood built and very suitable for chartering especially in the Aegean or Mediterranean in Turkey, as they have spacious deck space for outdoor living and sunbathing. Sizes change between 15 and 50 meters in length, and they can host up to 24 persons in separate double cabins with en-suite WC/showers. The crew consists of 2 – 5, captain, cook-seaman, and deckhands. The team on board also does the serving, cooking, and cleaning.
On private yachts; either we decide on a boat and organize your holiday according to the available dates or ports of embarkation and disembarkation of that specific boat or take a decision on the embarkation port and route first, then start searching for the best available yachts. In both cases, there is not necessarily a fixed itinerary. Together with you, and the captain, we put together the best possible route and offer the most ideal and available blue cruise route.
Gulet holidays are also perfect for children. If you have not experienced chartering your vessel before; you may be hesitant about it, but we did.
Let us give you a real introduction to it. Being the founders of Travel Atelier, we (Pinar & Murat) have been spending our summer vacations on board since nine years with our kids. Within those years sometimes we chartered the boat with our extended families and sometimes with close friends with children. Ages of children ranged from five months to twenty years, and it always ended up entirely perfect because it is stress-free.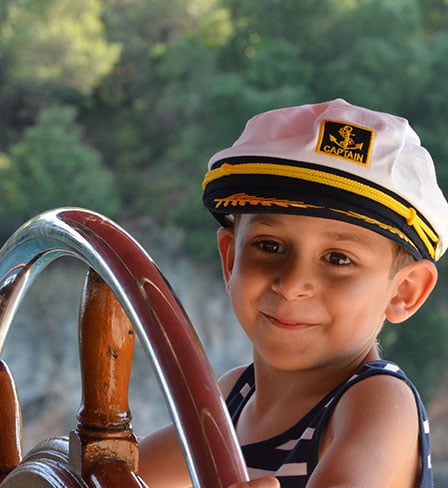 Here we have listed only a few How's and Why's
When you charter the yacht on your own;
There are no strangers around you, so nobody complains about the noise.
There is no strict time for breakfast, lunch, and dinner so you cannot be late and let anyone wait for you.
You do not need to pack and unpack the swimming stuff all the time – they are always at hand on the deck.
You do not need to dress- up or make-up and even wear shoes and swimsuits for the day and barefoot is just fine.
You are never stuck in the room when your kids are sleeping since you can keep enjoying your holiday under the stars, chatting with the other loved ones, drinking your wine, reading your book, playing cards game while they rest in the cabin just a few meters away from you.
And yes, it is perfectly safe. It is safe as being in the pool with them since you are always on the calm waters. There is also the fishing and canoeing opportunity; the cream on the cake!
Prices of private yachts vary depending on its size, quality, crew and the availability of the month you would desire. The usual practice is renting the crewed yacht for a week, so you receive the week prices. However, there might be some periods you could charter it for less than a week.
At Travel Atelier, either privately owned or within a charter company fleet; we only recommend the yachts that we have inspected ourselves and know the captain and the crew.
No two boats and no two clients are the same, so the options are limitless. The below crewed private gulet portfolio is a little introduction to give you an idea about gulets we book for our guests. We would be happy to assist you in finding the yacht that best suits your needs and budget for your dream blue cruise holiday once desired.
Cabins: 4 Double, 8 Twin / Max: 24 Guests
DELUXE
Cabins: 3 Master, 2 Double / Max: 8 Guests
DELUXE
Cabins: 2 Master, 2 Double, 2 Twin / Max: 12 Guests
DELUXE
Cabins: 1 Master, 2 Double, 2 Twin / Max: 10 Guests
DELUXE
Cabins: 6 Double, 2 Twin, 8 Triple / Max: 36 Guests
DELUXE
Cabins: 6 Double, 5 Twin / Max: 22 Guests
DELUXE
Cabins: 2 Master, 2 Double, 2 Twin / Max: 12 Guests
DELUXE
Cabins: 1 Master, 2 Double, 2 Twin / Max: 10 Guests
LUXE
Cabins: 1 Master, 2 Double, 2 Twin / Max: 10 Guests
HIGH DELUXE
Cabins: 2 Double / Max: 4 Guests
STANDARD
Cabins: 2 Master, 2 Double / Max: 8 Guests
DELUXE
Cabins: 2 Double / Max: 4 Guests
LUXE
Cabins: 4 Double, 8 Twin / Max: 24 Guests
DELUXE
Cabins: 6 Double, 2 Twin / Max: 16 Guests
LUXE
Cabins: 6 Double / Max: 12 Guests
DELUXE
Cabins: 8 Double, 2 Triple / Max: 22 Guests
LUXE
Cabins: 6 Double, 6 Twin / Max: 24 Guests
DELUXE
Cabins: 1 Master, 3 Double / Max: 8 Guests
LUXE
Cabins: 2 Master, 4 Triple / Max: 12 Guests
DELUXE
Cabins: 6 Double / Max: 12 Guests
VIP
Cabins: 1 Master, 4 Double / Max: 10 Guests
DELUXE
Cabins: 2 Master, 1 Double, 1 Twin / Max: 8 Guests
HIGH DELUXE
Cabins: 2 Master, 4 Double, 2 Triple / Max: 18 Guests
HIGH DELUXE
Cabins: 2 Master, 1 Double / Max: 6 Guests
LUXE
Cabins: 2 Master, 1 Double, 1 Twin / Max: 8 Guests
VIP
Cabins: 6 Double / Max: 12 Guests
STANDARD
Cabins: 2 Master, 2 Double, 2 Twin / Max: 12 Guests
HIGH DELUXE
Cabins: 2 Double / Max: 4 Guests
LUXE
Cabins: 2 Master, 2 Dbl, 2 Triple / Max: 14 Guests
HIGH DELUXE
Cabins: 1 Master, 4 Double / Max: 10 Guests
HIGH DELUXE
Cabins: 6 Double, 2 Twin / Max: 16 Guests
LUXE
Cabins: 2 Master, 2 Dbl, 2 Twin / Max: 12 Guests
DELUXE
Cabins: 2 Master, 1 Dbl, 2 Twin / Max: 10 Guests
HIGH DELUXE
Cabins: 6 / Max: 12 Guests
VIP
Cabins: 1 Master, 2 Double / Max: 4 Guests
DELUXE
Cabins: 2 Master, 1 Dbl, 1 Twin / Max: 10 Guests
HIGH DELUXE
Cabins: 2 Master, 1 Dbl / Max: 6 Guests
DELUXE
Cabins: 1 Master, 2 Double / Max: 6 Guests
DELUXE
Cabins: 2 Master, 3 Double / Max: 10 Guests
HIGH DELUXE
Cabins: 6 Double, 2 Triple / Max: 16 Guests
LUXE
Cabins: 4 Double, 4 Twin / Max: 16 Guests
DELUXE
Cabins: 1 Master, 2 Double / Max: 6 Guests
DELUXE
Cabins: 1 Master, 1 Dbl, 1 Twin / Max: 6 Guests
HIG DELUXE
Cabins: 1 Master, 2 Dbl, 2 Twin / Max: 10 Guests
HIGH DELUXE
Cabins: 1 Master, 2 Dbl, 2 Twin / Max: 10 Guests
VIP