There are many health benefits of hitting the beach frequently, in fact, being at the beach is enough to lower your stress levels and overall well being. On your next visit to Turkey, check out the incredible Bodrum beaches to soak up the sun and Vitamin D on your vacation.
Turkey is full of history, culture, incredible food, and stunning landscapes like Cappadocia, Mount Ararat, and wondrous coasts.
The most beautiful beaches are located on the beautiful Aegean sea, that separates Greece and Turkey with warm, subtropical, irresistible turquoise waters.
There are so many beautiful beaches on the Bodrum peninsula, and each one has something unique and different to offer. It can be hard to know which is the best beach to visit, especially on a short vacation.
Keep reading to learn the 10 best Bodrum beaches to visit on your next visit to the incredible country of Turkey.
Let's get started!
1. Camel Beach (Kargi Bay)
Camel Beach, also known as Kargi Bay, offers a lot of the normal beach activities that the other beaches offer, such as delicious restaurants, watersports, sunbathing loungers, and safe swimming conditions.
However, it has one major added bonus: camel rides! Yes, you read that right. If you get tired of laying in the sun all day, you can switch it up to a fun camel ride along the beautiful sandy beach. This attraction creates a perfect atmosphere for families because everyone has a chance to find an activity that they enjoy.
2. Kadikalesi
If riding a camel does not appeal to you, and you want even more of a thrill, head over to the next beach for some kite surfing lessons. The weather conditions at Kadikalesi beach are among the best in the world for kitesurfers of all levels.
In the morning, the wind is mild, making it a perfect environment for beginners to try their hand at kite surfing. As the afternoon winds roll in, it is time to sit back, relax, and enjoy the scenes of watching the kite surfing pros work their magic on the water.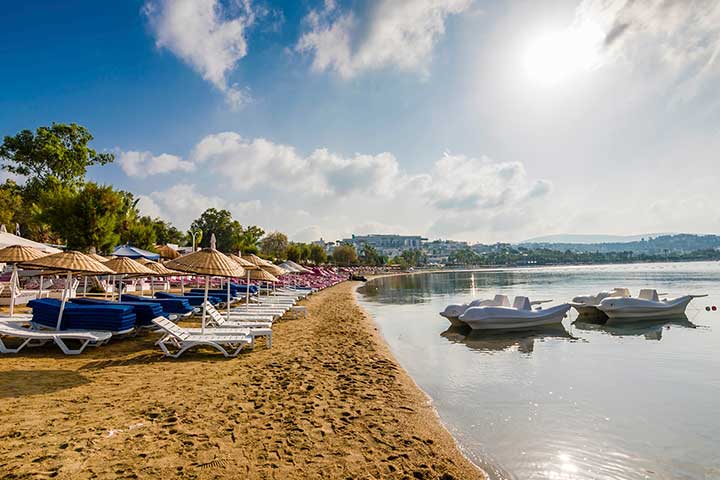 3. Gumbet
Gumbet Beach is a great place to stop and chill for a night or two, because of the diversity between crazy nightclubs at night, and chill water sports during the day. Feeling hungover? No problem. There are many loungers to lay on with servers to bring you a nice mid-afternoon cocktail in the sun.
If you are feeling a bit more energetic, try out parasailing, wind-surfing, snorkeling, jet-skiing, or go for a banana boat ride. The scenery is beautiful in Gumbet Beach, and it is less crowded than some of the other main beaches along the Bodrum peninsula.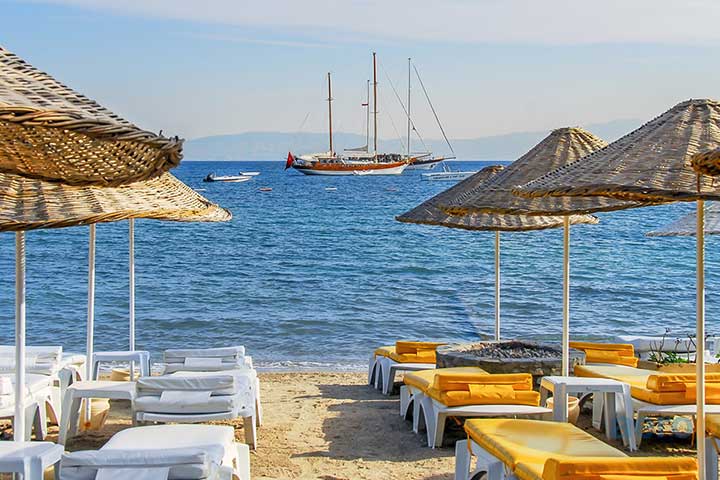 4. Bitez
For those who want something more peaceful and less crowded, Bitez Beach is a perfect atmosphere for that. There are fewer party-goers due to fewer nightclubs, bars, and big restaurants. Bitez is only a short ten-minute drive from the town center, making it an easy place to access without any long bus rides.
Bitez Beach is a great spot for those people who want to avoid the drunken crowds and actually find a spot on the beach to relax in. The best part about relaxing on Bitez beach is that the lounge chairs go right into the stunning blue water of the Aegean ocean.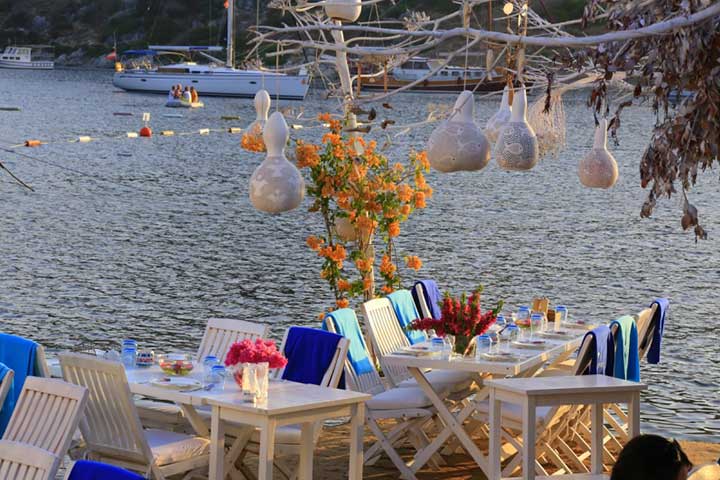 5. Gumusluk
Gumusluk Beach offers something a bit more unique than the typical beach day activities, here you can explore the ancient site of Myndos. The ruins are best seen while snorkeling in the bay, which you can rent for very cheap.
The sandbanks stretch out very far from the beach, which allows you to walk all the way to Rabbit Island for a day of exploration.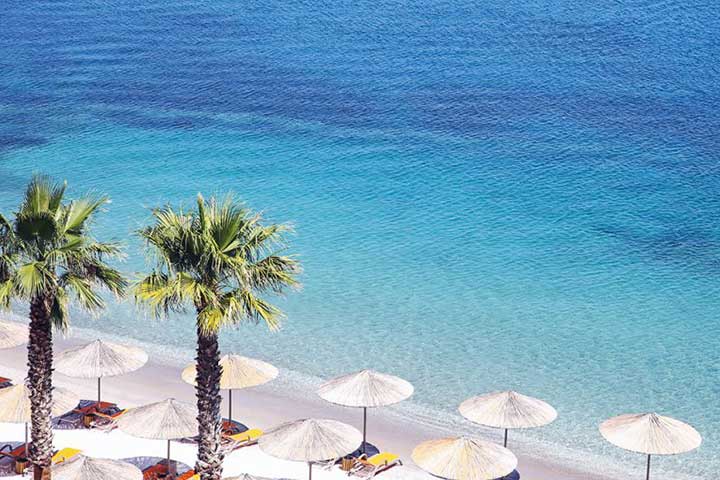 6. Turgutreis
If you are visiting Bodrum beaches during the weekend, make sure you visit Turgutreis Beach for their Saturday market. Here you can find all sorts of interesting crafts, local artisan goods, and delicious food.
Along the beautiful sandy beach, you can find many cafes, restaurants, as well as beach loungers, and parasols for use if you purchase food or drink.
While you are lounging, you can soak up the incredible views of the Greek island of Kos, not so far away!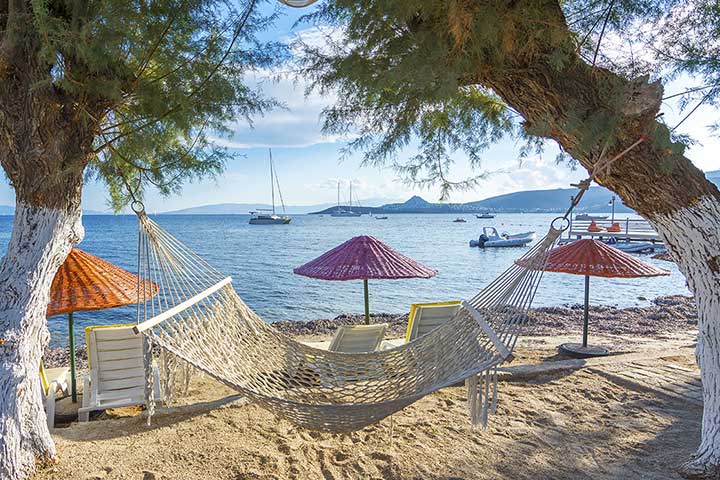 7. Yahsi Sahil
Yahsi Sahil is not too far away from Turgutreis, and it also has great views of the Greek island of Kos. This is the longest beach of all the Bodrum beaches and has many different activities to entertain everyone of all interests.
Stay overnight to watch the incredible sunset as you eat a delicious fish dinner at one of the many seafood restaurants along the coast.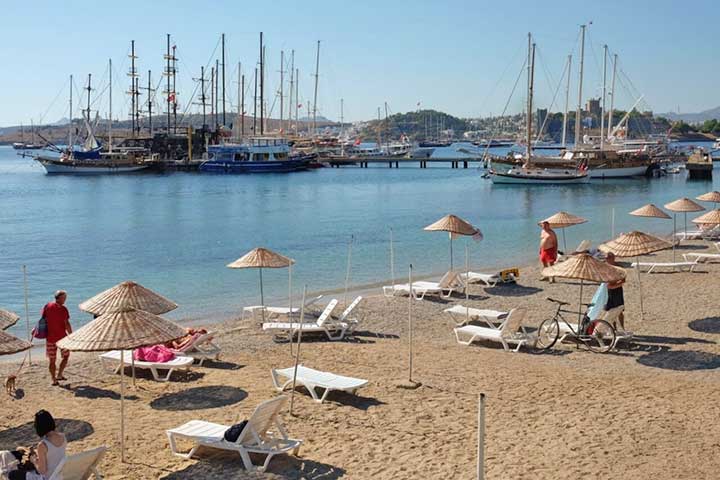 8. Kumbahce
Kumbahce Beach is in a great location, situated between Bodrum town center and the castle. Depending on the time of year you are visiting, it can get very busy with the locals, so go early to ensure you have a spot on the 300 meter stretch of sand.
9. Yalikavak
If gawking at expensive yachts and taking in the scenery of giant boats excites you, then make sure you check out Yalikavak Beach. Here you can find anything between modest, older model boats and mega yachts coming in and out of the harbor.
Because of this attraction, there are also high-end resorts that you can pay a small fee to and use their facilities such as sun loungers and restaurants for the day.
10. Turkbuku
In addition to Yalikavak Beach, Turkbuku also caters to the higher-end, sophisticated crowds. Enjoy some fresh seafood, the popular beach clubs and fine-wine at some of the fine-dining restaurants in the area, then spend the night at one of the many high-end hotels.
Learn More About the Beautiful Bodrum Beaches
Turkey's Bodrum beaches offer a little something for everyone, so make sure you check out more than one location while you are there!
Not visiting Turkey in the summer? Check out our article on the best spots for the winter spirit in Turkey.