Turkey is an immensely popular holiday destination. Indeed, increasing numbers of foreign visitors are holidaying there every year. For instance, over 40 million people traveled there between January and October of 2018. That figure represented a 22.4% rise on the year before.
Of all the locations to travel to in the country, Bodrum holds a special place in the hearts of many. This coastal city is a paradisiacal blend of fine weather, history, culture, cuisine, and commerce.
There's something for everyone to enjoy. Go there once and you'll be returning for years to come.
Are you planning a trip to this idyll on the Aegean? Want a little help deciding how to spend your time? Look no further.
Keep reading to discover the greatest attractions in Bodrum, Turkey.
Heading to Bodrum, Turkey? Here Are 8 Essential Things to Do!
Turkey boasts a vast array of attractions to keep any visitor entertained. Bodrum, on Turkey's southwest coast, is no different. Below you'll find 8 awesome items to add to your to-do list.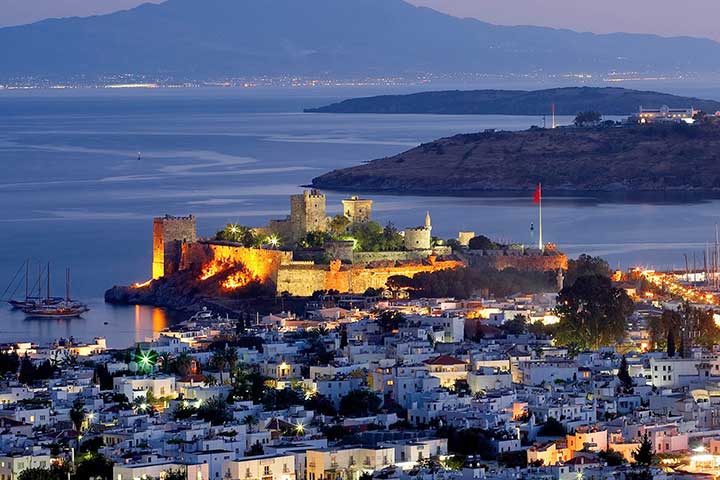 1. Bodrum Castle
Bodrum castle deserves the top spot on this list.
It's the first place most visitors head to upon arrival. And why not? Hundreds of years old (built at the beginning of the 15th Century), the castle remains an impressive landmark in the city.
Its walls have stood the test of time. Stretching out into the sea, its turrets and towers stand proudly above the mighty walls below. Indeed, these ramparts served an important purpose for the Knights of St. John in their battles against the Ottomans.
Nowadays, the castle is an awesome attraction for all ages and interests.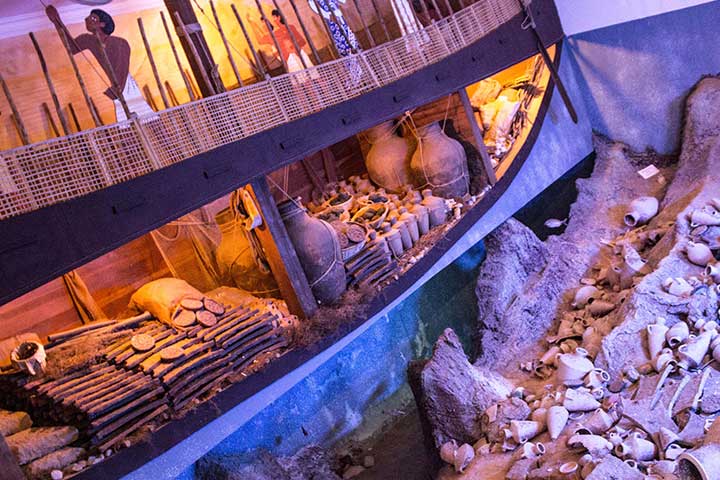 2. Museum of Underwater Archaeology
Oh, and while you're at the castle, be sure to visit the renowned museum that's housed there.
The Museum of Underwater Archaeology holds international acclaim for its size and quality. Not a bad location to, if you ask us!
It's another attraction worthy of your time. Venture into the museum and explore the ancient relics within. Age-old civilizations are brought to life through the artifacts they've left behind.
3. Mausoleum of Halicarnassus
Bodrum is host to one of the wonders of the ancient world.
The Mausoleum at Halicarnassus was built around 2350 years ago. At the time, this tomb would have stood at around 45m in height, carved on all sides with pristine reliefs by famed contemporary sculptors. It entered the history books for its grandeur, might, and aesthetic beauty.
It stood for around 1500 years. But, unfortunately for us, it was left in ruins by a series of earthquakes between the 12th and 15th centuries.
You can still visit what remains though. Walk in the footsteps of thousands of years of history and imagine it in all its glory.
You can read more about the Mausoleum here.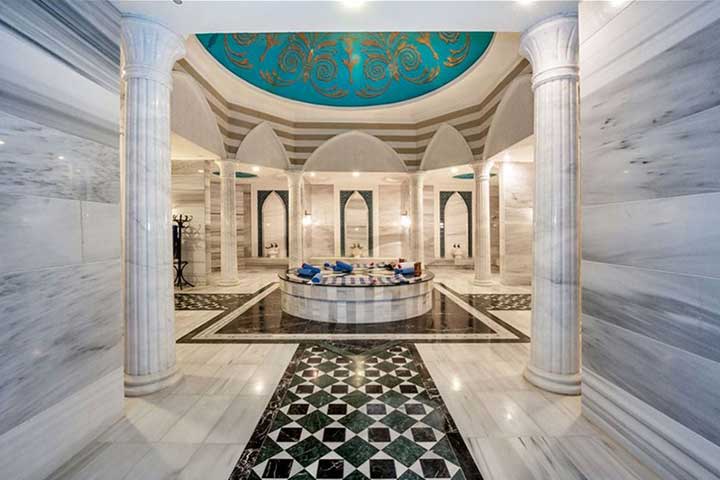 4. Visit a Hamam
A Hamam is the proper Turkish term for what you might know as a 'Turkish bath'.
Many hotels in Bodrum have them, but there are other local Hamam to enjoy too. The oldest in the area dates back to the mid 18th century. Called the 'Barakci Hamam', it takes some finding, but once you're there you'll enjoy the traditional atmosphere. It's a favorite spot for the locals.
After the hot room and massage, you'll come away feeling energized and ready to get back to your holiday!
5. Bodrum Amphitheatre
History lovers rejoice.
Still not totally satisfied after the ancient castle and mausoleum?
Get on over to the amphitheater that hangs on the hillside above the city. That should do the trick.
This Roman amphitheater dates back another few thousand years, to the 4th Century BC. It's immaculately preserved and provides spectacular views over the surrounding area.
Countless others will have stood and gazed at mountains and sea before you. Nicely, this famous spot is still put to work. Concerts and festivals are often held here throughout the summertime. Ask around to see if there's anything happening while you're in town.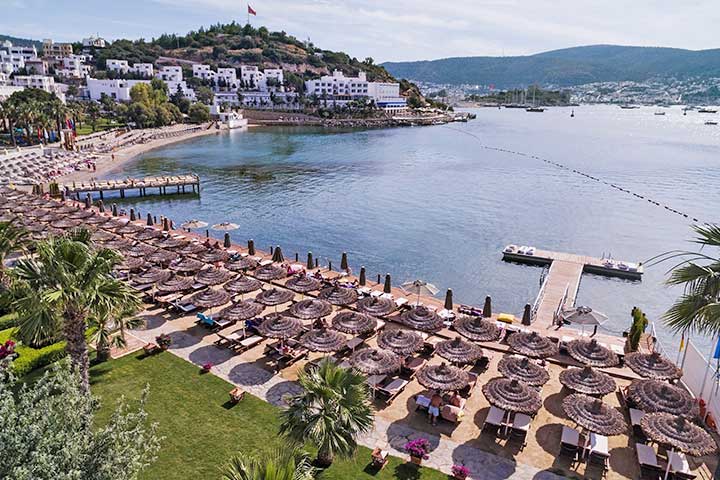 6. Bardakci Cove
You can't go to Bodrum and not spend time at the beach.
The city is literally built next to the sand!
One of the best is at Bardakci. The cove there is something of a paradise. With palm trees, white sands and pristine waters on offer, it's a great place to relax and soak in the Turkish sunshine. Equally, it's close to the city center, which makes it hard to resist after a tough morning of sight-seeing around town!
That beauty and ease of access come at a price though. Expect to share your space with an abundance of other tourists.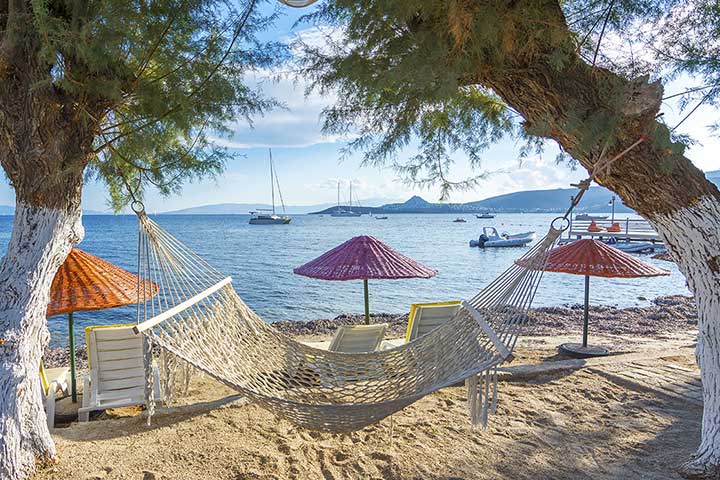 7. Yahsi Beach
Yahsi is another incredible Turkish beach to enjoy during your time in Bodrum.
It's accessible and boasts everything you could ever want. Glorious sun, sea, and sand are set before you. Sun loungers are available to hire. The beach is also just next to a wide range of food outlets for you to enjoy.
You could easily while away an entire day here. And many tourists do. Indeed, it can get a little busy at peak times!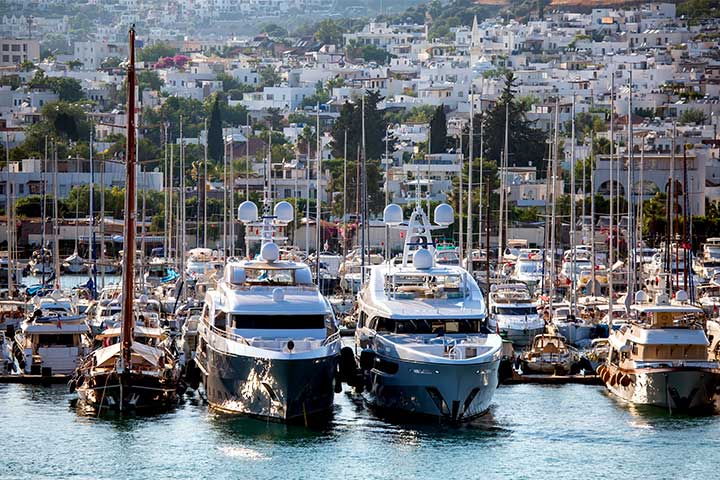 8. Boat Trip
Bodrum is as picturesque as it is historical.
The city's blessed by the crystal-clear turquoise waters of the Aegean Sea that border its cobbled streets. You may already have enjoyed it from the confines of its sandy shorelines of Yahsi and Bardakci. Why not hit the waters for a new perspective of its beauty?
Boat trips are a common tourist attraction here. Venture down to the local harbor and explore the day trip options available. From party boats to private boats, there's a whole range on offer.
Once aboard, you'll boat around the bays and beaches of the area, snorkeling in the clear waters as you go. Don't forget the traditional Turkish lunch that's often provided too. This is an unforgettable way to explore the coastline.
Time to Get Traveling
There you have it: the top 8 things to do in Bodrum, Turkey.
Millions of people head to Turkey every year to enjoy the abundant attractions on offer there. And a large proportion of them will be venturing down to Bodrum!
It's easy to see why. It boasts a host of history and culture, set to a glorious blue-gold background of the sun and the Aegean Sea. What's not to like?!
Hopefully, this piece has highlighted the best things to do when you're there!
Want more information on Turkey? Click here to learn the best places to go in winter!