When planning a destination vacation, most people plan it for their summer holiday because of the favorable weather or because their kids are out of school.
What they don't consider is all the great experiences they are missing out on during the winter, and traveling in the off-season means lower rates!
Turkey in winter is even better and brighter than visiting during the summer months. Come during winter to ski, skip the crowds, and experience the snowy peaks.
It is a big surprise to see Turkey in its white clothes for those who only visited the country during the peak seasons of summer and spring. Skiing or photography is just some of the opportunities that the winter brings in Turkey for winter lovers. In recent years the winter tourism is in great request in the country thanks to its spectacular mountains dotted with hotels ranging from luxury to bed-and-breakfast accommodation opportunities. The country awaits those who wish to explore and experience the relatively unknown side of the country.
Skiing
Turkey has some of the most breathtaking ski resorts and slopes. You don't have to go to the popular European sites like Switzerland and fight for your spot on the powder when Turkey offers an assortment of resorts that fit anybody's skiing preferences. Here are a few examples to consider for your ski trip.
Kartepe
Kartepe is located about an hour and fifteen minutes from Istanbul and is easily accessible by the city buses. At the top of the 1650 meter mountain, you will find ski rental and clothing shops and restaurants. You won't have to leave the top of the mountain until you are ready, because they have everything you need there.
Kartalkaya
Kartalkaya is a great location for alpine, touring, and cross country skiing. For a quiet, more private experience visit this resort during the week and beat the weekend crowds from nearby Istanbul and Ankara.
Uludag
Quite possibly the top location for winter tourism in Turkey is Uludag. Here you can hit the slopes and their breathtaking views for four months out of the year to enjoy skiing or snowboarding. With its high-quality resorts and hotels, two main skiing areas and 14 lifts on its slopes, Uludag continues to be on the top of the list for winter adventure seekers. However, besides Uludag, the fantastic winter landscape attracts the attention of photographers. Its proximity to Istanbul is also another advantage of putting your boots on it!
There are 27 hotels to choose from so you can stay for a while and also enjoy ice skating, touring and delicious restaurants.
Sarikamis
Sarikamis is one of the first choices of snowboarders and skiers due to its rarely seen crystal snow, sunny days which eliminate the avalanche risk and it's Ski Center where the snow can reach two meters deep! For those who understand skiing when told winter tourism, Sarikamis represents a perfect destination.
Palandoken
Here is another attraction center for winter activities. Covered by snow for 150 days in a year, the Palandoken Ski Center presents the longest period. The snow depth can reach up to 3 meters. During the season, the adventure is operated on the powder snow. There are 22 tracks in total, and two of them were declared as Olympic tracks by FIS (Federation Internationale de Ski).
Heliskiing
Heliskiing along the Black Sea is perfect for hardcore skiers looking to access fresh, untouched snow by taking a helicopter ride to drop points at over 100 different summit locations. This is a great way to hit the slopes between January and April without having to wait in line or trek up the mountain.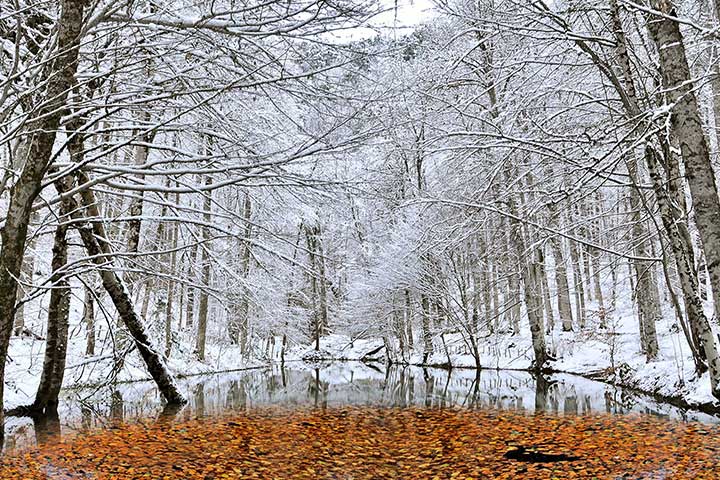 Seven Lakes
The winter beauty of the seven lakes attracts many well-known photographers and all around the globe every year. The ambiance is so beautiful that you don't even need to be a professional photographer to capture amazing photographs. Don't forget to bring your sunglasses as the whiteness of the snow covering every corner may be quite bright when combined with the sun.
Not as Crowded
There are so many things to see in Turkey. The landscapes, archaeological and excavation sites, the architecture of the mosques, churches, and monuments that it's a shame to not be able to enjoy them at peak season. Visiting Turkey in winter allows you to be able to take your time and soak in all the sites and locations without being subjected to the hustle and bustle of the crowds.
Another great aspect of visiting during the winter is you will beat the heat and be able to take your time exploring the incredible Graco-Roman structures and ancient cities, without being worn out by the summertime Mediterranean temperatures.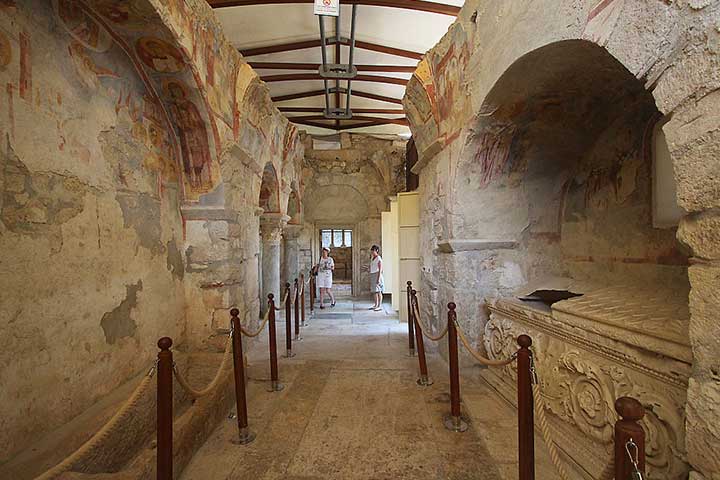 Real Santa Claus
Santa Claus was a real man, St. Nick, and he hailed from the ancient town of Myra which is now known as Demre, along Turkey's Mediterranean shore. Every year on the feast of St. Nick (December 6th) people gather at Demre's 1500-year-old basilica church to pay tribute to the saint.
Although the historical icons depict him as being skinny, dressed in black robes and not round and wearing red, they are indeed the same man. St. Nicholas was a bishop in the 5th century and was known for his generosity. The folklore originated with him delivering gifts in stockings by dropping them down through the chimney, and he is still inspiring us to this day.
Turkish Baths
Perhaps one of the most popular things that Turkey is known for is their grand bathhouses, also called a Hamam. You can beat the cold by spending some time in one of the many historical hammams and soak in some time in the steam rooms.
Kilic Ali Pasha was built in the 16th century and has recently had a multi-million dollar restoration which helped bring the Hamam back to its former glory. This bathhouse was designed by Mimar Sinan, an Ottoman architect who built it for Kilic Ali Pasha. Pasha was a slave who became an admiral and is said to be the inspiration for Don Quixote.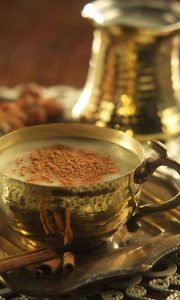 Turkey in Winter Serves Sahlep
Only in the wintertime will this delicious drink be found. Sold on the streets from brass samovars, this creamy drink dates back to the Ottoman Empire times. The drink is a mixture of hot milk, sugar, and flour made from orchid tubers (called Sahlep, giving the drink its namesake), and cinnamon.
The Turkish people drink this mixture for its alleged therapeutic qualities and it's usually served on the streets alongside roasted chestnuts.
Delicious Puddings
Winter in Turkey is also a great time to eat a delicious pudding that is served to mark the day that Noah and his Ark hit solid ground. This pudding, asure, is made of grains, fresh fruit, dried fruits and nuts, beans and chickpeas, and of course sugar. It is similar in consistency to porridge, and the recipe does vary according to the region or family that is making it, but it's the perfect treat on a cold day.
Another popular dessert to eat when visiting Turkey in the winter is the quince fruit poached in cloves and sugar syrup served with clotted cream and flakes of pistachio.
It's So Romantic
Turkey in winter is so stunning that one of the best ways to see it all is by taking a romantic hot air balloon ride over Cappadocia. You will set off before sunrise and while you are watching the sun come up, the beautiful landscape will begin to reveal itself underneath you. As you float overhead through the valleys below you will see the spectacular colors of the terrain, ancient buildings, and gorgeous vineyards.
After your flight, head back to your resort to warm up in front of the fireplace and enjoy a glass of fine wine. This would be the perfect day to celebrate a special occasion or just a special time spent together.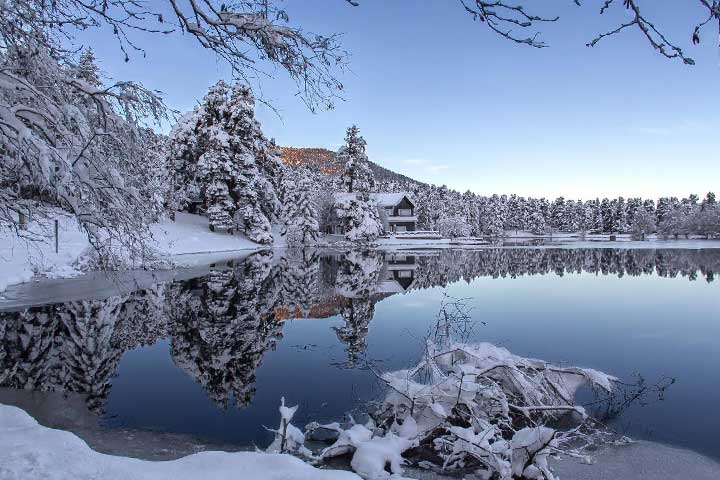 Gorgeous Landscapes
Above all else, Turkey in the snow is beautiful and you can't miss an opportunity to visit. A trip to Abant Lake will leave you in awe of the beautiful snow-capped mountain covered in fir and beech trees. For a thorough tour, you can take a horse-drawn carriage around the lake and breathe in the fresh crisp air.
If you take a visit to the Van region, be sure to make a stop at Lake Van to see the volcanoes that peak around protecting the lake and the small islands that are speckled amongst its vastness. These small islands in this salty lake are home to churches, tombs, and ancient castles, which you can travel by boat to see even in the winter months because the lake will not freeze blocking passage.
There is No Better Time Than Now!
Turkey in winter is gorgeous and has much easier accessibility, and we have only just begun to discuss all the great things to do. Beat the crowds and hit the slopes, experience winter traditions and enjoy the delicious foods, there is no better way to spend the winter holidays.
If you are ready to book your trip, visit our site for more information.