They do say that breakfast is the most important meal of the day, but nowhere is it esteemed as much as in Turkey. Known as kahvalti (which means 'before coffee'), Turkish breakfast is an abundant feast of sweet and savory delights. Here is why breakfast is an absolute must-have in Turkey.
A Typical Turkish Breakfast
Breakfast in Turkey is a family or social affair, especially at weekends when there isn't a rush for the children to get off to school and everyone can enjoy a leisurely repast. There is almost a ritual of brewing the tea and setting the table with small plates and flatware, ideal for multiple options eaten in small amounts.
Although there are regional variations, there are some staple dishes that make up a traditional Turkish breakfast. These basics are freshly-baked bread, cheese, olives, and usually honey or preserves, and maybe some charcuterie.
Typical Turkish cheeses are feta, kasar, and kashkaval (a sheep's cheese similar to Pecorino Romano), olives are green and black, and butter tends to be a bit sweeter than western varieties. Turkish tea is generally black, served in glasses rather than cups.
The basic breakfast is lighter than western breakfasts where cereals, loaves of bread, eggs, and coffee are more common, but families may have their own special items they like to add to the line-up. When there are guests or it's a special occasion, the breakfast takes on buffet proportions.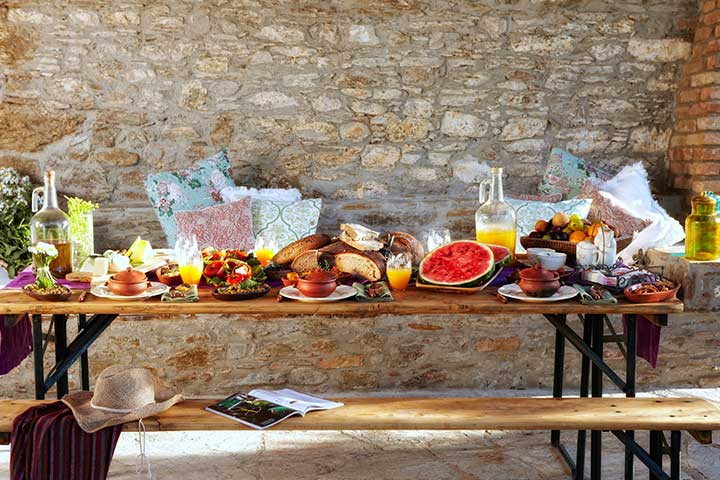 Breakfast on the Go
If you don't have time to enjoy a Turkish buffet breakfast, no matter if you are in a small town or Istanbul, there are always places to pick up something delicious. Local bakeries will have a delicious range of fresh pieces of bread and rolls, some already filled with cheese, tapenade, or even chocolate.
A favorite baked good is 'simit', sesame seed covered ring of bread, also available from many street sellers. It's claimed that simit has been around since the 1500s.
Markets will always have fresh tomatoes, olives, basturma (air-dried, cured, and spiced beef), and a range of cheeses to accompany the bread.
Delicious Turkish Breakfast Food
Breakfast in Turkey is so good that when visiting, you can add a different dish to the basic buffet every day. Here's a selection of some of the country's favorite and most popular breakfast foods: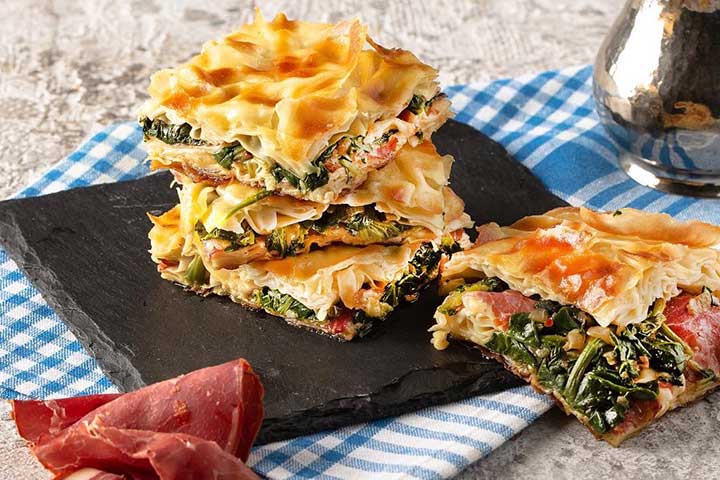 Borek
A layered pie made from filo or yufka pastry filled with variations of meat, cheese, potatoes, and spinach. Spinach and feta is a common combination – much like the Greek spanakopita.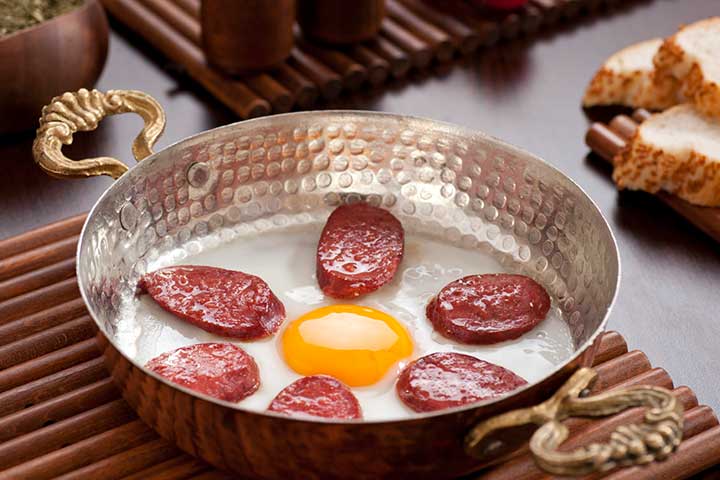 Sucuklu Yumurta
Sausage and baked eggs. Sucuk is a dried sausage, similar to a salami, usually made from ground beef, spiced up with garlic and red pepper, and with two spices essential to Turkish cuisine, cumin and sumac. Peyniri cheese is usually added to the dish.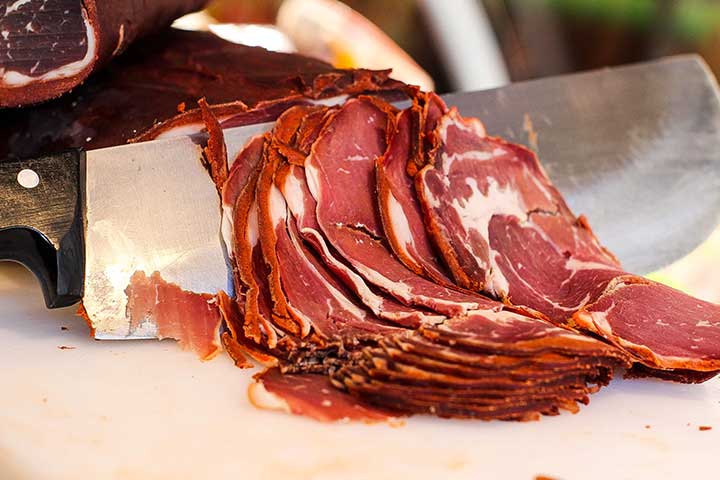 Pastirma
Also eaten with eggs, this is a type of cured beef with a thick layer of spices (similar to pastrami).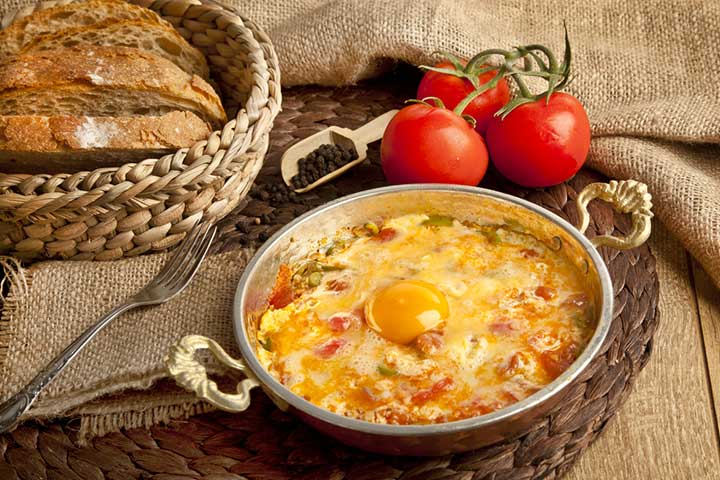 Menemen
This is scrambled eggs with the addition of onions, fresh tomatoes, and green and red peppers cooked in a traditional skillet called a 'sahan'. Recipes include quite a heavy amount of butter – designed to create juice to be mopped up with bread.
Cilbir
Poached eggs in yogurt. Records show this dish dates back to the 15th century and was cooked in the palace kitchens of the Ottoman sultans. Additions to the eggs and yogurt include herb butter and/or chili flakes.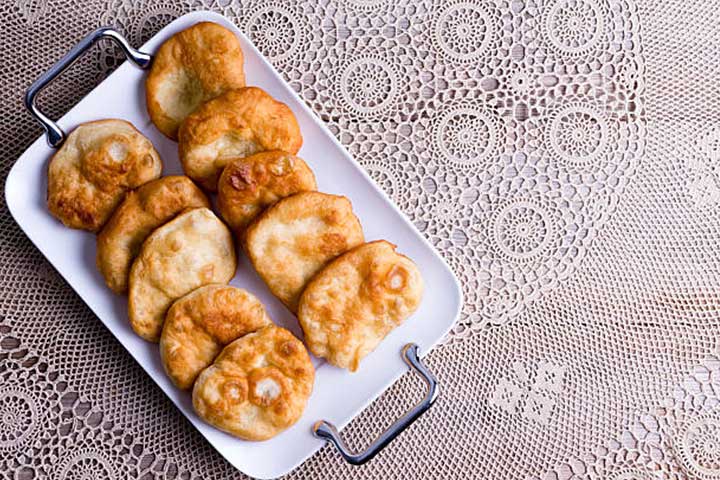 Pisi
Also known as Boortsog or bawïrsaq, this is a sweet breakfast dish. Essentially, it's fried dough in the shape of spheres or triangles. Sometimes dipped in tea.
Salad
It is not unusual for the breakfast spread to include a salad of fresh tomatoes, cucumber, and onion.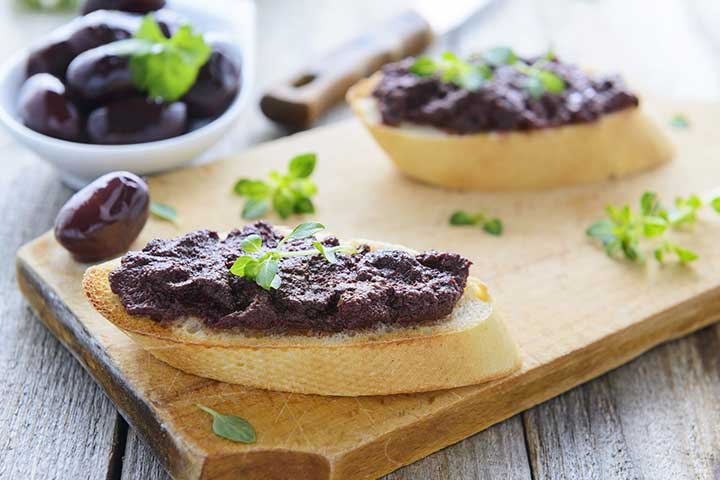 Tapenade
A paste made from crushed black olives but regional variations might add garlic, walnuts, parsley, or spices. Eaten with pita or flatbreads.
Soup
Hearty soups often appear at breakfast in Turkey during colder weather. Red lentil soup is a popular choice.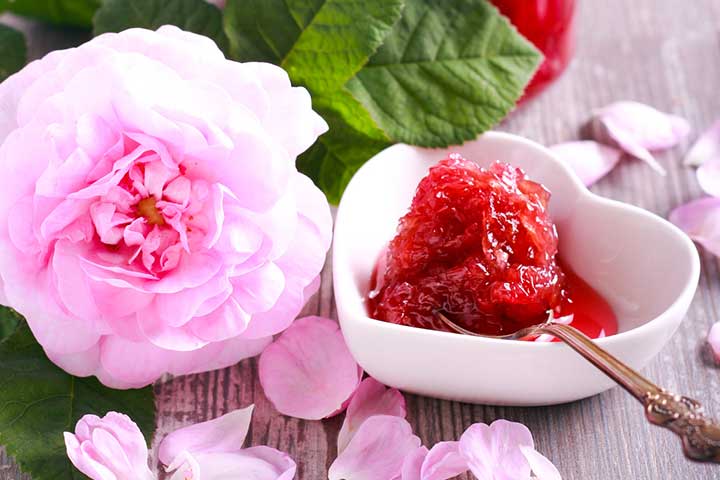 Rose Petal Preserve
Turkish roses are highly prized for their fragrance and are commonly used in cooking as rose water in desserts. Most households will have a pot of rose petal preserve to bring out for breakfast.
5 Best places for a Typical Breakfast in Istanbul
Namli Gurme – Karakoy
An early repast is a definite must here as it is extremely popular, although you can always opt for takeout from this deli café. It has won numerous accolades for the best breakfast in Istanbul. Reviews praise the super fresh ingredients, the wide range of vegetarian and vegan options, and the choice to eat alfresco.
Emek Cafe – Yenikoy
Have breakfast with a view. Sitting right on the Bosporus seafront, starting the day here is a joy. The atmosphere is relaxed but festive and the service is good. Weekends are best avoided as it sometimes feels like the whole of Istanbul has arrived to enjoy a plate of the cafe's famed menemen.
Cesme Bazlama Kahvalti – Nisantasi
A family business in four locations, breakfast is a specialty. Pride is taken in the quality of their olives and olive oil and there's always a huge choice in hot and cold platters which includes their own tomatoes grown especially in Izmir. Expect an excellent selection of cheeses and dried fruits and nuts.
Naga Putrika – Kadikoy
More cozy and secluded than other places, you can still expect a good selection of traditional and modern Turkish breakfast food. There are 8 different types of full breakfasts available all day, all at a reasonable price most are happy to pay. Enjoy a delicious spread in the charming garden or indoors.
Naif – Karakoy
Sourcing food from the Aegean part of Turkey, Naif serves food over three floors and a small outdoor seating area. There's a definite Mediterranean feel, with a nod to Greek tavernas in its simplistic décor. The ambiance is always praised in reviews. If you have a sweet tooth, this is the place for breakfast as their pisi is excellent.
Final Thoughts
A traditional Turkish breakfast is not to be missed. If your mouth is watering and you want to book an unforgettable vacation, check out these amazing trips to Turkey.