According to most surveys, tea is the most widely consumed beverage in the world, after water. In fact, on any given day, approximately 159 million Americans are sipping their favorite piping hot brew. Of these, about 84 percent is black tea, and we've just discovered your new potential favorite! The next time you're selecting a new exotic tea to try, reach for Turkish tea.
We've even brewed up this irresistible quick guide so you can learn all about the wondrous experience and benefits of Turkish tea for yourself.
Seep into this guide before your very first Turkish tea time!
Sweet Sips: Types of Turkish Tea
Many locals prefer the black, sweet variety of Turkish tea. However, there are a few varieties of tourists often sample to taste the full range of Turkish teas.
Oralet
These bright, colorful tea leaves resemble the rainbow sprinkles we often see on desserts. A fruit tea, oralet is available in flavors such as orange, apple, lemon, and cherry.
Since this tea is naturally sweetened, don't feel the need to add a dash of sugar. Instead, enjoy this sweet brew and it's fruity flavors naturally.
This tea is available at many Turkish markets and appeals more often to tourists than locals.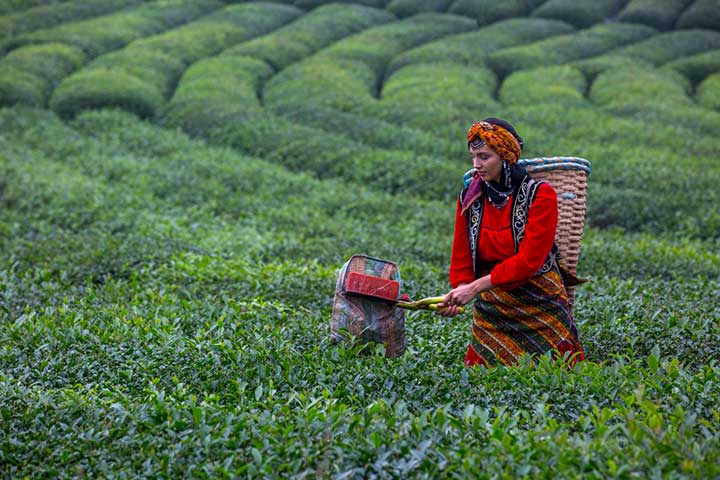 Rize
The province of Rize is considered Turkey's tea capital. The area's mild climate and green mountainsides make it the ideal location for tea plantations to harvest these tea leaves.
Tourists can visit the Caykur tea gardens to sip fresh Rize Turist tea.
Take in a view of the city and relax in the soothing tea gardens.
Apple
Apple tea is black and sweet. It's also the preferred type of Turkish tea among travelers.
Once you select your preferred type of Turkish tea, let's get brewing!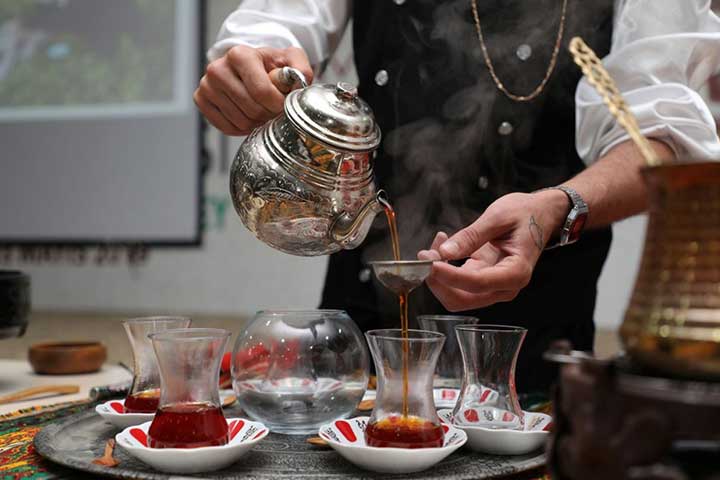 How to Make Turkish Tea
Before you start making your tea, test the quality. Add a few tea leaves to a cup of color water. If the water changes color slowly, you're good to go.
If the water changes quickly, however, try a different brand.
Make sure to store your tea in an air-tight container and dry area.
Pour it Out
If you want to keep to tradition, use a double-stacked teapot. Called a "caydanlik", this teapot will allow the loose-leaf tea to steep within the top, smaller teapot while water is boiled in the lower, larger pot.
Bitterness
To avoid making your coffee too bitter, refrain from over boiling the water. Turkish tea is meant to be a sweet brew, so too much oxygen in the water can cause the caffeine level to rise.
This results in a bitter cup of tea (and wasted tea leaves!).
Count it Out
Once the water boils, wait a few seconds before pouring it into your teapot. This will preserve the taste of the tea and its natural, healthy benefits.
"Leaf" It Be
You don't have to stir or shake your water. Instead, add it to the teapot and let it rest. This also keeps the tea from becoming bitter.
Don't Over Seep
Drink your tea within 30 minutes. Otherwise, you're bound for a bitter brew.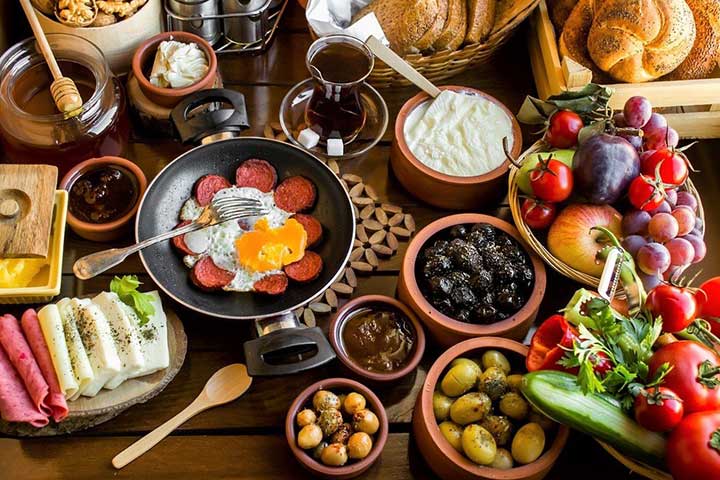 A Bold Brew: How to Drink Turkish Tea
Turks use curved, tulip-shaped tea glasses on a small saucer to serve their tea. To stick to tradition for your Turkish tea time, add two cubes of sugar or more.
Turks don't add milk to their tea, but the sugar cubes assure a deliciously sweet blend.
Then, sip slowly and savor the flavor of this lovely brew.
Turks will also refill their guests' cups as part of their Turkish hospitality. If you're done, put your teaspoon on top of your tea glass to let your host know.
Thinking of traveling to Turkey to sample authentic Turkish tea? Read our guide to traveling to Turkey safely before you go.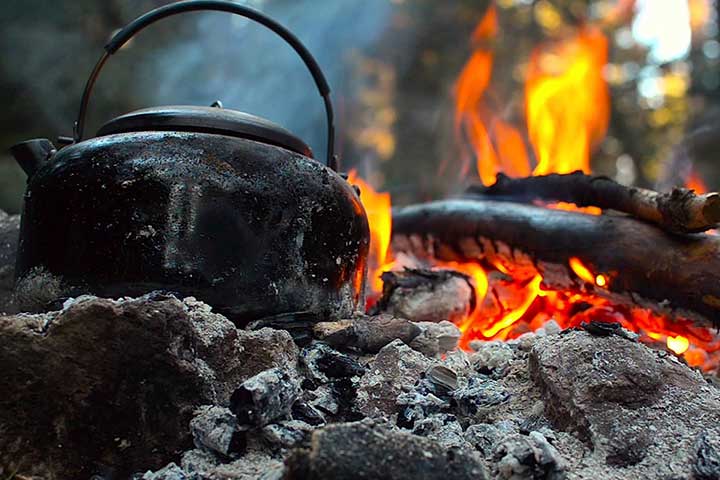 Health Benefits of Turkish Tea
Wake up and smell the black tea brewing! Turkish tea doesn't only bring people together for socializing and relaxing.
It also holds a number of beneficial health benefits. That means you can sip, socialize, and benefit your body with every brew.
Start your day off right with these health benefits of Turkish tea.
Heart Health
Black tea can help reduce the risk of stroke and improve your heart health. Black tea contains flavonoids, which are phytonutrients that contain antioxidants.
These flavonoids can help reduce LDL; the "bad" cholesterol that contributes to heart attacks and strokes.
Drinking two to three cups of black Turkish tea every day can help reduce these risks. Black tea also lowers blood platelet activation, which leads to the formation of blood clots (and heart attacks!).
It can also help lower the risk of hypertension.
DNA Damage
Tobacco and toxic chemicals can cause DNA damage. The antioxidants from Turkish tea, however, can block this DNA damage from occurring.
Diabetes & Obesity
Consuming one to two cups of Turkish tea a day can also lower the risk of diabetes and obesity.
The EGCg within black tea can also affect fat metabolism. This can increase fat oxidation, boost exercise performance, and prevent obesity.
Stress
The top tea-drinking company of the world is Turkey, at nearly seven pounds per person, per year. This can contribute to lowering the stress levels of the country's local population.
Sip and de-stress. Black tea can help reduce levels of cortisol, which is the body's stress hormone.
The amino acid L-theanine in black tea also boosts concentration. With a regular cup of Turkish tea, you can lower acute stress. This also benefits chronic illnesses that are associated with high-stress levels.
After a long day, soothing your mind and body with a relaxing, warm cup of Turkish tea.
Love in the Leaves: A Quick Guide to Turkish Tea
We're going to let all this information seep in. Discover your new favorite brew with this quick and easy guide to Turkish tea.
For more travel guides and articles, don't forget to check out our blog!