There are a lot of reasons to visit Turkey. Between the people, the bazaars, the scenery, and the low cost, you'd be hard-pressed to find a reason not to visit.
However, right now, we're going to talk about one of the biggest perks of visiting Turkey – the food.
Although many people are unaware of it, Turkish cuisine is some of the best food to be had on the entire planet.
Keeping reading for a thorough guide on 27 of the best and most authentic Turkish foods.
Turkish Cuisine Dishes You Must Try
Turkish cuisine as we know it today and for the last hundred years actually dates back much farther. Before the inauguration of the Turkish Republic, the Ottoman Empire ruled modern-day Turkey.
During its 600 year reign, the Ottoman Empire created many foods and dishes, setting the foundation for Turkish cuisine.
The smooth cultural transition in 1922 allowed most of the pre-established foods and dishes to remain in Turkish culture. Then, over the next hundred years, these foods were refined and perfected into what we know it as today.
Therefore, as you explore and experience the list of Turkish cuisine dishes below, remember that the food you're eating has a vast and well-rooted history.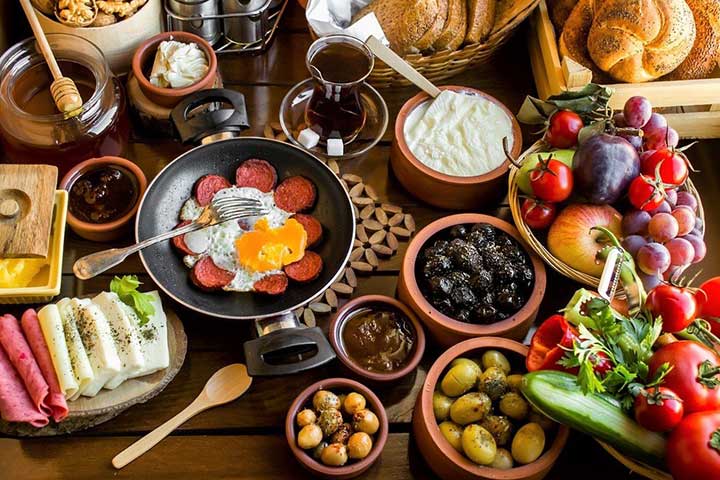 1. Kahvalti
Kahvalti is the Turkish cuisines version of the West's continental breakfast. The continental breakfast we are accustomed to generally consists of eggs, bacon, pancakes, toast, etc. Enjoyable, but boringly similar everywhere you go.
In Turkey, however, you'll be able to appreciate the middle eastern spin on the continental breakfast, or as it's known in Turkey as "kahvalti".
Turkish breakfast consists of fresh vegetables including cucumbers, tomatoes, and olives. You will also enjoy hot bread with clotted cream and honey instead of jelly. Traditionalists will enjoy the addition of menemen – eggs scrambled in sauteed vegetables.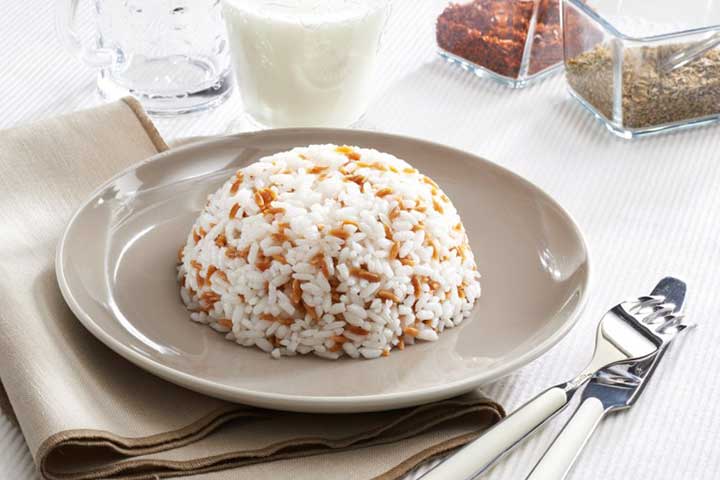 2. Pilav
Don't dismiss pilav for its candor. To the average person, pilav is rice. To the well-trained foodie, however, pilav is an exquisite take on our knowledge of rice.
Pilav is deliciously toasted and buttered rice, complete (as an option) with a yogurt dressing. While untraditional in the west, this Turkish plate is tasty enough to be a meal by itself.
3. Su Boregi
Is it lasagna or is it a pastry? Is it an entree or a dessert?
Who cares? You're in Turkey!
Su boregi is light, flakey dough layered upon itself, much like lasagna noodles. It's filled with spinach and cheese, making for a light and fluffy, deliciously moist and savory dish.
Eat it as a side dish, entree, or finisher. Or perhaps all three!
4. Hunkar Begendi
Hunkar begendi is perhaps one of the best-known dishes in Turkish cuisine. Translated to "sultan's delight", this dish was obviously one of Royalty dating back to the Ottoman empire.
It's a popular notion that hunkar begendi was created as a savory meal to appease the visiting queen of France.
Hunkar begendi is made from smoked and pureed eggplant. Milk, melted butter, and roasted flour are then stirred into the eggplant. Finally, cubes of sautéed lamb are added to the dish for a succulent meal.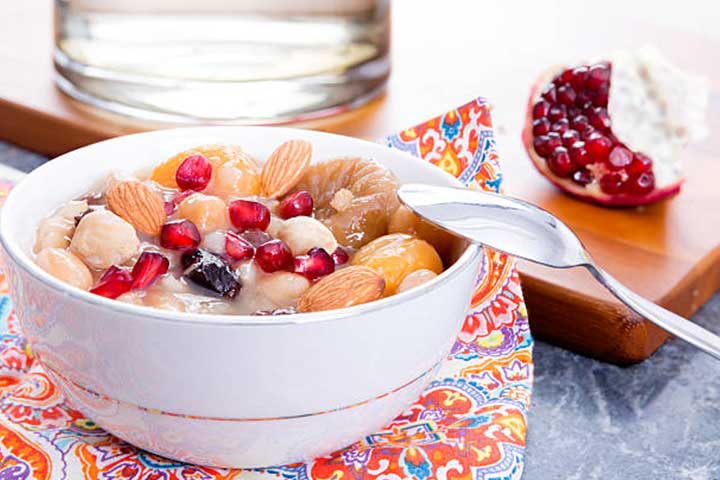 5. Ashure
According to common myths, Ashure may find it's rooted much further back than the Ottoman Empire. Some historians suggest ashure was actually created by the biblically famous Noah.
Currently, it's used as the first meal after a 10 day fast most partake in during the first month of the Islamic calendar.
There are many variations of this pudding, but most are made with a choice of grains, apricots, sugar, figs, walnuts, haricot beans, raisins, and chickpeas. This is one of the many sweet Turkish cuisines you shouldn't miss.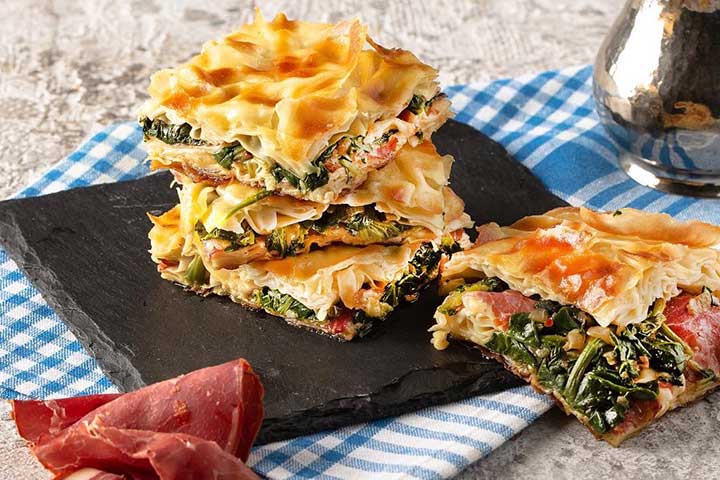 6. Borek
The broad term for this family of pastries or pies, borek is made from thin, flakey dough. These pastries are generally made to be savory, rather than sweet.
Like the su boregi, boreks are commonly filled with cheeses and vegetables. However, borek can also be filled with minced meats. They can be kept as flakey pastries, layered like the su boregi, or rolled.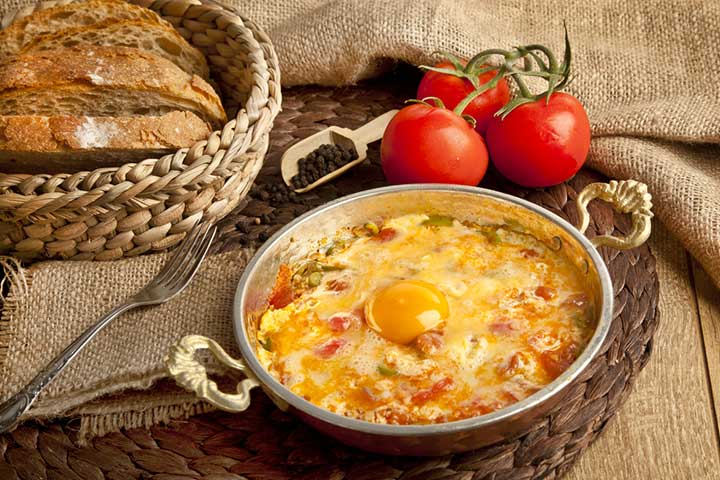 7. Menemen
People having a hard time adjusting to Turkey cuisine can find some comfort and familiarity in menemen.
Think of menemen as America's vegetable omelet with a slight twist. While menemen calls for the obvious eggs, onions, peppers, and tomatoes, it also uses an exorbitant amount of butter.
Like American omelets, menemen is also served with bread. However, this bread is designated for mopping up the juices purposefully created and left on the plate with traditional menemen.
8. Cilbir
Like menemen, cilbir is another popular Turkish dish used for breakfast. It too uses eggs as a primary ingredient. However, cilbir also calls for yogurt and smokey chile oil.
In this dish, the eggs are poached and covered in the garlic-enhanced yogurt. Cilbir is believed to be as old as the 15th century, where it was cooked for sultans.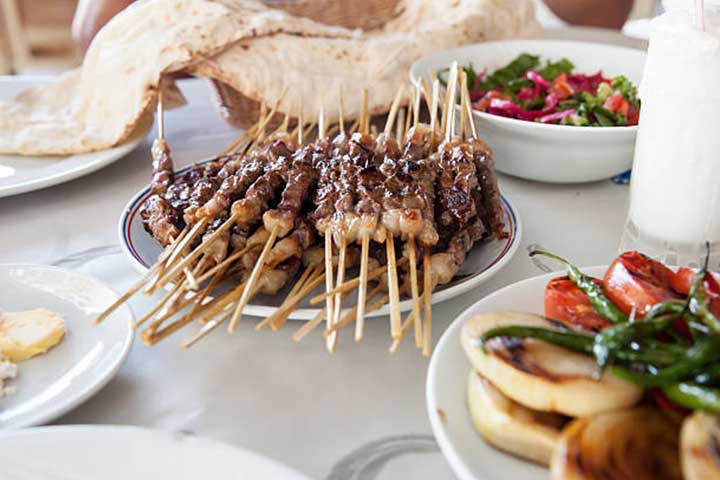 9. Cop Sis
Of the many popular Kebabs from Turkish cuisine, cop sis is perhaps one of the most delicious. However, foreigners may be disconcerted to know that cop sis actually translates to "kebab made from rubbish."
This kebab is so delicious because it's made primarily from the scraps of lamb fat leftover from other, leaner cuts. Like the Native Americans from the U.S., the Turks used every bit of meat from their kills.
These "rubbish kebabs" are mixed with garlic, oregano, tomato, black pepper, and olive oil.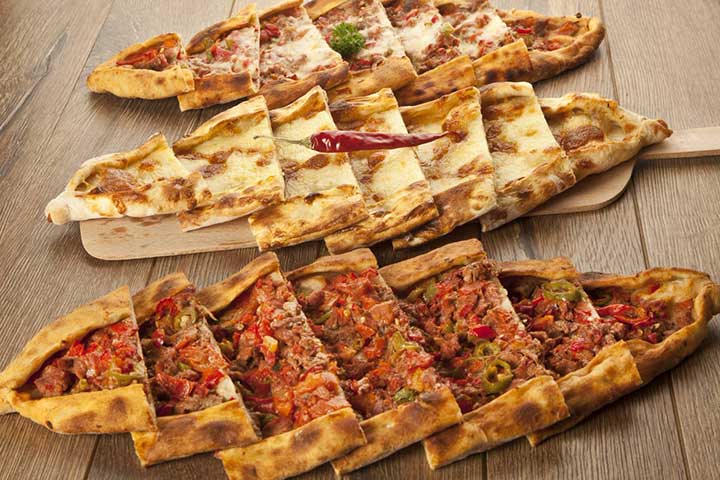 10. Pide
People from all over the world will be able to appreciate pide – the Turkish cuisine's version of pizza.
Instead of a flat disc topped with marinara sauce, however, pide is made with a doughy bread shaped like a boat. The middle is carved out to make room for cheese, meat, and vegetables.
11. Tahinli Corek
Another classic dough-based food from Turkey lies spiraled in the tahinli corek.
Think bagel, but instead of a circle of dough with a hole in it, tahinli corek is more like a spiraled bun. It's similar to a cinnamon roll, but only in its shape.
The dough is filled with sweetened sesame paste and then topped heavily with sesame seeds.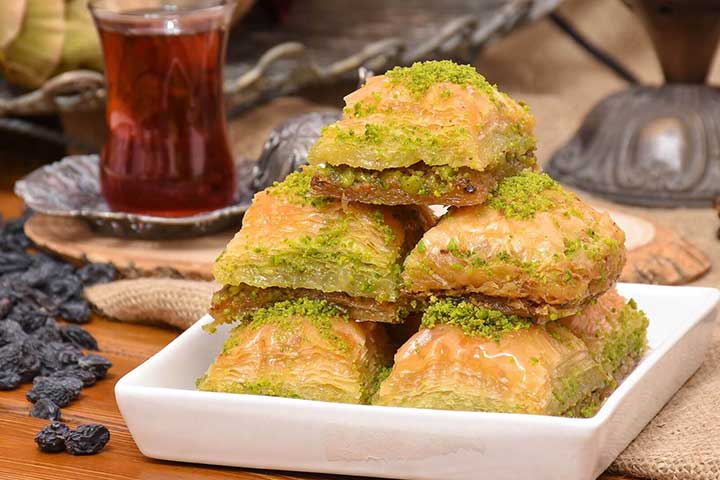 12. Baklava
Even people living under a rock have heard of baklava. Easily the best-known Turkish dessert, it's actually quite simplistic in nature.
The baklava is where Turkish cuisine really shines. It takes flakey, layered dough (like phyllo dough), and fills in the gaps between layers.
The space between the dough layers can be filled with honey, butter, nuts, or anything else under the sun. This is one of those dishes that have infinite possibilities.
13. Fava
One of the most fun things about Turkish cuisine is its fondness for meze. Meze is what we would call appetizers. In fact, some Turkish feasts consist only of meze.
Fava, one of the most common dishes in meze feasts, is created from mashed fava beans. They're pureed and blended with olive oil, salt, and pepper. The dish is finished with fresh dill.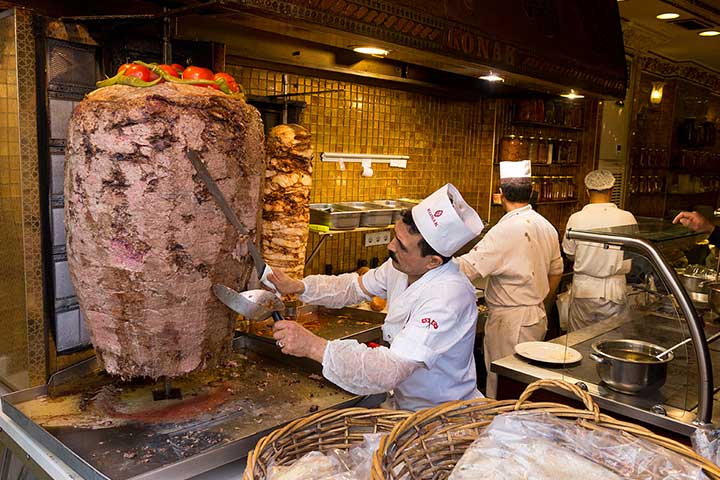 14. Doner Kebab
Replicated all over the world, especially in Europe, doner kebab is one of the most famous kebabs in Turkish cuisine.
These kebabs are easily recognizable by the way they're cut. Doner kebabs hang by a hook and spin slowly, allowing cooks to carve off tender slices. This type of meat is typically served sandwich style on a pita.
Unlike other countries, however, Turkish cuisine versions of doner kebabs only use lamb or beef.
15. Manti
If you thought the Italians were the masters of pasta, think again.
Perhaps one of the most difficult dumplings to prepare, manti are tiny pasta, filled with ground lamb meat or beef. It's said that at least seven of these dumplings should be able to fit on a single spoon.
These tiny masterpieces are then glazed with yogurt and butter, often infused with additional spices and oils.
16. Hamsi Tava
Hamsi is the Turkish word for anchovy. The Turks, as it turns out, really enjoy anchovies.
Hamsi tava is a dish of anchovies covered in cornmeal and fried in a pan. This dish is considered a finger-food and is also seasonal.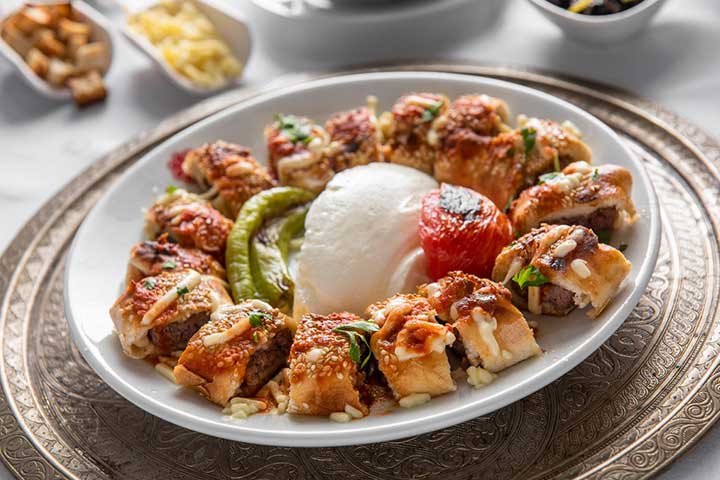 17. Beyti Kebab
Perhaps one of the most mouth-watering and savory kebabs, the beyti kebab is a masterpiece of Turkish cuisine.
These kebabs start with the meat, typically ground lamb or ground beef. The meat is laid out over flatbread, which is then rolled up as a whole. Once rolled, the creation is cut into rounds.
Finally, the rounds are grilled using skewers.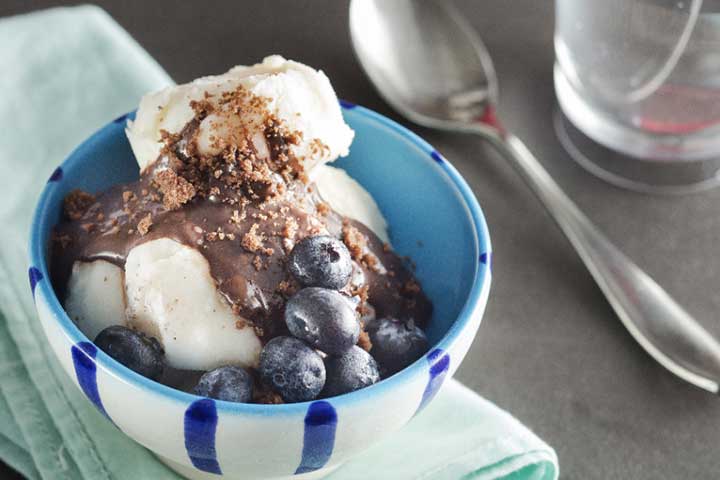 18. Salep Dondurma
If you like flowers and ice cream, boy are you in luck.
Salep dondurma is an interesting Turkish take on ice cream. It's made with flour from the roots or tubers of orchids.
As a result, the ice cream has an interesting texture, almost chewy.
19. Kuzu Kokorec
If you've got a strong stomach, try kuzu kokorec.
Made from the intestines of lambs, this dish is one in the Turkish cuisine that many foreigners may think twice about. While you won't find it on the menu of most restaurants in Turkey, it's very popular street food.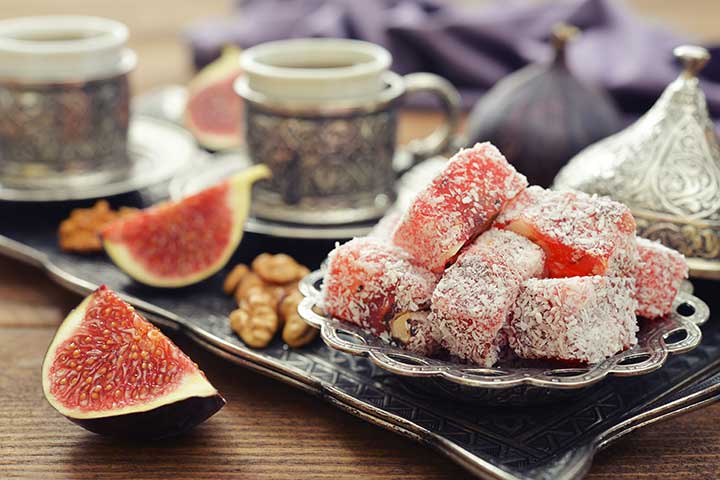 20. Turkish Delight
The Turkish delight is another one of the most popular of all foods in Turkish cuisine. It's a gelatinous sweet made of cornflour and syrup.
These candies are then dusted with sugar or glazed with icing.
21. Mercimek Corbasi
Another meal on the list of international comforts, travelers from all over the world will find something familiar about mercimek corbasi.
Mercimek corbasi is Turkish lentil soup. It's typically served with cilantro, lemon, and a slice of hot bread.
22. Imam Bayildi
Imam bayildi is a dish in the Turkish cuisine that can be catered to meat-eaters and vegetarians alike.
Imam bayildi starts with a cooked eggplant. As versatile as the famed baklava, it's stuffed with anything from rice, meat, other vegetables, and so on.
It's finished off with a healthy layer of oil and butter.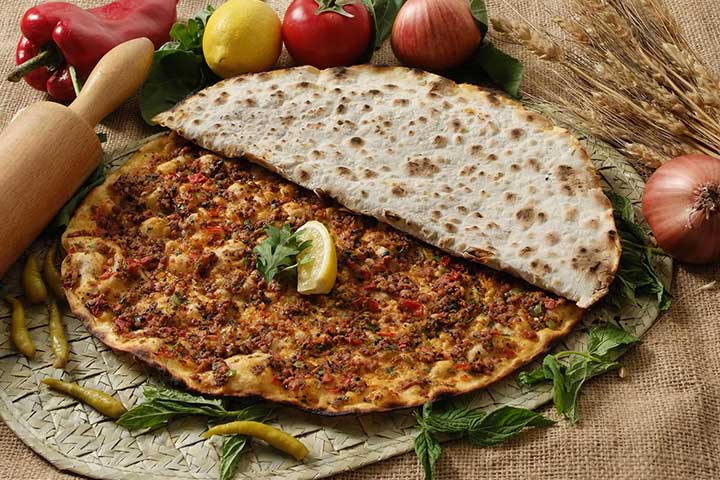 23. Lahmacun
If you've ever been to Rome, Italy, you couldn't help but notice that pizza is sold in almost every other store downtown. Although, it's not like American pizza, it's cut into squares and folded in half like a sandwich. It makes for delicious food while on the go.
Similarly, lahmacun is a street food designed for ease and convenience. This meal consists of flatbread, minced meat, salad, and other toppings. There are many varieties of this meal, just like pizza.
You'll find no better food to grab if you're not planning on breaking your stride to eat.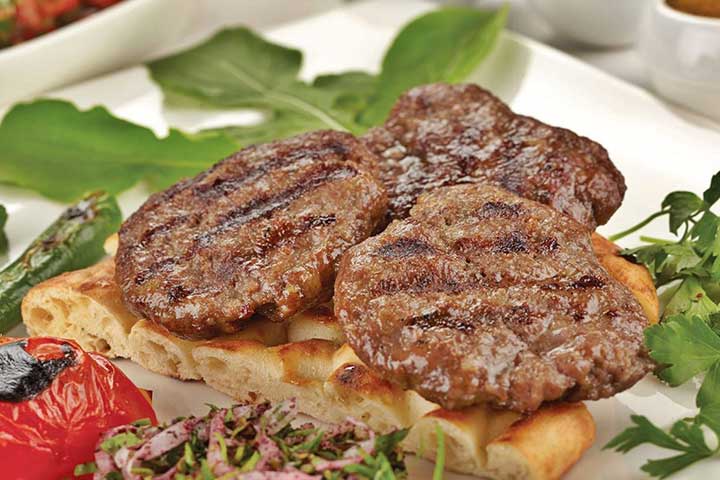 24. Kofte
Kofte is a fairly fluid term in Turkish cuisine. It can refer to meatballs, kebabs, or even lentils.
Kofte, however, is typically made from ground lamb or beef. It can be served as patties, balls, in stews, on sandwiches, or over salad.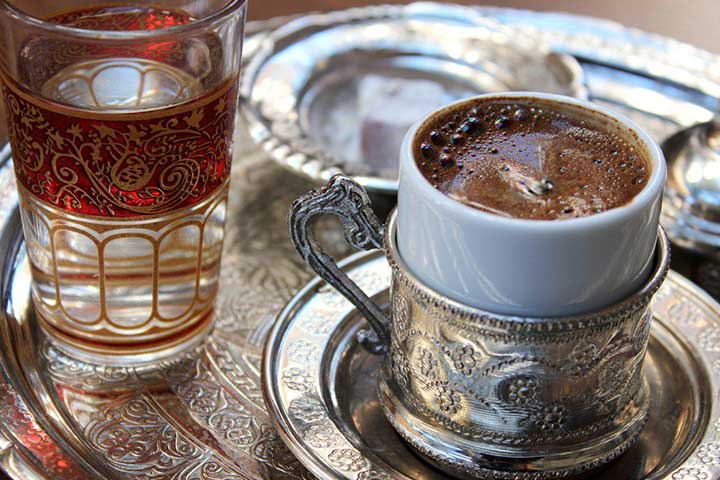 25. Turkish Coffee
Turkish coffee is a little different than you might find in America or Europe. It's thick, strong, and even a little bitter. Because of this, most Turks enjoy their coffee with something sweet, such as baklava or Turkish delight.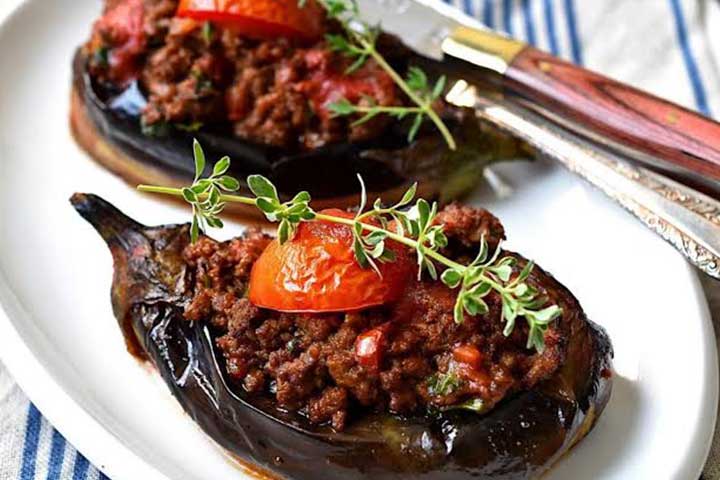 26. Karniyarik
Yet another popular dish in the Turkish cuisine made from eggplants, the karniyarik can be found all over Turkey.
It consists of a whole baked eggplant filled with meat and parsley. It's then covered in a zesty tomato sauce and is typically served with rice.
27. Kuzu Tandir
The term "tandir" refers to a clay oven buried in the ground. Kuzu tandir simply means lamb cooked in a tandir.
In this cooking method, the lamb is hung upside down in the over-sized clay oven over the coals. After countless hours of baking, this style of cooking makes for incredibly tender meat.
This meal is often served with rice and nuts.
Start Planning a Trip Today
In our modern society, it's easy to get caught up in the idea of making money, building wealth, and amassing a lot of "stuff." However, we forget that our stuff doesn't mean anything once we're gone.
Instead, we should focus on obtaining experiences. The world is a vast expanse of beauty, excitement, history, and exploration. Instead of becoming consumed with our homes and everything inside their four walls, why not explore as much of the world as we can?
If you're ready to start exploring life, and perhaps getting a taste of Turkish cuisine, start planning a trip today. In fact, we can help.
Send us a message and we can help you start planning your dream trip today!