Research has found that the average fast-food kebab contains 98% of the daily salt recommendation, plus almost 150% of the recommended daily allowance of saturated fat.
No wonder these meaty babies are so good!
If you love kebabs and are planning a trip to Turkey – then you will definitely want to sample some Turkish kebab. In Turkey, you will be able to experience the culinary delight of authentic kebabs, which are not nearly as lethal to your health as the fast-food versions you may enjoy at home.
But first, you will need to brush up on which types of kebabs to try (there are so many variations of kebabs!) as well as where to find the best kebabs. Otherwise, you may end up missing out!
So don't FOMO, simply read on because we are going to be getting into the best kebabs to try and where to get them.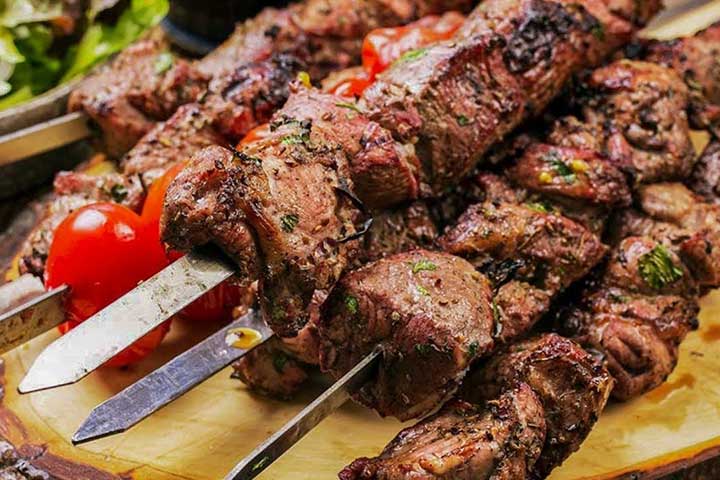 1. Classic Kebabs
Kebabs are one of the key foods to try while in Turkey. What better place to start than with the classic kebab. Also known as Turkish shish kebabs or sis kebab, these consist of chunks of marinated beef or lamb that are placed on a skewer and grilled, usually without vegetables.
If you are in Istanbul, a great place to enjoy some authentic Turkish shish kebabs is the restaurant called Ciya Kebap.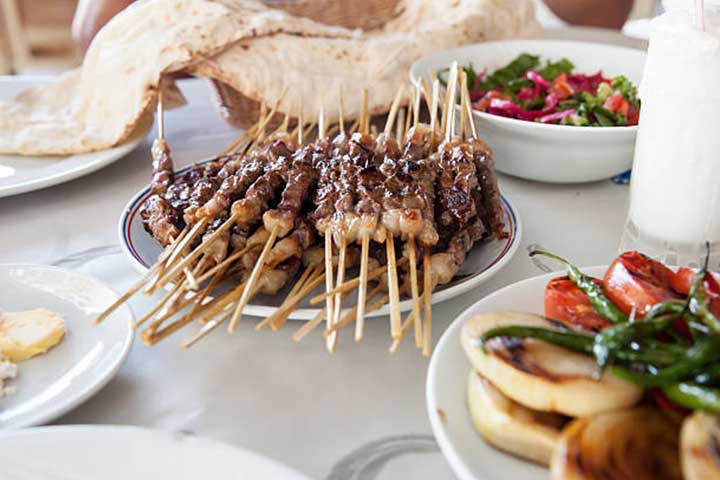 2. Cop Sis
Ironically, one of Turkey's tastiest kebab's names roughly translates to kebab made from rubbish. This is because these kebabs are made from offcuts and scraps of lamb fat and meat that are leftover after trimming down lamb meat into the cubes for regular kebabs.
This meat is traditionally pounded together with tomato and garlic, then left to marinate in a mixture of olive oil, oregano, and black pepper.
The results are delicious and if you are in Istanbul you can head on over to Ali Haydar Restaurant to sample some.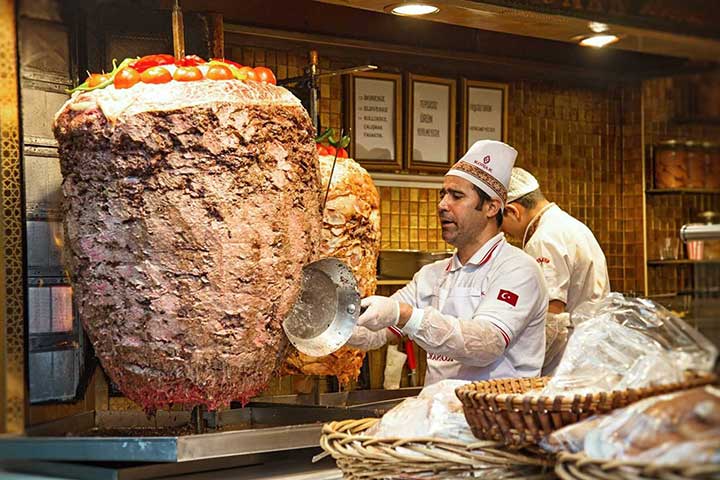 3. Doner Kebab
Doner translates to 'turning'. This famous kebab is much replicated all over Europe, especially in Germany. The Turkish version, however, is leaner than the fatty foreign renditions. And unlike doner kebabs sold in Germany, which according to analysis can contain a variety of meats – doner kebabs in Turkey are only made from beef or lamb meat.
The meat from doner kebabs is also what is used to make the famous Greek Gyro and Arabian shawarma.
If you are in Istanbul you can visit Bayramoglu Doner Restaurant to savor some of this amazing fare.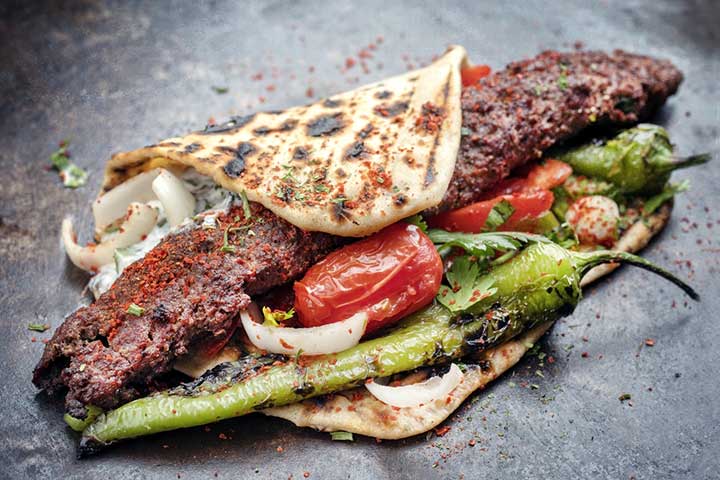 4. Adana Kebabs
Adana is one of Turkey's cities that is famous for its Turkish kebab recipe. The signature kebab of the city is called Adana kebab. As opposed to meat squares, these kebabs consist of either beef mince or a mixture of lamb and beef mince. The ground meat is mixed with garlic, onion, and spices and then pressed firmly onto metal skewers and grilled.
The best place to enjoy Adana kebabs is of course in the city of Adana. And one of the best restaurants to get some at is Onbasilar where it is served with charred peppers and tomatoes, onions with sumac and flatbread. Do beware, that Adana kebabs tend to be spicy!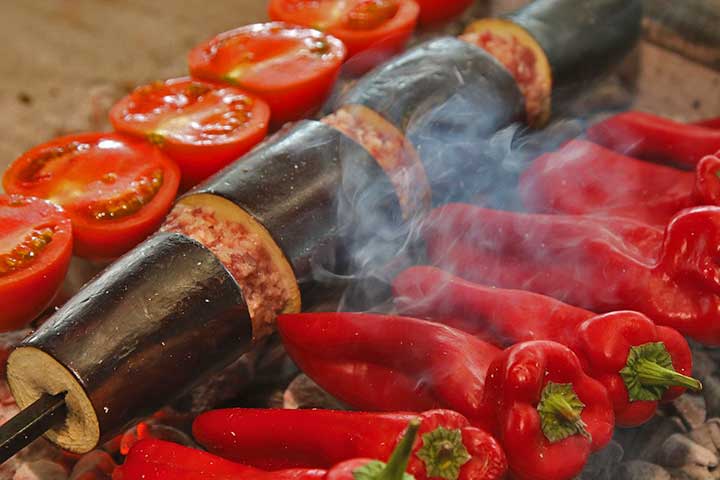 5. Urfa Kebabs
Another kebab that is named after its city of origin is the Urfa kebab. Urfa kebabs are almost identical to Adana kebabs. They are also made using ground meat, onion, and garlic. The major difference, however, is that they are not spicy and instead contain sweet paprika. This makes them an ideal choice if you wish to sample the Adana style kebab, but do not like hot or spicy food.
If you are in Urfa, there are many places that you can try the Urfa kebabs. If you are in Istanbul, you can also get great Urfa kebabs at the well-reviewed Konyali Restaurant.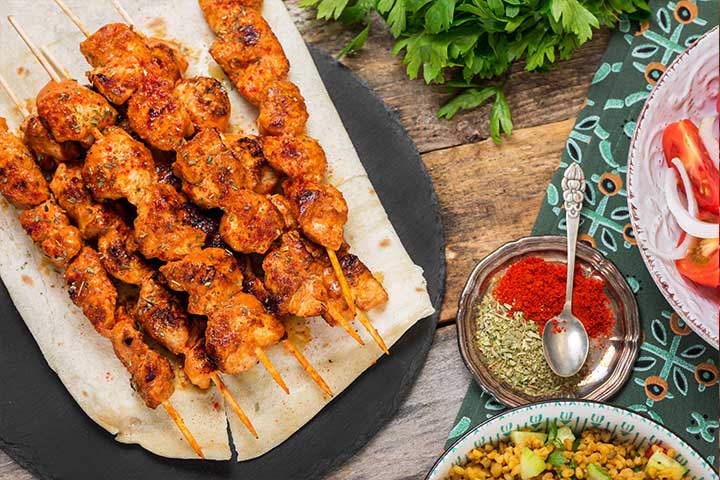 6. Chicken Kebab
Known in Turkey as tavuk kebab or pilic kebab, these authentic chicken kebabs are definitely worth a try. Made from either chicken breast or darker chicken meat, the Turkish chicken kebabs are super succulent thanks to being marinated first in milk or yogurt, and then once again in olive oil and spices.
One of the best places to enjoy these while in Istanbul is at the Tugra Restaurant.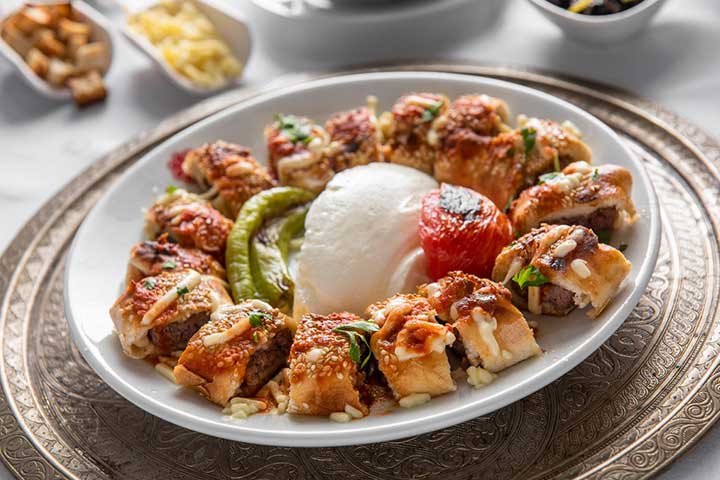 7. 'Beyti' Kebab
Beyti kebab is an ancient recipe that is thought to date back to the Ottoman empire. Unlike any other Turkish kebab recipe, beyti kebabs consist of seasoned ground lamb and beef spread onto traditional flatbread. These are then rolled up and sliced into rounds. The rounds are then skewered and grilled. A recipe for mouthwatering culinary success.
This one-of-a-kind kebab recipe was lost for a time until a restaurant in Istanbul revived it. The restaurant's name is also 'Beyti' and you can enjoy these delicious kebabs there if you are in Istanbul.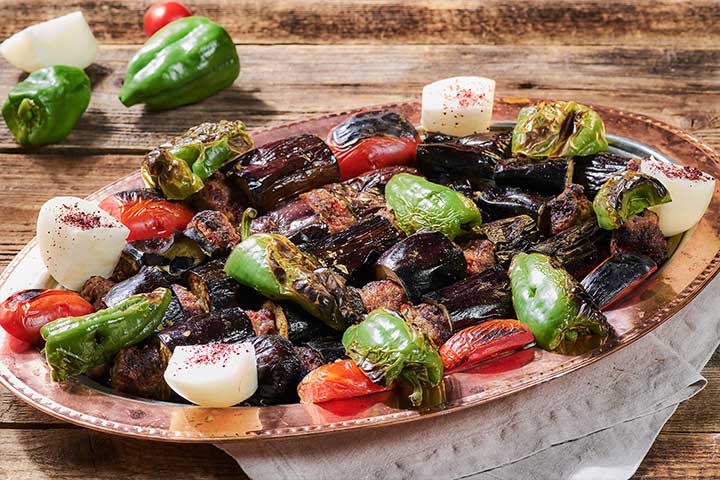 8. Eggplant Kebab
Known in Turkey as Patlicanli kebab, these kebabs consist of rounds of eggplant skewered between traditional Turkish meatballs called kofte. Brushed with olive oil and then grilled, these succulent kebabs are not to be missed.
While not as widespread and popular as some of the other kebab types, if you see these on the menu while out eating in Turkey be sure to give them a try.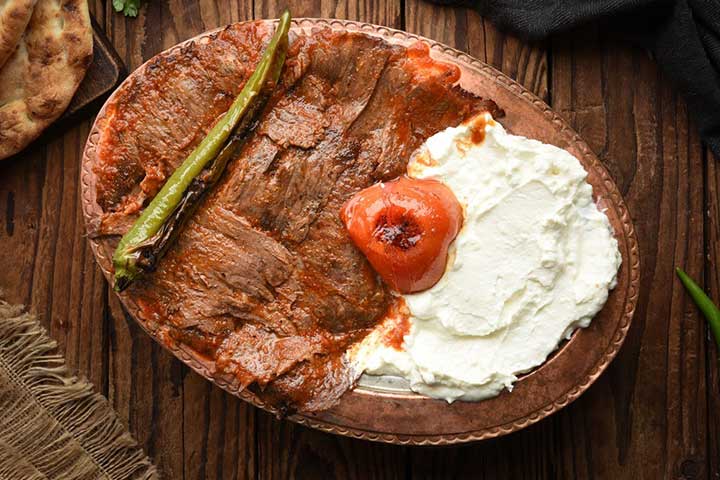 9. Iskender Kebab
A famous kebab dish, Iskender kebab is comprised of thinly shaved slices of meat from doner kebabs that are placed on top of soft pide bread (very similar to pitta bread) cut into squares. To cap things off the dish is dotted with butter, a tangy sauce made from tomatoes, and yogurt.
If you are visiting Istanbul you can enjoy delicious Iskender at Fuego Cafe & Restaurant or Donerci Ali Usta.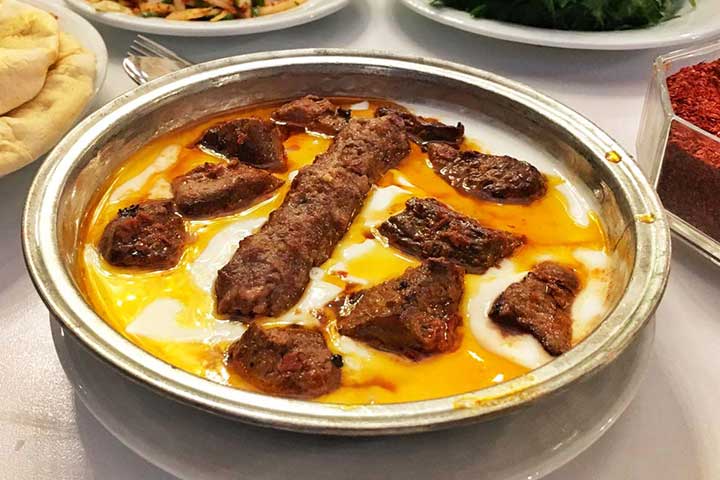 10. Ali Nazik Kebab
Also known as the Polite Ali kebab, these kebabs are almost as popular as the Iskender kebab dish. It comprises of grilled lamb that has been marinated atop a bed of fire-roasted eggplant and yogurt.
A great place to try Ali Nazik kebab is the much-acclaimed Mikla Restaurant.
Now You Know Where to Find the Best Turkish Kebab
Planning a trip to Turkey is exciting. Anticipating all the amazing authentic Turkish kebab you can try is mouthwatering!
Now that you know which are some of the best Turkish kebabs to try – and where to find them – all that is left to do is book your trip to enjoy some of these delectable dishes.
If you are already busy booking and planning your trip to Turkey, then check out our private guided tours.