One of the most memorable dishes of Turkish Cuisine is Manti (known also as Turkish Ravioli), tiny dumplings stuffed with minced meat and garnished with garlic yogurt. This dish is thought to have originated in the province of Kayseri, spreading from there to the rest of Turkey, but the one made in Kayseri remains distinguished above all other variations. In the past, when a mother of Kayseri was choosing a wife for her son, one of her criteria would be whether the girl could make a good one.
The tinier she could make them the better, her culinary skills being judged according to how many of the miniature dumplings would fit on a spoon. Her prospective mother-in-law also inspected the way she held the rolling pin, her kneading technique, and if she served the finished dish properly with all the finishing touches, which at that time included sprinkling home-dried sweet basil in addition to sumac and mint over the dish.
Know Before Cooking
Before starting to cook manti, borek or baklava, the flour was passed through a fine sieve. Since the 1950s, mechanization and large-scale production methods have changed all this, but good quality wheat is still grown in the region and housewives make sure they buy the best flour for making these special dishes.
The Recipe
The dough is rolled out and cut into small pieces, each of which is stuffed with seasoned minced meat, described locally as manti meat. The meat should be lean and was traditionally not put through a mincer but instead very finely chopped. First, thinly sliced onion sprinkled with salt and red pepper would be finely chopped with a cleaver on the meat board. Then the meat would be added and chopped until the mixture became a thick paste. The dough should be firm and left to rest for 15 to 20 minutes after kneading. It is rolled out on a breadboard or other flat surface to the thickness of 1-1.2 mm sprinkled with flour and rolled tightly around the long thin rolling pin. After sliding the rolling pin out, the rolled up dough is sliced into rectangular pieces 1-1.5 cm wide.
These pieces are piled up at one side of the board and sprinkled with flour to stop them drying up. Now comes the part which requires the most dexterity. A chickpea sized piece of stuffing is placed on each rectangle of pastry, and the corners lifted up and pinched together using the thumbs and forefingers of both hands. It is important not to squeeze the dumplings in the process, so spoiling their neat shape. They are then carefully tossed into boiling water so that they do not stick together. The pot is skimmed occasionally and the heat gradually lowered as they cook, which takes 4-5 minutes. Expert cooks can judge precisely when it is cooked to perfection by the appearance and aroma. They must not be allowed to overcook and become soft. The pot is then removed from the heat and a cup of cold water poured over. About 10 or 15 seconds later, the dumplings sink to the bottom of the pot and are then drained and tipped into a deep circular baking tray.
Sauce
Now it is time to prepare the sauce. Butter is melted in a small frying pan until it begins to smoke, and then red pepper and one or two spoonfuls of tomato paste are stirred in.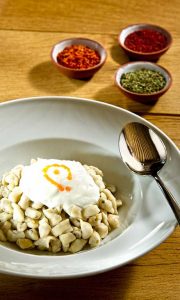 To this is added a few spoonfuls of the water in which it was cooked. This sauce is mixed with the manti or poured over, followed by yogurt mixed with crushed garlic. Each serving may be sprinkled with sumac and dried mint to taste. After so much hard work to prepare, the delicious pieces disappear in a twinkling.
While in other provinces of Turkey, it is eaten as a main course in Kayseri, it is regarded as a soup as we were told by one local woman. Fatma explained that it is mixed with a sauce of melted butter and tomato paste, garnished with yogurt flavored with crushed garlic, and finally sprinkled with sumac and mint, before serving with bread.
The quality of the flour is crucial to the texture and flavor of the finished dish. In the past when flour differed widely according to the place where it was grown as well as the variety of wheat, the flour regarded as the finest for making manti was known as Saribursa. It was ground from wheat grown at Uzunyayla by farmers of Circassian origin, hence it was also called Circassian flour. Dough made from this strong flour kept its shape well, an essential characteristic for the tiny ones. The flour was ground by water mills at Uzunyayla and poured into sacks made of black goat hair, and then carried by horse-drawn carts or on donkey back into the city of Kayseri, a journey that took three or four days. The flour was sold in the area around Katiroglu Mosque.