Since the Bronze Age that the first deadly weapons hammered out until these days; heaps of legions passed over Anatolia and moved to the west or the east. Original inhabitants, who used to live in the Cappadocia region in the heart of Anatolia, carved the caves into the Cappadocia's soft tufa rocks and dug underground settlements to hide from several invasions. Although it is uncertain when exactly these settlements were dug; the findings from the Prehistoric Era show that those caves were existing thousands of years ago.
There are some acquirements about those settlements; that they existed in The Hittites (2nd millennium BC) and were expanded during the early Christian Era and used as a refuge against the Arab attacks & invasions. Most probably expansion continued both horizontally and vertically by different generations and turned out to today's current appearance. There are about 40 cities discovered within approximately 200 big and small-scale settlements.
You can see the newest discovered Nevsehir Underground City from the link below:
http://www.history.com/news/vast-underground-city-found-in-turkey-may-be-one-of-the-worlds-largest/
Update (22 June 2016): During the excavations, a well-preserved 5th-century church was discovered. Depictions consist of mostly the life of Jesus and it is a unique discovery that among other underground or cave churches; that remains as pretty untouched and well-preserved.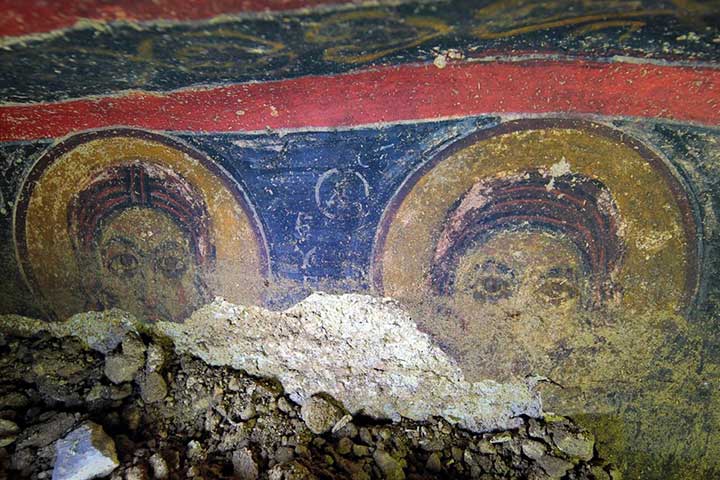 Update (2 November 2017): Nevsehir Municipality is planning to open the site to visit, even for a small percent of the excavation and it seems like 3 to 4 years more is needed to be able to excavate the entire place.
Update (13 March 2018): The excavation at an area of 396,000 m2 (4,262,508 square feet) that started 4 years ago is to be opened for visitors at an area of 100,000 m2 (1,076,391 square feet) by July 2018. Along with the well-preserved cave church, dated back to the 6th century, found during the excavations, there was also found a cave mosque dated back to the Great Seljuk Turks since reusing was also pretty common in Anatolia. From Ottoman Era (Damat Ibrahim Pasha) to the first few years of the Republic; a total of 80,000 documents were studied to find out more details and thanks to the information studied on these sources that, there was also an aqueduct commissioned by the Fatma Sultan, the wife of Damat Ibrahim Pasha.