Did you know that Julius Ceasar was married three times and had at least two well-known mistresses?
Among the well-known mistresses of this famed Roman figure was Cleopatra. And around the time their child was born is when he first said the now-infamous words "Veni, Vidi, Vici".
Referenced in popular culture but also used as an illusion for military victory, this famous saying still holds the same meaning it did thousands of years ago. But do you know why Ceasar said these words and how we know about them today?
Keep reading to find out.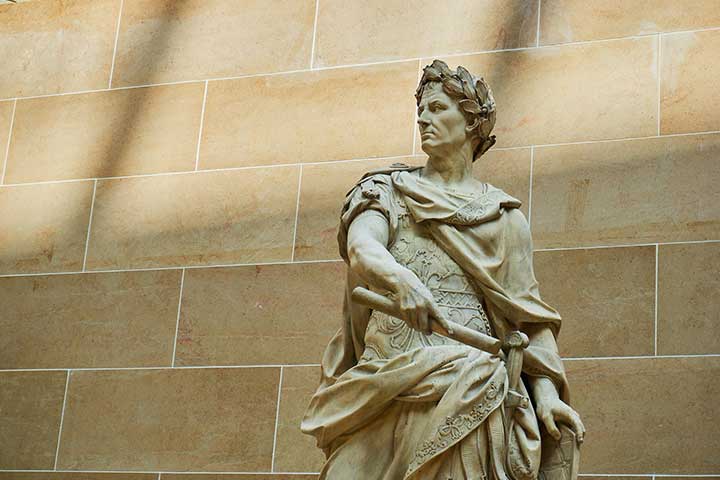 Who Said Veni Vidi Vici?
Julius Caesar was born in 100 B.C on July 12 or 13. He was born to a prestigious family that was involved in Roman politics. Eventually, Julius Caesar himself made his way up the political ladder to become the Emperor of Rome.
Caesar is an infamous historical figure for both his statesmanship and his military conquests. Under his rule, Rome's territory was extended to the English Channel and the Rhine. However, in his later political career, he not only caused a brutal civil war, but he also became a brutal dictator.
In March 44 BC, Caesar was assassinated on the Ides of March. Several Senators conspired against Caesar and killed him before he could appear at a session of the Senate. His death marked the falling of the Roman Republic and the beginning of the Roman Empire.
Beyond his political and military life, Caesar also has a place in history for his authorship. He chronicled his military experiences and is regarded as an acclaimed author in his time.
While Veni Vidi Vici doesn't appear in these chronicles, it's one of his more famous sayings that has stood the test of time. And the story behind it gives insight into the womanizing side of Caesar's history that's not so often recalled.
The Story Behind Veni Vidi Vici
Although he lived in what is now known as one of the most romantic regions in the world, Caesar was n romantic. He was a womanizer. And one of his known mistresses was the Pharoh Cleopatra VII of Egypt.
Caesar and Cleopatra had a child together. It was while he was visiting Egypt and his pregnant mistress that the story of Veni Vidi Vici began.
In May of 47 BCE, Caesar visited Cleopatra, who was pregnant with their child. She had the child in June of that year. But before Cesar could meet his son, Cesar was called to battle. From Egypt, Caesar left for Asia to put down the uprising.
He had to attend to an uprising in Syria, where the Romans held land. The King of Pontus, Pharnaces II, was responsible for the trouble. He had already caused problems for the leaders in Bithynia and Cappadocia in modern day-Turkey and was making moves toward Armenia.
Grossly outnumbered by Pharnaces 20,000-strong army, Caesar decided to battle. He had only three legions of men to help him at the Battle of Zela. And yet, they won the battle in a five-day campaign.
The Battle of Zela was quick and decisive. It's these characteristics of the Battle that led Caesar to coin the phrase Veni Vidi Vici. It translates to "we came, we saw, we conquered".
Recording Veni Vidi Vici
Veni Vidi Vici is attributed to Julius Caesar and his triumph at the Battle of Zela by two separate sources.
In Plutarch's Life of Caesar, he describes how the phrase was first written down by Caesar himself. Plutarch says that Caesar first wrote the words Veni Vidi Vici in a report to his friend Amantius. His short letter following the swift victory used those exact words to describe how they'd put down the uprising in a fast and conclusive way.
The other source for this quote is the Lives of the Twelve Caesar's, which was written by Suetonius. According to his account, Caesar had the words inscribed on a tablet. When he returned to Rome, he displayed that tablet at the head of his Pontic triumph.
Regardless of how those words made their way among the population, they've retained their meaning throughout history. This phrase is still used in its original format to describe a swift battle. But it's also been used in popular culture for various allusions.
Modern References and Allusions
Veni Vidi Vici has retained its use for describing military battles where the victor quickly and decisively ended the battle.
For example, the phrase was used after the Battle of Vienna that took place between July and September of 1983. The King of Poland at the time, Jan III, used the term Venimus, Vidimus, Deus vicit. That roughly translated to "we came, we saw, God conquered".
Hillary Clinton alluded to Veni Vidi Vici in 2011. Upon the death of Muammar Gaddafi, the then Secretary of State said: "We came, we saw, he died."
You can also find allusions to the phrase in modern music.
Jay-Z used the term in his 2003 song "Encore". And Pitbull says "I saw, I came, I conquered Or should I say, I saw I conquered, I came" in the 2014 hit "Fireball". The Hives use something similar to the phrase on their an album titled "Veni Vidi Vicious".
Going back a bit further, it appears in the song "These Foolish Things (Remind Me of You)" from 1936. The line "you came, you saw, you conquered" can be heard in the title song for the musical Auntie Mame. And it was also in the opening of the 1724 opera "Giulio Cesare" by Handel.
Get On The Ground to Learn More
A phrase that hasn't lost its meaning or its original form, Veni Vidi Vici is how Caesar described the Battle of Zela. Whether he first wrote it in his letters to his friends in the Roman Senate or had it inscribed on a tablet for all to see, the phrase has been around for more 2,000 years.
But the best way to learn about something is to get on the ground. And what better way to do that than a luxury getaway to where the battles took place and from where this man ruled? Check out our destinations to start planning your next vacation.