Are you planning a trip to Antalya Turkey? There is something there for all of your travel companions no matter if they are a history buff, an adrenaline junky, or a fan of the arts.
On top of exploring old ruins and doing some serious shopping, you'll also be able to get the luxury treatment at a resort of your choice. As you can see there are a million and one things to do. It can get a little overwhelming if you're not exactly sure where you're going to go.
That's where we come in. Allow us to be your guide as we take you through some of the most amazing things to do in Antalya Turkey!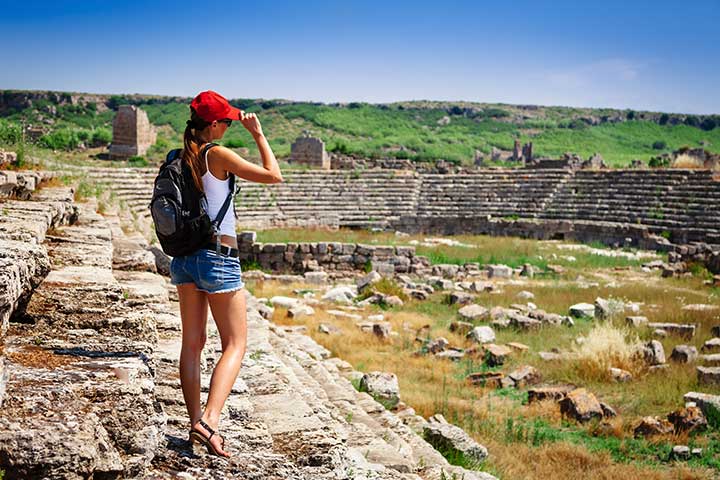 1. Stadium of Perge
Close your eyes for a moment and picture that you're back in the ancient days of Rome during a high energy chariot race. Now open your eyes and realize that you're there. The Stadium of Perge is one of the most well-preserved stadiums you'll find so it's easy to sit in the stands and imagine the events that happened there.
On top of sitting in this massive stadium, you'll also get the chance to see the gate towers that at one point, controlled access to the city itself.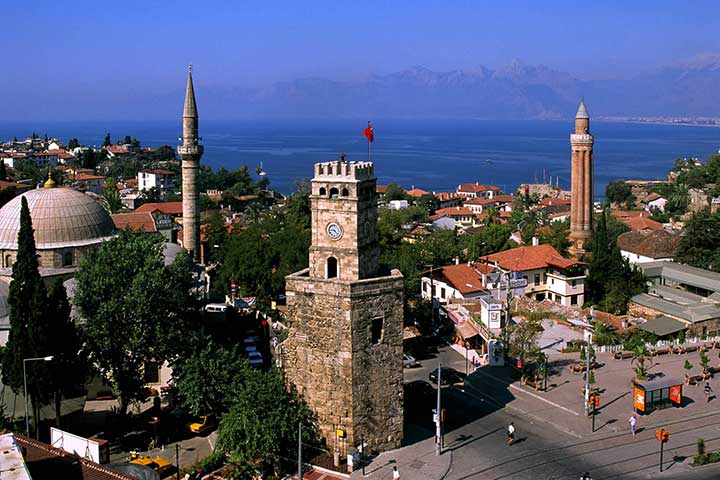 2. Kaleici
You'll want to take your time in the old neighborhood of Kaleici. Go on a stroll on the cobblestone streets and take in the renovated Ottoman mansions. These mansions are now home to many souvenir shops, yummy restaurants, and art galleries but that's not the only thing that you'll want to see before you leave.
Go check out the stone clock tower and of course Kesik Minare. It once stood as a proud Roman temple but a fire has reduced it to becoming a Byzantine mosque.
3. Get in Touch with Art
If you have a few music lovers in your travel group then you'll want to visit the 251 Soul. It's the best place in Antalya to hear some smooth jazz, upbeat funk, and deep soul. If the theatre is more your style then drop by the Hasim Iscan Cultural Center and Antalya State Theatre.
They both put on tons of live performances and even have art galleries if you want to see beautiful, unique pieces of Turkish art.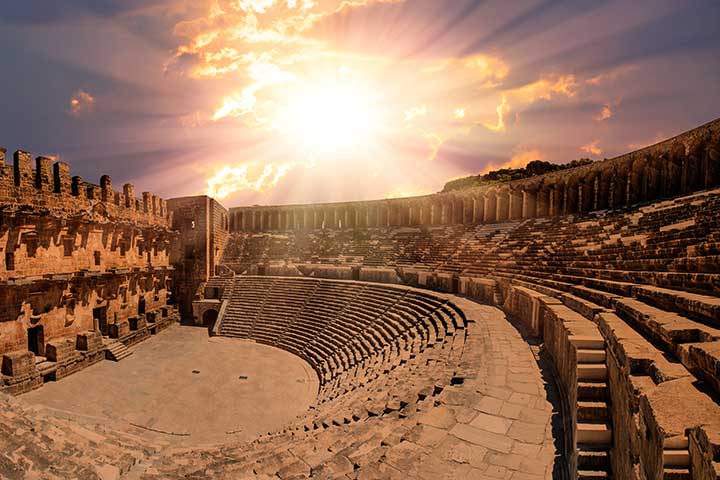 4. City of Aspendos
You can easily contribute an entire day to exploring the ancient city of Aspendos. There is so much history to be seen but the true highlight is the theater. The theater dates all the way back to 160-180 AD which makes it even more impressive that it is perhaps one of the most well-preserved theaters in the entire world.
To get the best view in the house you'll want to climb up to the very top steps where you can attempt to imagine the performances that went on there. You'll also be able to get a nice view of the aqueducts that once pumped water into the great city.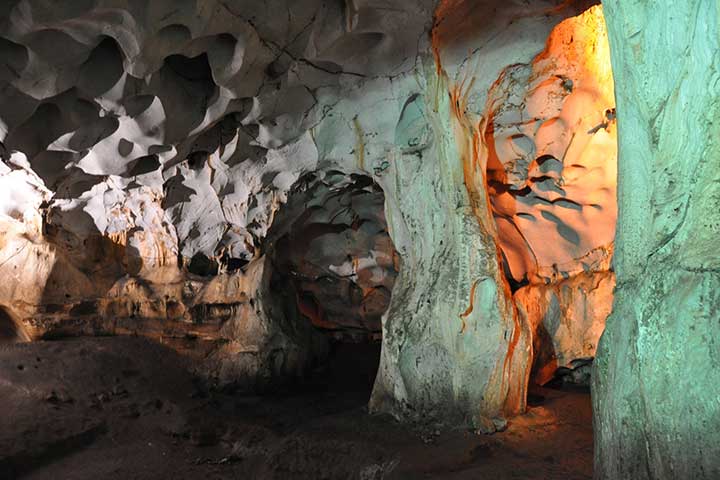 5. Termessos & Karain Cave
Founded on a natural landscape on top Mount Gulluk (1665 meters) and surrounded by the beautiful travertine mountains of the city; Termessos remains as one of the most well preserved ancient cities in the country. The "Eagle Nest" as Alexander The Great defines, was found by the Solyms who inhabited the Pisidian foundation and during a minimum 4-5 hours of touring; we do highly recommend you to see the king's road, Hadrian's gate, the Agora, gymnasium, heroon, Odeon, the ancient theater, tombs, temples, stalls, houses, and drainage system.
Very close to Termessos Archeological Site, you can get to Karain Cave itself from the Burdur highway keeping an eye for the sign. Excavations started as early as 1947, and it still remains as the largest ancient cave in Turkey inhabited by the pre-historic man for more than 25.000 years. If you are interested in pre-history, you can follow the traces of Homo neanderthalensis and Homo sapiens from the early Paleolithic Age (200.000 years) at both Karain Museum and the Pre-historic section of Antalya Museum.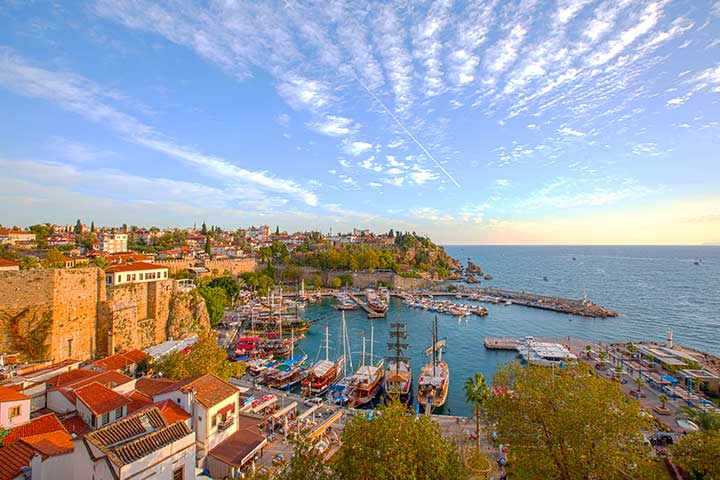 6. Old Harbor
During the second century, Old Harbor was Antalya's main port that was used for trade. Now, it's used mainly for shopping. There are a few boutiques where you can spend time shopping for souvenirs and cafes you can hit up if you start feeling hungry.
Many people choose to sit and enjoy a coffee as they watch the sun dip below the clouds. If you're more of the adventurous type you can take an excursion boat out to do a bit of swimming.
7. Karaalioglu Park
If this trip to Antalya is more of a romantic getaway then a family trip then you'll have to stop by Karaaligoulu Park. It's right on the edge of Kaleici and is perfect for a romantic walk before or after dinner.
The park also provides some pretty gorgeous views of the Mediterranian. Feel free to sit on top of the tower during a sunset and take in the beauty with your loved one.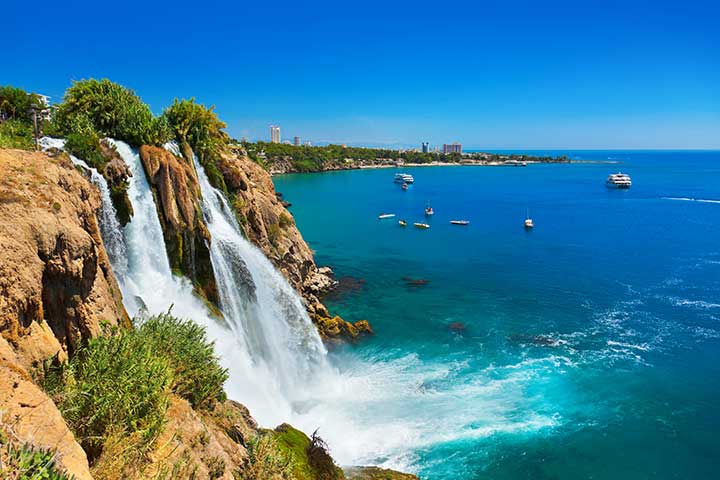 8. See the Waterfalls
Hop on a boat and start a trip around the coast of Antalya. Why do you ask? To see one of the most amazing tourist attractions in Antalya.
The Duden Waterfalls are made up of two huge falls, the upper and lower Duden. The lower one has to be seen by boat, while you can get to the upper one via bus or car. When visiting the upper falls you have the unique opportunity to venture into the cave that has been carved out by the water.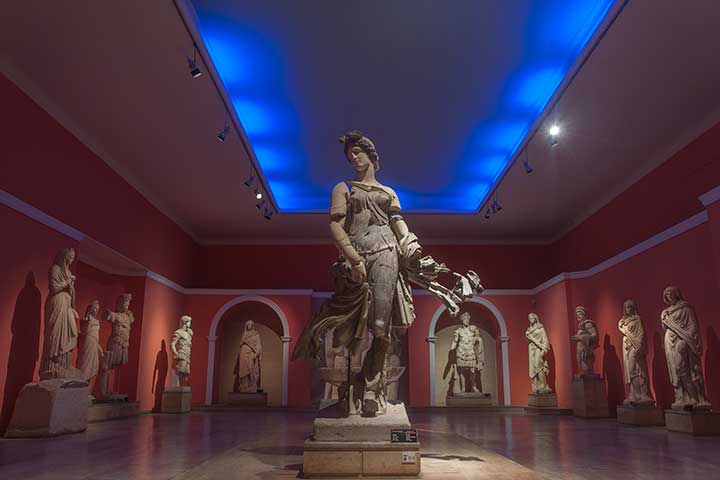 9. Antalya Museum
The history buffs that are with you won't want to miss a trip to the Antalya Museum. You can see all the important aspects of the city's history from the Bronze Age to the Byzantium as well as amazing artifacts found on the coast.
Turkish history is deep and can sometimes be confusing but at the museum, the information is displayed in a way that even those who aren't familiar with it will understand it.
10. Rafting Tour
For those in your group who are adrenaline junkies, one of the best ways to sate this is by going on a rafting tour. Head to the Koprulu Canyon National Park and hit the rapids.
While it is the most adventurous thing you can do in Antalya it isn't too unforgiving. There are rapids that match every experience level. If you have a ton of fun and want to spend multiple days in the park you can camp by the riverside.
Awesome Things to Do in Antalya Turkey on Vacation
As you can see there is a little something for everyone in Antalya from the history buffs to the adrenaline junkies. There is actually a little too much to do so it can be hard to narrow down where to go especially if you are visiting for a short time or just for a great golf break in Belek. We hope you're able to use this helpful guide on things to do in Antalya Turkey to get the most out of your trip.
Are you ready to see everything that Antalya has to offer you? Contact us to start planning your trip!