Spain has been one of the most popular destinations in the globe for many years now. And Morocco is consistently featured as one of the coolest places to visit in travel magazines. Isn't it great that you are so close to both?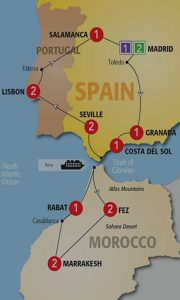 Here is our proposal to you: if you ask about either one, we will offer you as well an escapade to the other, as a way to enrich your itinerary.
Morocco & Spain or Spain-Morocco-Portugal Itinerary
A combined trip as Spain-Morocco, or even Spain-Morocco and Portugal, is an interesting option for travelers who hail from distant regions, given the high airfares involved in coming to this part of the world, the time and hassle it takes for you to reach us.
How Close is Morocco to Spain?
Morocco and Spain are well connected by air, with several flights going both ways daily from Madrid, Barcelona, Sevilla, Malaga, and other cities. All major airports in Spain are less than 2 hours away from their Moroccan counterparts. The average length of a flight Madrid – Marrakech, for instance, is just 1 hour and 40 minutes. What about spending a weekend enjoying the pleasures of life in Marrakech, after exploring the magnificent Madrid of the Austrians?
The journey can also be done by ferry if you are visiting Southern Spain; it takes less than one hour for ferries from the Spanish town of Tarifa to cross the straits of Gibraltar and reach Tanger. So, it can be done even as a day excursion.
Only nine miles separate both shores; but at first, the contrast between the two countries will amaze you so much, that you will think you have traveled nine thousand. It is the contrast between Europe and Africa, the East and the West, Islam, and Christendom… and the possibility of experiencing both in a single day.
And yet, Morocco and Spain share centuries of common history during which these forces, more often than not, co-existed peacefully under the rule of Al-Andalous. Visiting Spain as an extension of Morocco, or vice versa; makes perfect sense. Discerning you will appreciate the subtle correspondences at the heart of both countries' respective lifestyles, cultures, arts, and gastronomies, as local variations of the same spirit…
We are happy with working in coordination with your local DMC in Spain if you would like to create an itinerary for including both destinations. And if you don't have a DMC currently in Spain, we can certainly offer our best recommendations.