Western sources refer to Haseki Hurrem Sultan variously as Roxelana, Rosa, Rosanne, Rossa, Ruziac or La Rossa. She is generally believed to have been enslaved during raids by the Crimean Turks on Ukraine and Galicia during the reign of Yavuz Sultan Selim and presented to the Ottoman Palace.
The Life of Haseki Hurrem Sultan
Of the diverse theories about her ethnic origin, it is most likely that she was Russian or Polish. Although the opinion that she was Russian was widely held in both Europe and Turkey, there is evidence that she considered herself to be Polish.
She was given the name Hurrem, on account of her cheerful temperament. As astute as she was attractive, and with a ready wit, she was to become the most beloved concubine of Suleyman The Magnificent respectfully.
Her influence over him was proverbial. When her first child was born, she desired to leave the palace, at which Suleyman flouted tradition by officially solemnizing the marriage.
Haseki Hurrem Sultan gave birth to four sons, Mehmed, Selim, Bayezid and Cihangir and one daughter; Mihrumah. To ensure that one of her sons would succeed to the throne, she did everything in her power to turn Suleyman against his eldest son and heir Mustafa.
She also conspired to bring about the execution of Grand Vezir Ibrahim Pasa, who was a staunch supporter of Sehzade Mustafa. She persuaded Suleyman to appoint as grand vizier their daughter Mihrumah husband Rustem Pasa, then Governor-General of Diyarbakir. Both European and Ottoman writers agree herself, the daughter, and the son-in-law schemed to bring about the death of Sehzade Mustafa.
This undated letter was written by Hurrem Sultan to Sultan Suleyman the Magnificent. The yellow paper is polished and flecked with gold on both sides. After the letter was completed, fresh gold flecking has been applied. She uses the form of address My Lord Sultan and commences with the words, Having touched this unworthy face of mine to the sacred dust under the foot of my beloved Lord Sultan, thanks be to God on High, my dear soul, my fortune, my happiness, my sultan, that your sublime letter arrived to lend radiance to the eye and delight to the heart.
The Letter Written by Hurrem Sultan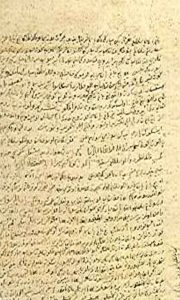 After protestations of her love, she says that neither tongue nor pen can describe her condition, and recites a twelve-line poem. She then expresses her happiness at a decree sent by Sultan Suleyman the Magnificent concerning the construction of a hamam, and she wishes that the hamam should be finely built following her wishes. She has spent fifty thousand akce (a small coin weighing 1.15 gr) on kitchen expenses, leaving nothing for her expenditure, and hints that she needs money. She says that her sons as well, that a cautery has been applied to Cihangir's shoulder, bringing the infection to the surface, and that it has been incised and cleaned. She reports that the health of Imam Hoca is declining, and says that she has received good news from the Pasha (presumably a reference to Barbaros Hayrettin Pasha, then on campaign in Tunisia), and concludes with the hope of receiving good news and that the sultan's sword should prevail. In the margin, she conveys greetings to the Pasha (this must be Ibrahim Pasha) and says that Suleyman's nurse is in good health. This letter was sent to Sultan Suleyman the Magnificent during his campaign to Iraq. The reference. The reference to a ferman concerning the construction of a hamam in the palace is the clue to the letter's date. This ferman is in the palace archives and was drawn up at the beginning of Ramazan 941 (mid-March 1535), so Hurrem Sultan's letter must have been written within the next two months.
From Hurrem Sultan's letters written to Suleyman when he was on campaign, we learn that she advised him on political matters. The letters of congratulation and gifts sent to the Polish King Sigismund II by her and Mihrumah and the correspondence between her and the sister of Shah Tahmasp of Iran are cited as evidence of her influential role in politics and foreign affairs.
During her later life, she became more concerned with charitable works and founded several institutions, becoming the first woman to endow a mosque complex in Istanbul. She first commissioned the architect Sinan to build the Haseki Kulliye (complex) consisting of a mosque, medrese, school and imaret (public kitchen), adding a hospital later. The cifte Hamam (double bathhouse with sections for both men and women) opposite Hagia Sophia and Kagithane Mosque in Istanbul were also endowed by her. Besides, she and Awed a mosque in Edirne, a mosque in Ankara, dervish lodges (zaviye) in Thrace and Karapinar, a mosque, kervansaray (caravanserai) and imaret in Jerusalem, and an imaret and four madrasas in Mecca. The endowment deeds (vakfiye) for these have been preserved.
Haseki Hurrem Sultan died in April 1558 and lies in the graveyard of the Suleymaniye Mosque in Istanbul in her tomb.