KIDS LOVE TURKEY: FAMILY VACATION
How's and Why's...
We did love to travel when we were single. Then, we loved traveling with the family, but we love the vacations in Turkey more now with our kids...
Unlike the luxury vacations you had before (if not yet; continue reading) it's going to demand a lot of you. You've got to be ON all the time and you've got to plan and we are here to assist you on this matter. You've got to rest when you want to go and go when you want to rest…
But here is the payoff; it is special -like parenthood itself. Family vacations are great because you collect precious moments while most of us more collect things in our daily lives.
Having our own and traveling with them all the time we can assure you that; Kids love Turkey!
We design family vacations considering the children age group, interests and their physical besides psychological conditions. When children are happy parents are happy and the key is to keep them busy when they need and let them rest on time to digest all those unfamiliar new images, sounds, tastes of the traveled destination. We know about the practical tips for traveling with infants, preschoolers, and even teens! So there is no need to leave them home with grandparents.

When you plan the daily excursions according to their short attention span, include fun activities in your itinerary for them like pottery making workshops, glass blowing sessions etc., organize your flight and touring times according to their own pace and know about the best places to eat out with children; your travel becomes a success and remembered for a lifetime by all the family members.
It can be very stressful for the parents to end up in quiet, adults -only or adults-focused hotel full of with only romantic couples while yours are running around… Even you may find yourself arguing with a stranger because of your kid's attitude while they are having great fun and enjoying their travel!
There are lots of kid-friendly hotels in Turkey with all styles and price ranges and we simply know them.

How about a blue cruise (a gulet holiday) with infants and kids?
If you have not experienced a private yacht charter before you may be hesitant about it but we did.
Gulet holidays are perfect for children. Let us give you a sincere introduction about it…
Being the founders of Travel Atelier, we (Pinar & Murat) have been spending our summer vacation mostly on board since 9 years with our kid. Within those years sometimes we chartered the boat with our extended families and sometimes with close friends. Kids age were ranging 5 months to 20 years and it always ended up perfectly because it is so stress-free…
Here we have listed only a few...
When you charter the yacht on your own: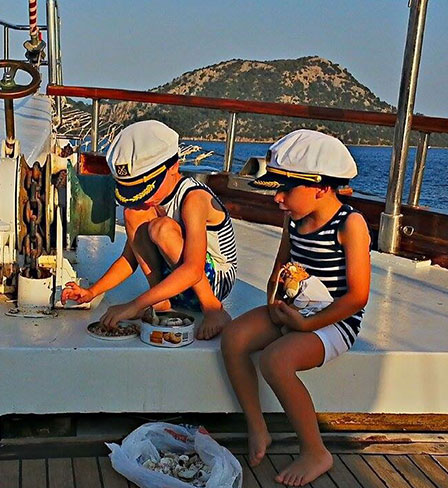 There are no strangers around you so nobody complains about the noise.
There is no strict time for breakfast, lunch, and dinner so you cannot be late and let anyone wait for you.
You do not need to pack and unpack the swimming stuff all the time – they are always at hand on the deck.
You do not need to dress- up or make-up and even wear shoes, swimsuits for the day and barefoot is just fine…
You are never stuck in the room when your kids are sleeping since you can keep enjoying your holiday under the stars, chatting with the other loved ones, drinking your wine, reading our book, playing cards game while they are resting in the cabin just a few meters away from you.
And yes it is perfectly safe, safe as being in the pool with them since you are always on the calm waters. There is also the fishing and canoeing opportunity; the cream on the cake!