Known as the most common street food of Turkey; Simit; the Turkish Bagel is definitely one of the best matches with a thin belly glass Turkish Tea. This favorite crispy bread ring snack of people from any time of the day has been in the life of Turkish people that even different cities have their own unique style of cooking it. Well strewn with sesame seeds; as soon as it is out of the bakery; you will hear the vendor shouting "Sicak Simit" meaning "Hot Simit" to announce that it is just out of the bakery and fresh.
If you are traveling on own using public transportation; no doubt you will come across a simit seller on a train, ferry or visiting a farmers' market. If you like it little crispy than usual; then try not to collapse the whole tray of simits while trying to pull out your favorite one.
Being among the most photographed street photos in Istanbul; for first-time travelers; simit vendors are eye-catching especially when you see them carrying that skyscraper tray on their heads. Seeing the tray in the distance and amazed how he can carry it without holding; some might also think that it is another Turkish sweet desert like Baklava -but it is not. Although Turks love the confectionery, probably they eat less than western countries do and most of the street food and snacks are actually savory.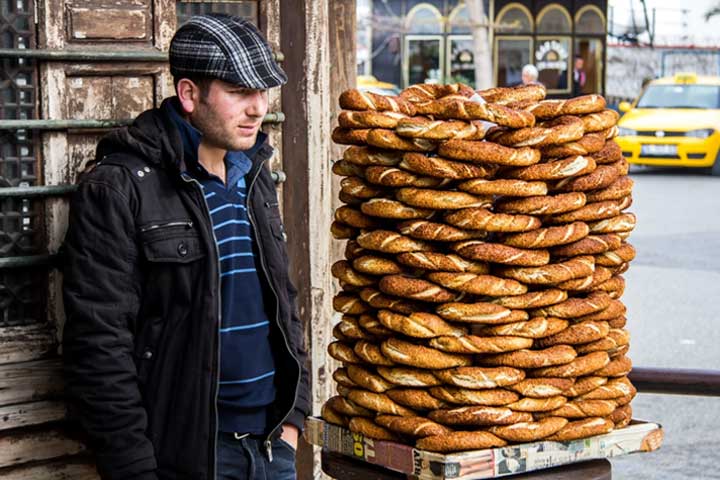 What is it made of?
Dough made of flour
Water
Milk
Sugar
Salt
Yeast
Once the dough rises; it is dipped into a mixture of cold water with grape molasses, shaped into rings and then mixed in a sesame tray by rolling to give the ring shape by hand.
While Ankara Simit is another legendary, the best ones in Istanbul are made at bakeries in Galata, Kumkapi, Samatya, and Beylerbeyi. Safranbolu or Kastamonu in the Black Sea has also its own rules and regulations.
If it is to make sure that it is cooked according to the same style of old bakers; it should have the color of a 22-carat gold coin. Evliya Celebi noted in his famous travel book that there were a total of 300 bakers worked in 70 bakeries in Istanbul whereas, in 1910 the same culture became a part of a new association under the name of bread and pastry bakers.
Researcher Ugur Goktas notes in his study of the relevant subject that in the past, the simit sellers used to buy freshly baked ones more than five times a day to sell in different districts of the cities and towns.
The last batch came out after dark, and the sellers would thread the rings onto the long sticks fixed into the corners of their simit baskets or trays and hang a small lantern at the summit to attract the attention of the locals on their way back home after work.
Today, those who don't have the time for a royal breakfast, they still buy warm and fresh simits on their way.
The passengers on the ferry crossing the Bosphorus, they enjoy the simit with a glass of hot tea on this relaxing stage of their commuter journey and surely, feeding the seagulls accompanying them along the journey.
While It is becoming rarer to see the vendors carrying that tray on their head and shouting around the narrow streets of the city; it is less picturesque, yet more hygienic that they sell now in a glass-covered container on wheels due to municipal regulations for street food. No matter how it is still the same delicious crispy Turkish bagels that they been for centuries now.