As I ran, I felt a shiver of anticipation inside. This was going to be my first flight by paraglider, and over one of Turkey's most famous sights, the white travertine cliff at Pamukkale. I was excited rather than alarmed at the thought that in a few moments I would be experiencing the sensation of flying like a bird. As a child, I had longed for wings and read over and over again the stories of Hezarfen Ahmet Celebi who glided over the Bosphorus in the 17th century, and the Wright brothers.
As my thoughts wandered to Icarus, who flew towards the sun on wings attached with beeswax, my tandem pilot called out, 'Faster! Faster.' As we gained speed air swelled the parachute, which began to pull us back, but although my foot twisted on the stones and the void was just a few steps away, I managed to maintain momentum. Running is the first priority for paragliding. If you do not run, you cannot fly!
When the runway fell away beneath my feet, my pilot instructed me to sit in the saddle. As the parachute filled in the breeze, my excitement bubbled up. Beneath me were the ruins of the ancient city of Hierapolis, the towns of our modern time, and beyond them the giant white staircase of Pamukkale, formed by the precipitation of lime from the hot spring water. I struggled to take my camera from my bag, surveying the landscape below like a young eagle eager to take in every detail. A solitary cypress tree, the main road like a small snake, people like ants. I endeavored to engrave the scene unrolling beneath me on my memory, for soon I would be back on the ground, looking up at the clouds and sky from my usual vantage point. Paragliding is the sport for those longing to exchange whispers with the wind, make the acquaintance of the clouds, and greet the birds. Although many people find the prospect of leaping off a cliff intimidating if you follow the rules exactly it is just as safe as flying in an airplane. Paragliding began in the French and Swiss Alps in the early 1980s, when a group of sky-divers experimented with parachuting off cliffs instead of airplanes, and French mountaineers first turned these experiments into a new sport. With its mountainous terrain, Turkey is ideal for paragliding, which first began here in 1988. In those early years, the equipment was imported and expensive, and courses were only given by the Turkish Air Association. Today, however, there are many university paragliding clubs, and numerous other organizations offering courses. The equipment is widely available, and you can hire what you need instead of buying it. Approximately 25,000 paraglider flights take place in Turkey every year.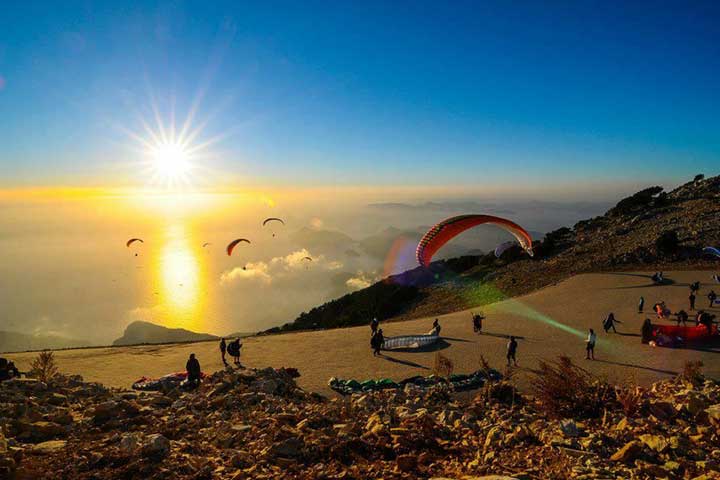 It is essential to start with a training course, covering basic concepts, the structure and parts of the canopy and harness, flying techniques, air traffic rules, meteorology, and how to deal with emergency situations. On the first training flights, instructors keep in constant radio contact with the trainees
After approximately ten flights paragliders are on their own, but they should never forget the importance of experience, and always keep in mind essential safety factors. Equipment should always have been tested, and should not be used once the specified flight life period has expired; pilots should always wear a helmet and spare parachute; checks should be kept on when the pilots take off and land, and weather conditions should be constantly monitored.
Launch points in Turkey for beginners include Peak C at Inonu in Eskisehir (230 m), Kabasakal in Adana (280 m), and Gelincik in Mersin (260 m). For experienced paragliders only are Alidag in Kayseri (600 m), Oren Heights at Pamukkale in Denizli, Sakar in Marmaris (930 m), Akcali (380 m), Uludag in Bursa (2000 m), Oren in Mugla (600 m) and Bozdag in Odemis (1200 m). The Cokelez and Honaz mountains in Denizli offer superb air currents and breezes for experienced pilots.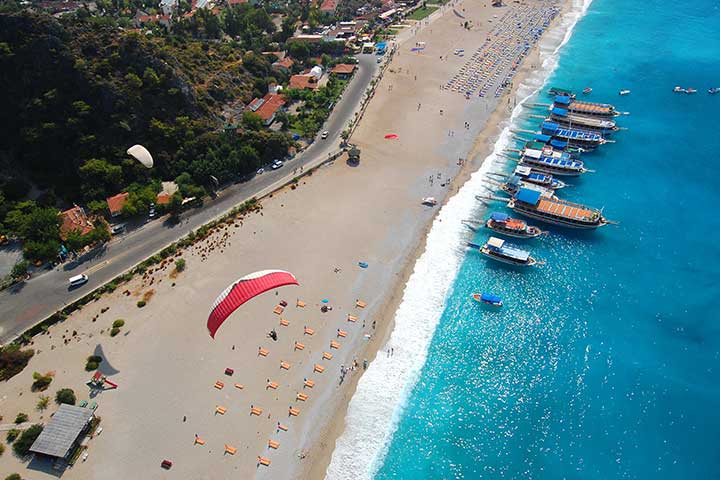 Other enjoyable spots are Eymir and Golbasi in Ankara, Egirdir in Isparta, Catalca in Istanbul, Guzelbahce in Izmir, Abant in Bolu, Kesis and Munzur in Erzincan, and Kas in Antalya. But the paragliders' heaven is undeniably Oludeniz Lagoon in Fethiye. Between May and November paragliders who launch themselves from Mount Babadag hover over the azure sea, singing and shouting out in delight. Here it is possible to rise to 3500 meters, as you fly over one of the most magical landscapes anywhere in the world. It takes 45 minutes to climb Babadag by jeep, and often you find yourself above the clouds at the highest jump off point, which is 1900 meters. Those who launch themselves into the air here usually land at Belcekiz Beach half an hour later, but if you catch an upward current and are resolved to go as far as it takes you, it is possible to linger for as long as five hours in the sky, memorizing the map of the lagoon.
Others head for Butterfly Valley, and after packing up their canopies, remain to enjoy this beautiful spot.
Wherever you land, however, your feet feel the urge to take off again as soon as they touch the ground. As I took to the air from Babadag and drank in the sight of the Mediterranean far below, I murmured to the parachute to whose strings I clung, 'Dear paraglider, my Pegasus, my winged horse! Let us leave no mountain unflown!'