Istanbul has been called "the city of the future."
Turkey's biggest city is known for its culture, beauty and complex history. It's not a mystery why millions of people visit every year.
Traveling anywhere, especially to a place filled with sights, can be overwhelming. There are some experiences that you won't want to miss.
The good news is we're here to break them down for you.
Here are 15 essential things to do in Istanbul:
1. Blue Mosque
The Sultan Ahmed Mosque is on every must-see list for Istanbul for good reason.
Completed in 1616, this sacred destination boasts stunning architecture of narrow towers and domes.
The Blue Mosque is still frequented by religious worshipers. It sits in the Sultanahmet area of Fatih, close to other great tourist locations.
2. Grand Bazaar
The Grand Bazaar is one of the biggest shopping markets in the world. It's home to over 5,000 shops.
Anything you can think of, a vendor is most likely selling. Tourists can find everything from art to clothing to various services. There are also over 60 restaurants in the market for hungry buyers.
3. Galata Tower
If you're looking for a breathtaking view of Istanbul, Galata Tower is the place to go.
The tower, which was once a jail, offers a beautiful view of the city. It's open to all visitors for a fee. Those who make the climb will find several terraces and even a restaurant on the ninth floor.
4. Topkapi Palace
Topkapi Palace was once the home of Ottoman sultans in the 15th century.
The museum now features pavilions and luscious courtyards. Visitors will find Imperial garb, weapons, relics and manuscripts on display.
5. Shopping
There are many places to shop in Istanbul and all of them are worthwhile.
In Nisantasi, shoppers can find upscale fashion boutiques and other luxury items. The historic district of Bebek is also known as a trendy hub for clothing, jewelry, and books.
6. The Zulfaris Synagogue
The Zulfaris Synagogue is a symbol of Turkish-Jewish amity and history.
The cultural center celebrates the relations between Turks and Jews beginning in 1326. You'll find this fascinating museum in the Karakoy district.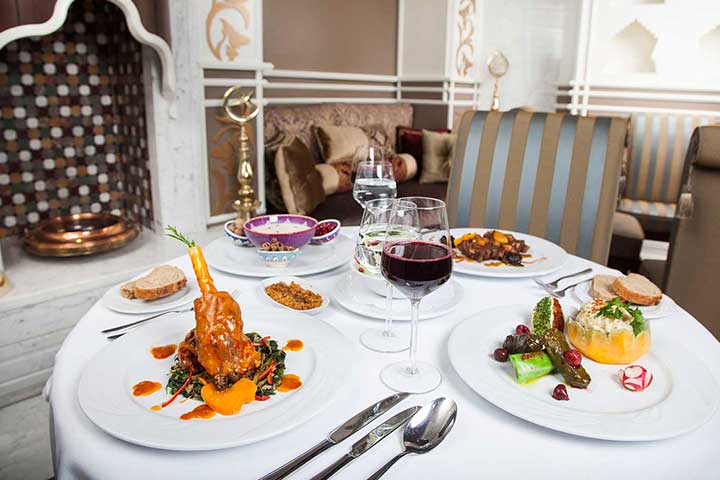 7. Experience Turkish Cuisine
Turkish cuisine is incredibly diverse. One could spend their entire vacation testing new foods.
One restaurant to look out for is Khorasani. This spot specializes in the delicious dish known as the kebab. Visitors might also want to try Gurme Boncuk, an Armenian-Turkish tavern that serves a variety of foods.
8. Hagia Sophia
This historical museum, formerly a church and mosque, is a must for any traveler.
Hagia Sophia's remarkable architecture features a 65-meter high dome. Mosaics of Christ and Byzantine emperors are on display.
Once the biggest cathedral in the world, Hagia Sophia is an unforgettable place.
9. Taksim Square
In Istanbul's Beyoglu district sits the area known as Taksim Square.
Here tourists will find restaurants, transportation, and shops. It's also home to the Taksim Republic Monument, built in 1923 after the birth of the Turkish Republic.
10. Dolmabahce Palace
Dolmanbahce is the largest palace in Turkey.
Built in 1856, the building is decorated with gold and crystal. You'll be blown away by the palace's ornate rooms which were once occupied by Ottoman royalty.
11. Explore the Nightlife
On your trip, you may also want to find things to do in Istanbul at night. Luckily, there are many nightclubs and bars to explore.
Night owls will find entertainment venues by the Bosphorus, and can also head to the city center for partying and dancing.
12. Take a Tour
Why not take a tour during your stay?
There are plenty of full-day sightseeing tours around the city. Travelers can explore the Golden Horn and the Bosphorus Strait during a relaxing cruise.
13. Ortakoy
Ortakoy is a village that's rich with history. The neighborhood was an important place during the Byzantine and Ottoman periods.
Because it's a lesser-known tourist destination, visitors have a cozy and singular experience.
14. Chora Church
Chora Church is a Greek Orthodox church from the Byzantine era.
Here you'll find walls covered in medieval mosaics and frescoes. Located in the Fatih district, this church is a well-known place in the Christian world.
15. Suleymaniye Mosque
Round out your trip by visiting the must-see Suleymaniye Mosque.
This amazing building is less crowded with tourists than others, making it a peaceful place to visit.
Plan Your Trip
From architecture to breathtaking views, the old city has it all.
Now that you know plenty of things to do in Istanbul, it's time to plan your vacation.
Travel Atelier can help. To organize your dream trip, contact us now!