Starting from the year of 2015, Travel Atelier recognizes one of its guests who has remarkably gone above and beyond the usual style of travel by naming him or her ''The Best Traveler of the year.''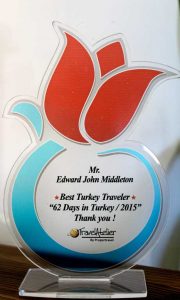 Though we had worthy number nominees in this season, apparently we had one couple from Australia seemed to be well ahead with their 62 days travel in Turkey, self-driving and traveling with outstanding planning at their own pace.
We are proud to announce that Travel Atelier's Best Turkey Traveler Award goes to Mr. Edward John Middleton & Ms. Ma-Lan Melanie Suen!
After a great conversation with some champagne at Proper House and once he made his way back; Mr. Edward will be well remembered with one of his remarkable descriptions "In truth, home is where you are happy and we have been happiest when we are traveling – for some years now. So, maybe home is everywhere."
It was a great pleasure for us to be at their service since they were truly independent travelers!