Photo Shooting Tours by Travel Atelier
You can be a professional photographer of any kind including travel and wedding, a film director, someone who loves taking good photographs or an amateur travel photographer collecting memories.
If your journey takes you to Cappadocia or you have an assignment here, you can ensure that you will be amazed and find a lot of good material for great photography. (Will be talking about documentaries and filming separately)
A good photo shooting needs to be planned well. While you can encounter weather challenges, language barriers, finding that secret, less-traveled spot or the best sunset, catching up with time and light, good planning will save you and your mission big time. We do not even talk about filming permissions if needed…
Cappadocia is for sure a great location for taking any kind of photos in the day or at night, nature, history, geology, traditions, its wildlife, under or on the ground, aerial and most important of throughout the year.
Be it in the heart or outskirts of it; Cappadocia is one of the most photogenic places you can visit in the World, and that's why proper planning even last minute is recommended.
Our insider knowledge, industry contacts, expert guides, and flexibility, as well as the experience on the subject, is a valuable point of consideration to work with us.
Simply we discuss your goals, wishes, details of assignment if any, your time you can spare, etc. and start planning. We talk even before you arrive and understand your needs, so we are prepared for your arrival.
Ideally, we go out for a recce trip using a jeep, SUV or ATV to explore all unique locations. You and we discuss the light, how the sun moves around and end location scouting with notes. For your next day(s); we utilize the plan and change anything if needed. If you need further professional help with our contacts we will provide you what is needed. If night photography is planned; we will help you spot the best places for stargazing, even camping over the night.
If you are poor on time; then we will achieve the goals in due course and take you to the most interesting spots en route.
We will also organize your early morning hot air balloon flight with the best spot or on-demand, a private flight. So, you can be as free as you like with a lot of room for your equipment and crew. Should the weather conditions do not allow one morning; we will then reschedule your flight to the next morning and we will do our best to get special permission from civil aviation for an afternoon flight when possible. One of the best ways to photograph Cappadocia is from hot air balloons and this is not just a great way of bird's eye aerial photo shooting but just its being a great experience itself, too. Do not underestimate choosing the best outfit for this experience, it makes a huge difference.
You may wish to organize a photo tour or a workshop for your group or club; we will arrange all needed for your success. Our services will not be limited only to locations, but we will include accommodation, lunch & dining options, providing comfort zones, professional guiding, transportation and even providing some gears you may need. If you need a professional photographer to assist you; you just need to ask.
Need a portable office in the middle of nowhere? That dream is also possible!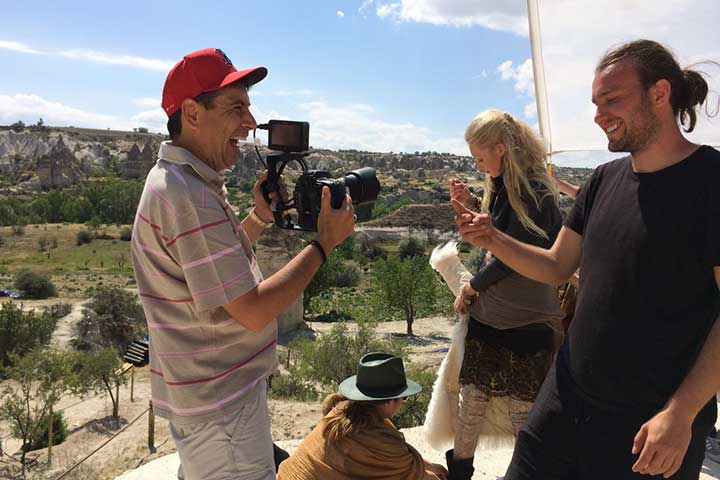 Apart from the above, we also organize daily photo safari & capture the moment tours in the area.
Should our future guests need; we can also hire them DSLR cameras and equipment.
To date, we proudly assisted many professionals, photography enthusiasts, travel writers, documentary and film crews as well as photography workshops for individuals, incentive & MICE groups.
Apart from many professional photographers, here are some travelers who love photography and some of the professional press companies, magazines & production teams that we proudly assisted:
Vogue Turkey, Condé Nast Traveller Turkey, & Mag Turkey, L'Officiel Voyage Turkey, Voyager Turkey, Sony Turkey, Condé Nast Traveller UK, Glow Magazine Canada, AP, Harper's Bazaar China, Live Fast Magazine USA, AMEX Departures Magazine USA, NYLON Magazine USA, Have PR & Kommunikation A/S Denmark, Discovery Channel US, Peter Penny Productions UK, Ursula Mayer Productions, Rafael Panko Productions, Azerbaijan Ictimai TV, UNIQUE TV UAE, MasterCard Priceless Mexico, CNBC-E – Middle East, Forbes Magazine, Through other sources and fixers we work with; we have also supported with various travel services; BBC UK, CANADA TV Broadcasting, the list goes on…