You could deal with the crowds at Notre Dame or the recently tourist-infested Prague, but why would you when you could broaden your horizons with the rich flavors and textures of Istanbul?
Istanbul is a budget-friendly travel option, but more than that, it's a sensory experience.
To give you just a taste, here are four key Turkish foods you shouldn't miss in Istanbul, and where to look for them.
Simit
If you're a die-hard for bagels (looking at you, New York!) then you're required to check out simit while in Istanbul, a.k.a. the wildly popular predecessor of New York's favorite food.
Seriously, it's practically the law.
Simit is a staple of Turkish breakfast-on-the-go–even the most elite Istanbulites can't resist the scent of this molasses-dipped, sesame-crusted dough. When morning rolls around, you'll find carts on every corner stacked high with these little circles of happiness.
And that's good news because it means you can generally find simit for cheap anywhere in the city.
A word to the wise: the Turkish focus on the savory, so follow their lead and pair your simit with briny cheeses and smoky cured meat.
Menemen
Of course, if you feel like going all in for the renowned full Turkish breakfast, the kahvalti, you absolutely cannot miss menemen, a delicious, Turkish-style omelet.
Unlike the American omelet, which wraps a thin layer of eggs around all sorts of fillings, menemen starts with roasted onions and peppers. These are boiled with tomatoes (thoroughly), before eggs are added, along with ground red pepper, parsley, and other herbs.
Of course, it has many variations (some include cheese, mushrooms, sucuk, even chicken or eggplant) but by and large, menemen is simple, addictive, and the perfect complement to your simit.
You can order this dish all over, but a few good places are:
Lades Muhallebi (Beyoglu)
Bebek Kahve (Bebek)
Kale Cay Bahcesi (Rumelisari)
When in doubt, ask your guide for the best spot.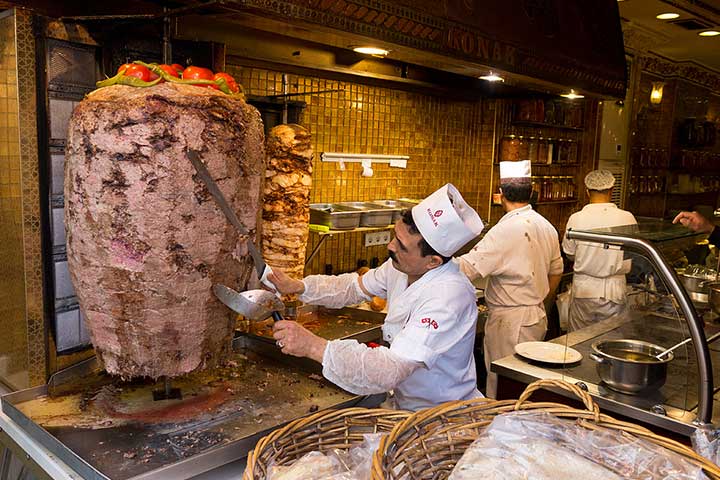 Doner Kebabs (a.k.a. Shawarma)
Cue that one scene in the Avengers movie.
Seriously though, don't go confusing the doner kebab with shawarma -they look like the same thing, but they're actually not.
In fact, the doner kebab is the ancestor of shawarma (and gyros, for that matter). The food (made from a large meat cone slowly roasted and turned all day) was very popular in the Ottoman Empire, which once included Greece. That's how we get the gyro, which is named from the Greek word for "turn".
Doner kebabs are served "en durum" in a firm flour shell like a tortilla around veal or chicken and topped with chopped onion, red cabbage, and tomato.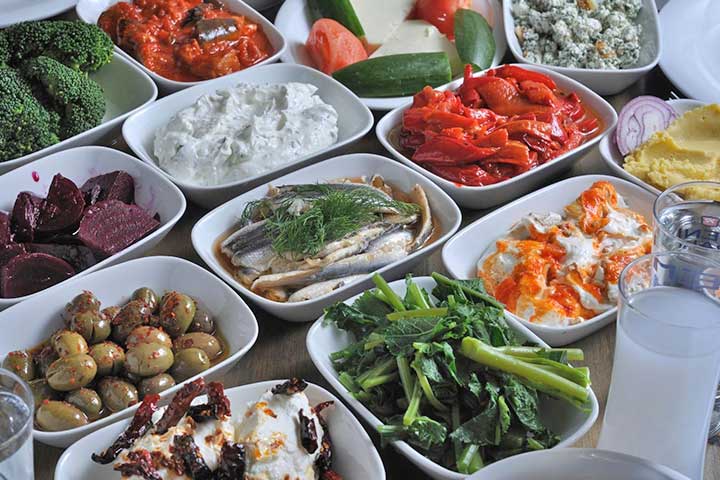 Meze
Finally, you can't go to Istanbul without enjoying the little things in life. Or rather, the meze parts of the meal.
Meze refers to cold starters rather than a full course, and restaurants that specialize in meze are referred to as meyhane (though meze is still served as appetizers there).
Some widely popular meze include:
Haydari (mint yogurt dip)
Patlican ezmesi (grilled eggplant with yogurt)
Saksuka (fried eggplant with tomato sauce)
Ezme (chili tomato paste)
For great meze, check out Cumhuriyet Meyhanesi in Beyoglu or Kor Agop Meyhanesi in Kumkapi.
Making the Most of Istanbul Food
Want to make the most of your trip, Istanbul food and all?
That's where we come in.
Check out our blog for more in-depth articles, like this post on the story of Turkish food. Or, if you need to book your trip, check out our private guided tours of Turkey.